Six arrested as Hong Kong protesters storm government plaza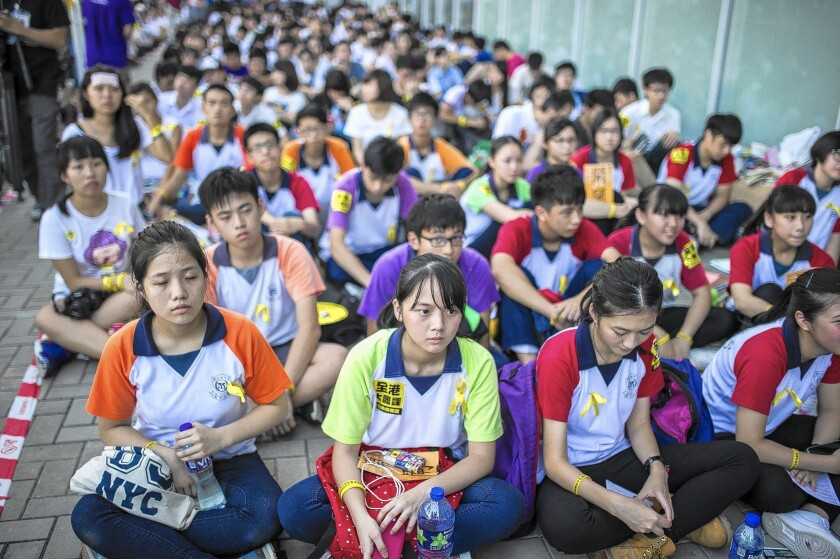 Reporting From Hong Kong —
Nearly 100 pro-democracy protesters, some scaling fences, tried to occupy part of a plaza at the main government compound in Hong Kong late Friday, before police using pepper spray moved swiftly in an attempt to disperse the crowd.
The protesters, apparently among a group of students and activists who have been demonstrating to show displeasure with local government and Chinese authorities in Beijing, were cheered by more than 1,000 supporters. Many people and police officers remained in the area early Saturday.
Six people, including a 16-year-old, were arrested, police said.
Augustine Yung, 27, said he went to the area to support the protesters and witness their treatment by police.
"The government gives us an illusion of freedom, when in fact our sphere of liberty is getting ever smaller," he said.
The move to try to occupy the public plaza, which had been fenced off after another recent protest, came after thousands of university students in Hong Kong had skipped classes this week to criticize government authorities who they say are not allowing an open process in the election of a new chief executive, Hong Kong's highest office.
During the five-day boycott, students scattered across the lush lawns outside the local government compound instead of attending classes. By day, many listened intently to academics and civic leaders lecturing on activism and democracy movements at home and abroad.
At one gathering of activists, the seemingly convivial atmosphere was belied by stridently worded banners, some reading, "End one-party rule" or "Resist, and fight for self-determination."
At dusk, many more people joined the demonstration to hear rousing speeches and view documentaries.
Late Thursday, as many as 4,000 protesters reportedly marched to the mansion of the city's chief executive, Leung Chun-ying, to demand reforms.
In a nod to the students' demands, Leung issued a statement saying in part, "The government respects the aspiration and perseverance of students on democracy."
The school boycott is expected to be followed by a sit-in by the group Occupy Central With Love and Peace, which plans to rally supporters Wednesday in the Central District, the city's financial hub. The date is a holiday marking the founding of the People's Republic of China.
Last month, the National People's Congress, China's legislature, announced rules for the 2017 election of Hong Kong's chief executive that all but ensure that only candidates approved by the central government in Beijing can run.
Pro-democracy activists cried foul, calling the decision a breach of "the high degree of autonomy" Beijing promised before Hong Kong, a former British colony, returned to Chinese sovereignty in 1997. Activists said they wanted an open nomination process.
Previously, the chief executive was voted in by 1,200 local representatives, predominantly Beijing's appointees. Local government officials and pro-Beijing politicians are championing the move to a "one person, one vote" system, whereas the activists reject the change as meaningless when no genuine choice is offered.
"Our goal is to raise the public's awareness that we need to struggle for democracy," said Charles Fung, a student organizer and a junior at Chinese University of Hong Kong, "but also to give our feedback to the central government: You can't continue to rule Hong Kong this way."
The boycott was organized by the Hong Kong Federation of Students, the umbrella group of student unions at the city's 25 higher education institutions. They were joined by labor and women's groups, as well as more than 100 social workers. On Friday, about 1,500 high school students also walked out of class in support.
Hong Kong has seen numerous mass protests in the last five years, such as the opposition to flattening indigenous villages for a high-speed rail link to mainland China and the staving off of implementation of patriotic education.
Like many of his peers, Fung, 24, believes the city's widely touted free-market economic system is stacked against young people like him from working-class families.
"If you want to solve the economic problems," Fung said, "you must change the politics."
Some students participated in the demonstrations despite their parents' advice against confronting the Chinese Communist Party. They said they felt an urgency to act precisely because the older adults have been reluctant to step up.
"We can't wait for them to take the lead. What we're doing is to try to reach those who are still undecided about taking action," said Mike Kwan, 22, a politics major at Chinese University. Kwan said his parents, survivors of the Cultural Revolution, were still too scared by their experiences to stand up to Beijing.
Law is a special correspondent.
---
Must-read stories from the L.A. Times
Get the day's top news with our Today's Headlines newsletter, sent every weekday morning.
You may occasionally receive promotional content from the Los Angeles Times.