Hong Kong protesters vow to carry on fight as officials scrap talks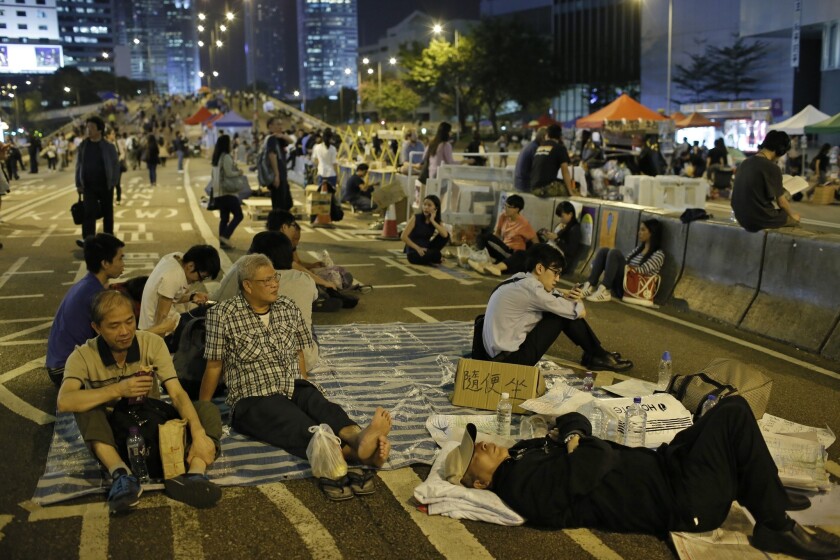 Reporting from Hong Kong —
Formal talks between the Hong Kong government and student leaders set for Friday have been called off, raising the specter of more demonstrations in a city already weary from 12 days of protests.
Carrie Lam, chief secretary of Hong Kong, said the government called off the talks because students continued to demand free elections and refused to leave occupied parts of the city.
"This is sacrificing public good for their political demands, and is against public interests and political ethics," Lam said at a news conference Thursday night. The students' demands, she added, "undermined the basis for a constructive dialogue."
Hours earlier, pro-democracy lawmakers opened a new front in the city's tense standoff by threatening to block action in the city's legislature.
"Hong Kong has entered an era of disobedience and noncooperation," Alan Leong, a pro-democracy legislator, said at a news conference alongside protest leaders.
Leong said he and other lawmakers in favor of freer elections would block legislation that required funding if the government did not give in.
In the Admiralty district on Thursday evening, student protest leaders sought to energize the crowd with speeches. As Alex Chow, head of the Hong Kong Federation of Students, delivered remarks under a bridge festooned with democracy banners, a crowd of at least 10,000 sent up shouts of "jia you!" a chant of encouragement that roughly translates as "Step on the gas!"
Chow said the government has become a "laughing stock." He and other student protest leaders said the government has refused to take responsibility for the crisis of its own making and won't listen to its own people.
Some protesters said the government's decision would only add to the number of people on the streets. "This will trigger more and more people to come," said Steve Chu, a 30-year-old nurse who with his wife has come out to Admiralty after work for five nights.
Student leaders said they would expand the demonstrations across the city and call for a third boycott of secondary schools if the talks did not yield results.
"Only through cooperation and coordination we believe can democracy be planted in Hong Kong and therefore generate sufficient pressure to the government," Chow said.
Despite the demonstrators' vows to continue, the government's decision to cancel talks might reflect officials' sense that Hong Kongers are growing impatient with the hardships imposed by the lengthy protests.
"Public opinion is starting to turn," said Michael DeGolyer, a professor of politics at Hong Kong Baptist University. "The government sees time is on it's side."
DeGolyer said opposition to the sit-in was organizing, citing reports that local truck drivers threatened to clash with protesters Wednesday because the disruption was harming their bottom line.
The government's decision to maintain a small show of force at the sit-ins also helps their push to win over popular opinion, he said.
Along with seeking freer elections for chosing the territory's chief executive, protesters are calling for the resignation of the current officeholder, Leung Chun-ying.
Lawmakers filed an official complaint with the city's corruption agency Thursday, asking it to investigate Leung after an Australian newspaper reported that the chief executive had received millions of dollars in secret fees from an engineering firm in exchange for helping expand its business in Asia.
Special correspondent Stephanie Chin contributed to this report.
Follow @dhpierson for more news from Hong Kong
---
Must-read stories from the L.A. Times
Get all the day's most vital news with our Today's Headlines newsletter, sent every weekday morning.
You may occasionally receive promotional content from the Los Angeles Times.