Big debt by some wealthy borrowers in India sparks outcry, especially when the good times roll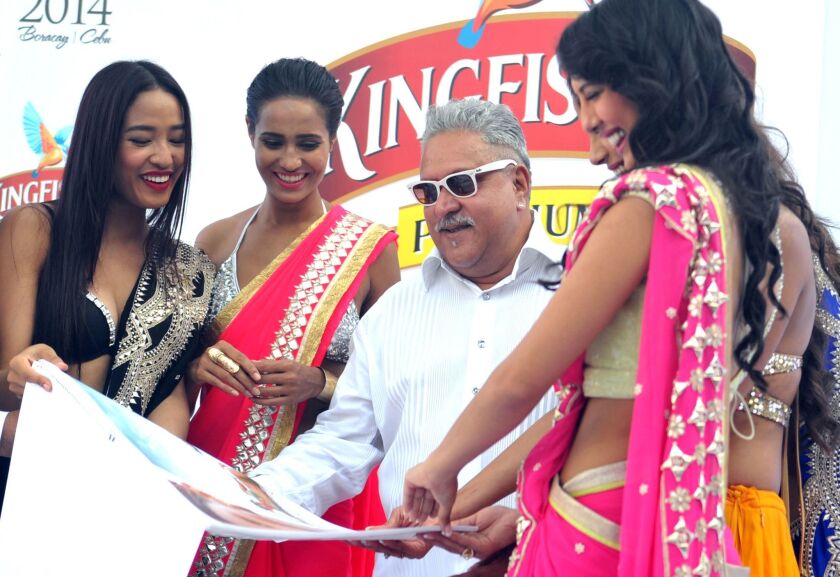 Reporting from Mumbai, India —
In December, the flamboyant Indian liquor baron Vijay Mallya threw a bash for 600 people to celebrate his 60th birthday at a five-star beach resort in Goa, where Enrique Iglesias was among the performers.
At the same time, Mallya, known in Indian media as the "King of Good Times," owed Indian state-owned banks more than $1.4 billion and had not paid $120 million in salaries to employees of his failed airline.
He was due in India's Supreme Court last week for a hearing on his debts, but authorities said Mallya had fled the country. The turn of events sparked a public outcry and cast a fresh spotlight on the nexus between Indian bankers and profligate corporate titans.
See more of our top stories on Facebook >>
Mallya is one of many industrialists who owe massive amounts of money to Indian public sector banks. According to the Reserve Bank of India, Indian state banks are carrying more than $59 billion in bad loans, a 450% increase since March 2011. For some banks, the volume of such nonperforming loans — for which there is little hope of repayment — exceeds their net worth, officials say.
The unpaid loans deprive India's economy of much-needed financing. According to an analysis by the nonprofit website IndiaSpend, the amount is "enough to pay for India's 2015 spending on defense, education, highways and health." Another $58 billion in corporate debt also remains unpaid and could become nonperforming loans in the near future, the group's website said.
Two Mumbai businessmen who owe a total of $380 million to 10 banks cannot be found, according to a report in the Mid-Day newspaper. Y.S. Chowdhary, a government minister and owner of three deeply indebted companies, has been declared in default for twice that amount.
Even as the high-volume debts have grown, the list of defaulters has remained under wraps. Last month, the Supreme Court directed the reserve bank to disclose the list of defaulters holding more than $75 million in debt. The bank has challenged the order; a hearing in the case is due March 30. There is no publicly available list of high-volume debtors but the number is believed to be in the hundreds.
Mallya's case has taken on added prominence because even as his companies were swamped in debt by 2010, he enjoyed impunity across the political spectrum and in the banking industry.
NEWSLETTER: Get the day's top headlines from Times Editor Davan Maharaj >>
In 2010, he earned a seat in the upper house of Parliament with the backing of India's governing Bharatiya Janata Party. His debts piled up during the previous government, led by the Indian National Congress, now the most prominent opposition party.
And Indian authorities are accused of negligence for allowing him to flee the country despite the cases against him.
"Lending to Mr. Mallya was the bankers' season ticket to corridors of power and glamour," Shekhar Gupta, a journalist and commentator, wrote in the Business Standard. "Borrowing from them was like a favor Mallya did to them."
Mallya once owned United Breweries, India's biggest spirits company, which he inherited from his father. He launched Kingfisher Airlines in 2003 — named for the liquor company's leading beer brand, Kingfisher — and planned to build a world-class carrier.
The airline quickly faltered under high oil prices, aggressive business decisions and the global economic downturn, and was grounded in 2012.
Even as his financial troubles mounted, Mallya's lavish spending and partying were fodder for tabloids, particularly the steamy calendar photo shoots he did with Indian models. In 2008, he spent more than $110 million on a professional cricket franchise. He holds a 41.5% stake in a Formula One racing team, allegedly purchased with revenues from his airline — which prompted accusations of money laundering.
Yet Mallya was not included on the official list of nonperforming borrowers until last year, banking officials said.
Vishwas Utagi, vice president of the All India Bank Employees Assn., a labor union, said banks fail to seek adequate assurances when lending to prominent industrialists. Despite laws allowing banks to collect the property of a borrower who goes into default, banks rarely take such action, Utagi said.
"The attitude of banks is lenient towards the bigwigs," he said.
In a series of tweets, Mallya said he was a victim of a "witch hunt" and denied that he had fled the country, saying he was "an international businessman" making one of his frequent foreign trips.
He also referred to his close ties with Indian media barons who were now eagerly documenting his legal troubles.
"Let media bosses not forget help, favors, accommodation that I have provided over several years which are documented. Now lies to gain [ratings]?"
Days after Mallya's flight, police in the southern state of Tamil Nadu beat up a farmer who had not repaid about $2,000 in loans, according to Indian news media reports. The farmer's wife reportedly asked them tearfully: "What about Vijay Mallya?"
Parth M.N. is a special correspondent.
ALSO
Why Silicon Valley is betting big on India
Searching for the next NBA sensation in the world's second most populous nation
Spiritual guru's festival in India to go ahead despite environmental concerns
---
Must-read stories from the L.A. Times
Get all the day's most vital news with our Today's Headlines newsletter, sent every weekday morning.
You may occasionally receive promotional content from the Los Angeles Times.