In India, a coconut picker takes work hazards in stride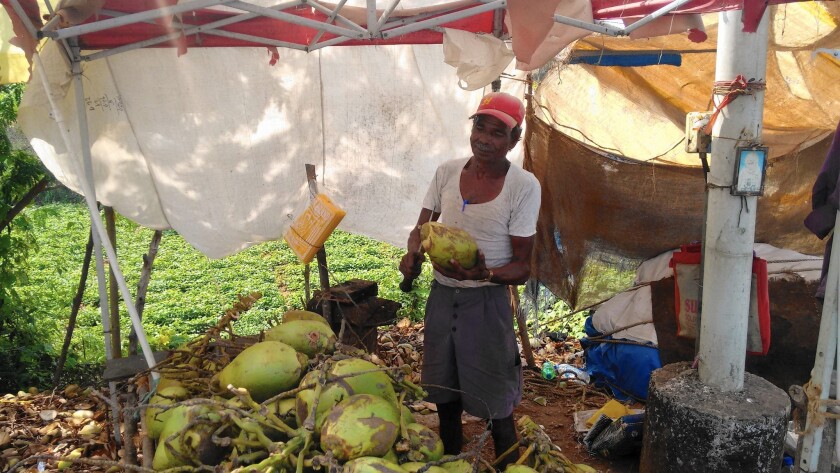 reporting from AKSHI, India —
Pandurang Naik scales the equivalent of several mid-rise buildings in an average workday, only without a staircase or ladder. He picks coconuts from the palm trees that dot India's western coastal state of Goa.
Clad in shorts and a dirty tank top, Naik, 64, examines each roughly 50-foot tree meticulously before embarking on his ascent. A rope tied around his legs helps anchor him to the tree and an ax hangs from his waist like a police officer's revolver.
With a firm grip around the rough tree trunk, he climbs upward. His hands and legs move alternately, in perfect sync with one another. His biceps and calf muscles flex with every movement.
Upon reaching the top, Naik whips out the ax. One by one, coconuts fall to the ground with a thud. Then he begins his descent, and it is on to the next tree.
It's nerve-racking to watch Naik at work, but he is hardly troubled. He has spent 40 years climbing up and down these trees, which blanket the 65-mile coastline of Goa and peek out from every corner of this relaxed state.
Naik's movements seem subconscious, like a plane on autopilot. He spends about 25 minutes on every tree before moving on to the next, climbing about 20 trees a day. The only time he won't climb is during the annual monsoon, when the wet tree trunks make his already dangerous job almost impossible.
NEWSLETTER: Get the day's top headlines from Times Editor Davan Maharaj >>
For all the risks, Naik does not own a single tree. He is summoned by farmers who grow coconuts, or contractors who trade in the fruit. Often Naik buys up the coconuts he plucks and sells them from a small shack near a highway, cutting them open on the spot for patrons to sip the refreshing water.
"I am not educated," says Naik, who charges about $1.50 per tree. "This job has been passed on to me by my forefathers."
Coconut plucking is an old profession in Goa, and the only way that coconuts are harvested in the state, but the trade is disappearing. Many of Naik's colleagues have quit after sustaining serious injuries.
"I have never slipped," Naik says with a grin.
But Naik says the profession doesn't command respect in modern Goa. The younger generation spends more time in school, or looks for other work, he says. His son works as a driver, while Naik struggles even to store a phone number in the cellphone his son bought him.
I will continue to climb as long as my body allows me to.
Pandurang Naik
"My son did not even try to do this job," Naik says. "He is scared. Moreover, nobody is willing to accept a coconut picker as a groom these days."
Naik has had to raise his rates, meaning contractors call him less frequently. Laurence Fernandes, a local landowner who has many palm trees, says it has become economically prohibitive to hire coconut pickers.
"At times, we end up paying him more than what we would earn by selling coconuts," he says. Some vendors in Goa sell coconuts imported from the neighboring state of Karnataka.
See more of our top stories on Facebook >>
The state government of Goa began a program two years ago to train young coconut pickers, in a bid to revive the dying tradition. Pickers get a salary of about $225 a month, plus medical insurance and incentives. But officials say few are willing to sign up.
The government has also come up with a device to ensure greater safety. It is made of steel pipes and a safety rope that works like a harness. But Naik does not use it, saying it doubles or even triples his work time.
"The device is not going to encourage youngsters to take up the job," he says, "and the old-timers do not need it."
When he is not climbing trees, Naik and his son work on their four acres of farmland. His son has demanded he give up the dangerous job, and Naik acknowledges that with his son's income as a driver and their fairly decent rice crop he could probably retire.
"But I do not want to depend on anyone for money," he says. "And this is the only thing I can do. I have spent my whole life doing this. I will continue to climb as long as my body allows me to."
Parth M.N. is a special correspondent.
ALSO
Drug seizures soar in China; most suspects are 'farmers and unemployed'
Obama says he'll make historic trip to Cuba and plans to press Castro on human rights
Election day in Uganda: Tear gas fired, opposition leader detained, social media shut down
---
Must-read stories from the L.A. Times
Get all the day's most vital news with our Today's Headlines newsletter, sent every weekday morning.
You may occasionally receive promotional content from the Los Angeles Times.