India tries to clean up the holy city of Varanasi, but buffaloes and humans stand in the way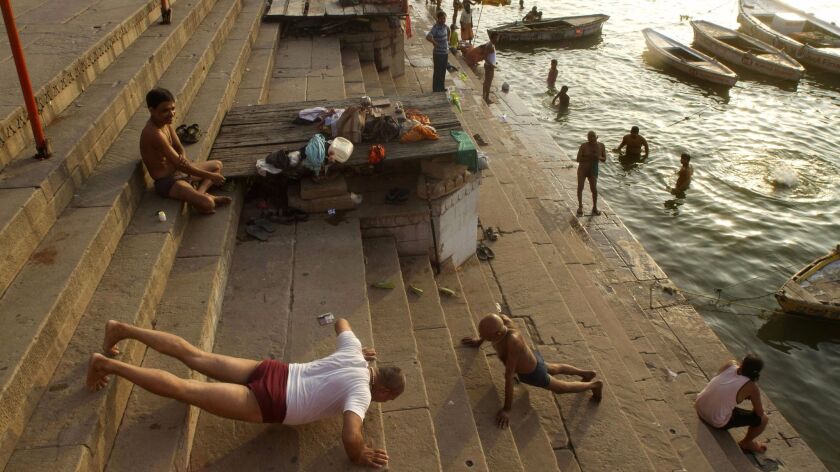 Reporting from Varanasi, India —
A tranquil light gradually enveloped the Ganges River at the crack of dawn. Devout Hindus lined up at Assi Ghat, the most popular of the 84 sets of steps leading down to the river that is holy for Hindus, and conducted a yoga session on a red carpet. Observers lined the steps and watched the proceedings with cups of tea.
Yet barely half a mile from the spruced up steps, rickshaw-puller Babloo Pandey, 41, relieved himself along one bank of the river.
He was not alone. Many shanties in Varanasi, one of India's most sacred sites but long known as one of its dirtiest, do not have private toilets, and scores of people resort to open defecation every morning.
The scene illustrates the challenges facing a 3-year-old Clean India initiative launched by Prime Minister Narendra Modi to polish and modernize a country known for sprawling slums and inadequate sanitation.
In November 2014, photos of Modi wielding a spade at Assi Ghat to jump-start the initiative went viral. Modi, who represents Varanasi in India's Parliament, has said the Ganges should be revered as one's own mother and allotted $3 billion over five years for cleanup along the 1,570-mile length of the river.
But locals say that while the tourist-filled ghats have been spruced up, the city and river remain as filthy as ever.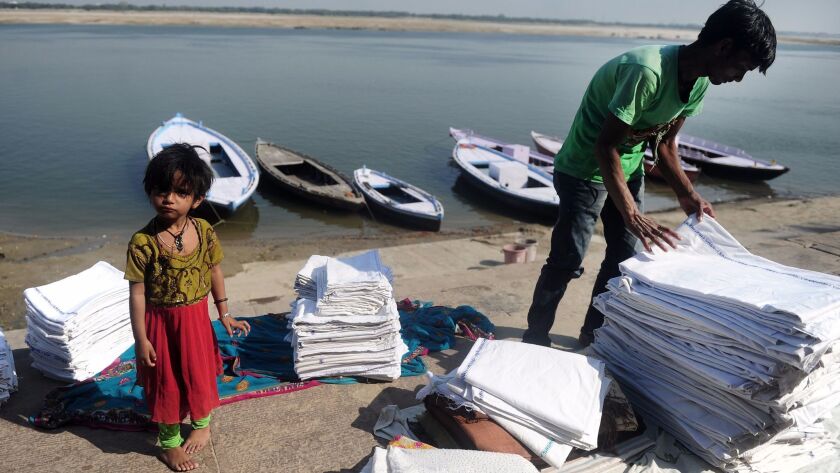 While more workers collect trash from the steps and new public toilets have been installed, residents say the measures are inadequate. Pandey said the nearest public toilet in his area opens at 6:30 a.m., half an hour before he starts work.
"Even when I go to the public toilet, it is crowded and takes too long," he said. "Many times it does not even have water."
In the narrow alleys of the city, pigs and buffaloes wallow in slimy muck. Many residents keep buffaloes to supply the city's thriving trade in sweets and milk products, but a lack of space means the livestock defecate and urinate in the open. Bikes and rickshaws pass, attempting to dodge the thick puddles, and pedestrians step carefully to avoid piles of manure.
Avinash Kumar, senior officer of the Clean India mission in Varanasi, said the initiative had made progress, installing 3,000 trash cans, introducing nighttime street sweeping and starting a garbage disposal plant. Two sewage disposal projects are also in the works, which would meet the needs of the city of more than 1.2 million people through 2035, he said.
Experts are skeptical. Shatrudh Prakash, an opposition politician, said the city needs to double the capacity of its sewer system and renovate it to eliminate the threat of sewage and water lines mixing.
"Even a bit of drizzle results in waterlogging and the streets are clogged with sewage water," Prakash said. "There are more than 1,000 lines where drinking water and sewage mix with each other. Garbage trucks carrying debris run uncovered. The problems are countless."
Most of Varanasi's sewage is pumped into the Ganges, which originates in the Himalayas and runs across four states and through more than 100 towns and cities before reaching the Bay of Bengal.
Experts estimate that more than 792 million gallons of untreated sewage from these towns is pumped into the river every day, making it the sixth-most polluted river on the planet — with fecal bacteria counts many hundreds of times above what is considered safe to bathe in.
The river also takes in the ashes and remains of those whose last rites are performed on its banks, in the belief it will absolve one's sins.
Chintamani Seth, who lives along the banks of the Ganges, said that decades ago he used to take dips in the holy river and drink from it. Now a persistent smell emanates from the water, and stepping into it "feels like you have stepped in human excreta," he said.
Modi signed a partnership agreement with Japan, aimed at acquiring Japanese technology in water, waste, sewer and transport management that he said would turn Varanasi into Kyoto. Yet residents said there has been little sign of any Japanese-inspired changes.
In Varanasi, purity and filth continue to coexist. One recent afternoon, as a boatman took his customers for a ride along the Ganges, a few visitors undressed in preparation for a dip while locals washed their clothes almost an arm's length away and a man bathed his buffaloes.
The boatman joined his hands in prayer, seeking blessings from the river. He then plunged his right hand into the water and took a sip.
"People say the Ganges is polluted," he said. "But it does not affect our faith. The reason I am healthy is because I drink water from the Ganges."
Parth M.N. is a special correspondent.
ALSO
India banned a movie about four women because it was 'lady-oriented.'
India is about to make it easier for political parties to hide where their money comes from
African students advised to stay indoors after attacks by roving Indian mobs
---
Must-read stories from the L.A. Times
Get the day's top news with our Today's Headlines newsletter, sent every weekday morning.
You may occasionally receive promotional content from the Los Angeles Times.