Family's pain 'has never gone away.' Japanese abducted by North Korea in spotlight as Trump visits Japan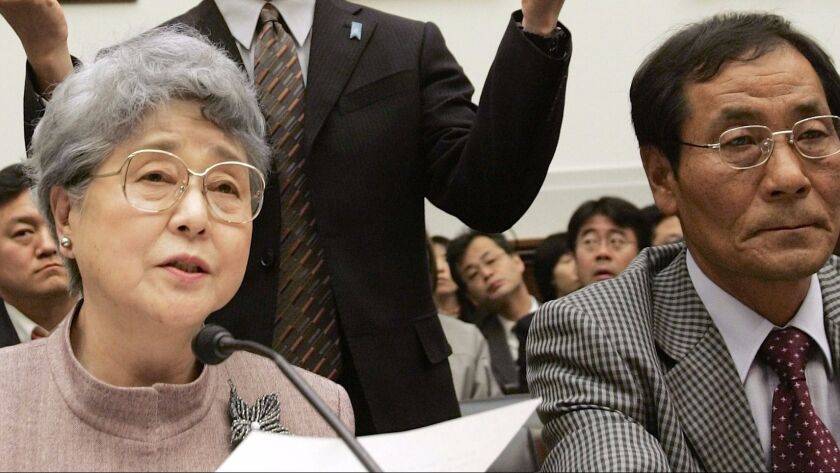 Reporting from TOKYO —
When tales of young couples being snatched off beaches by North Korean agents first began to circulate around Japan in the late 1970s, they were dismissed by most Japanese as conspiracy theory paranoia. But as years went by, evidence mounted that North Korea had in fact engaged in a systematic program of abductions to obtain instructors in Japanese language and culture for its spies.
North Korea long denied such claims, but in 2002, when then-Prime Minister Junichiro Koizumi made his historic visit to Pyongyang, then-North Korean leader Kim Jong Il took Japan by surprise by admitting 13 Japanese had been abducted. Kim apologized, blaming rogue special forces "on a reckless quest for glory."
Among the surprised was the family of Megumi Yokota, a schoolgirl snatched while walking home from a badminton lesson in Niigata, on the Sea of Japan coast, in November 1977. Now, as President Trump tours Asia, speculation about Megumi's fate has again captured the imagination of the Japanese public.
Megumi was the "sweet 13-year-old Japanese girl" Trump referred to in his September speech to the United Nations, where he accused North Korea of various misdeeds and threatened to "totally destroy" the country.
According to Japanese Prime Minister Shinzo Abe, Trump has agreed to meet with Megumi's elderly parents during his 48-hour visit to Japan that begins Sunday. Family members still hold out hope that they could be reunited with Megumi.
"Of course I believe my sister is still alive," said Takuya Yokota, her younger brother, who has largely taken over the campaign waged for years by his parents for the return of Megumi. "She and the other abductees are valuable diplomatic bargaining chips for North Korea, so they wouldn't have just killed them or allowed them to die."
Takuya Yokota recalled the years of uncertainty about his sister's disappearance.
"A few years after Megumi went missing, we started to hear that North Korea could have been responsible, but there was nothing to confirm it," he said. "When Kim Jong Il admitted in 2002 that the abductions had occurred, we were still shocked, as was everyone in Japan."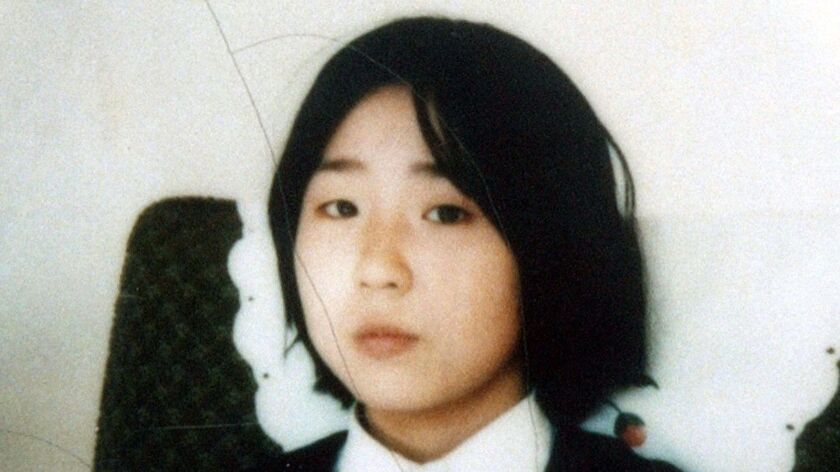 North Korea said eight of the 13 abductees had died, including Megumi, who North Korea said had taken her own life in 1993. According to Pyongyang, she had married Kim Youngnam, a South Korean abducted as a high school student, and gave birth to a daughter.
Five abductees — two couples and a single person — were allowed to return to Japan in 2002, followed by five children of the couples in 2004. That same year, what Pyongyang claimed were the cremated remains of Megumi were sent to Japan.
A university researcher who conducted a DNA test on the remains concluded they came from multiple people — none of them Megumi — but the methodology and accuracy of the test have been questioned.
Pyongyang denies holding more Japanese. Tokyo maintains there are 17 confirmed abductees. Some in Japan think the number is much higher.
"I would say the ballpark figure is 100, but nobody knows the exact number except North Korea," said Yoichi Shimada, professor of international politics at Fukui Prefectural University, located near the coastline where two of the returned abductees were taken.
Trump's meeting with the Yokota family, and his mention of the issue before the United Nations, may be simply ammunition in the war of words between the U.S. and North Korean leaders over Pyongyang's nuclear missile development program, but the renewed attention is welcomed in Japan.
"This is a very emotional issue, and easy to understand, so the kind of issue that Mr. Trump likes to focus on," Fumiaki Kubo, professor of American government and history at the University of Tokyo, said during a news conference on Oct. 31.
Fukui University's Shimada said further pressure can be brought to bear on North Korea, and its current leader, Kim Jong Un, by more economic sanctions. He said Japan should consider all options, even those that sit uneasily with the nation's pacifist inclinations.
"Regime change is the only way to recover all of the abductees. If the U.S. decides to go with a military option, Japan should support it fully," Shimada said. "There is a risk that abductees could perish in a conflict, but if the current situation continues, more and more will die of natural causes."
Ryutaro Hirata, secretary general of the National Assn. for the Rescue of Japanese Kidnapped by North Korea, advocates a softer line.
"The fact that Mr. Trump will meet the families of the abductees when he comes to Japan will send a strong message to North Korea," Hirata said. "When the U.S. president spoke about the abduction issue in his speech at the United Nations, it was reported around the world. North Korea knows that if it wants to improve its relations with other countries, not only Japan, it must send the abductees back."
It has been 40 years this month since Megumi was taken from her family.
"My sister, who was there one day, suddenly wasn't there the next day, or the next week or the next month. The pain that I and our parents felt I can't really put into words, and it has never gone away," Takuya Yokota said. "It's coming into winter now and snow is about to start falling in Japan and North Korea. I wonder if she's cold. There are food shortages in North Korea, and so I wonder if she has enough to eat. I think of her every day."
Blair is a special correspondent.
ALSO
Asia is turning its back on democracy, and some say Trump isn't helping
Iran marks 1979 U.S. Embassy takeover with 'Down With America' signs — and a missile
Lebanese prime minister resigns amid tensions with Hezbollah
---
The stories shaping California
Get up to speed with our Essential California newsletter, sent six days a week.
You may occasionally receive promotional content from the Los Angeles Times.