Two Army buddies and a fateful night in Korea: A complex tale of military justice
Reporting from Seoul, South Korea —
The text messages arrived on Chrissy Royal's phone at 3:23 a.m.
"I got arrested [help] me," said one.
Then: "Yongsan police station."
It was a cool March night in Itaewon — a neon-lit nightlife district in central Seoul — and Royal's husband Raymond had been out drinking with his best friend, Cory Anderson.
The men were U.S. army mechanics, and they had arranged to be deployed at the same time in South Korea. Pfc. Royal, 22, was based at the Yongsan Garrison, a major U.S. military base near Itaewon. Pfc. Anderson, 20, was stationed at Humphreys, a rural garrison 55 miles south, and he was visiting for the weekend.
They drank; they played pool; they wrestled like muscle-bound, army-trained puppies, grappling into chokeholds until one or the other cried uncle. They got matching tattoos — "friends forever" swirling down their forearms in blue Korean script.
Chrissy — an energetic young woman from Royal's North Carolina hometown — went home early, and just after midnight, Royal and Anderson decided to go home too. A taxi dropped them off near Royal's apartment. Royal and Anderson began roughhousing. Royal pushed Anderson with two hands — a shove to the chest — and Anderson fell backwards.
Thus began the first in a tragic series of unpredictable events that would leave one friend dead, the other on trial, and the military justice system forced to grapple with complex questions about responsibility and punishment in a case whose primary villain seemed to be fate.
It happened in a matter of seconds. Just as Anderson tumbled into the street, a car veered around a corner and blazed through a red blinking light, plowing suddenly over Anderson with both axles — bump, bump. The car stopped. The police arrived. And 12 days later, Anderson died in the hospital, hooked up to a mechanical ventilator.
The Army charged Royal with manslaughter.
The hearing that would determine whether Royal would have to face a full court martial began on a crisp day in October.
No matter the outcome, his military career was effectively over. At best, Royal could hope for an administrative discharge, which would allow him to live a normal, civilian life but end any future he might have had in the Army. A court martial, on the other hand, could lead to a prison sentence or at least a dishonorable discharge, a black mark that would burden him for the rest of his life.
Surely, Royal told his family, the hearing officer would understand they'd just been roughhousing, that he hadn't intended any harm to a man he considered closer than a brother.
But it wasn't going to be that simple. A young Korean man had seen them at the bar. He hadn't known about their relationship. He'd seen them "fighting," as he described it, and was alarmed enough to call the police.
It got worse.
When officers arrived at the scene moments later, they found Anderson bleeding on the street, with Royal frantically trying to move him. Royal then tried to flee, police said later.
Clear signs of guilt, the prosecution said. But as it unfolded, the case became an extraordinary study of the nuances of culpability, the chasm between American and Korean cultures, and the nature of military justice.
::
On Oct. 9, Kathleen Stanfield and Karen Anderson flew to Seoul together from the U.S. — Anderson's mother Karena from Alabama and Stanfield, Royal's mother-in-law, from North Carolina.
They'd never spoken before the incident — and had first met in person days earlier — but already considered themselves family. They were determined to make sure Royal didn't go to prison.
"Cory chooses his friends wisely — and for him to choose Royal, to be as close as they were, I knew he had to be special," Karen said. "The moment we found out that Ray and Cory were together [that night], we knew it was an accident."
The hearing began at 10 a.m. in a florescent-lit conference room at the Yongsan base. Four long tables were pushed together into a square. The hearing officer, Lt. Col. David Dulaney, sat at the front, before a silver Dell laptop and a paper Burger King coffee cup. Dulaney would hear the evidence on both sides, then recommend an outcome to Commanding Gen. Thomas Vandal, one of the garrison's highest-ranking officers. Vandal would make a final decision.
To Dulaney's right sat the prosecution, Capt. David Pardo and Capt. Faisal Akhter, dressed in Army fatigues. To his left sat defense attorneys James Culp and Capt. Mitchell Herniak, and Royal.
Karen and Chrissy sat at the rear, stroking each other's backs and clutching hands, as if bracing against the weight of the military bureaucracy.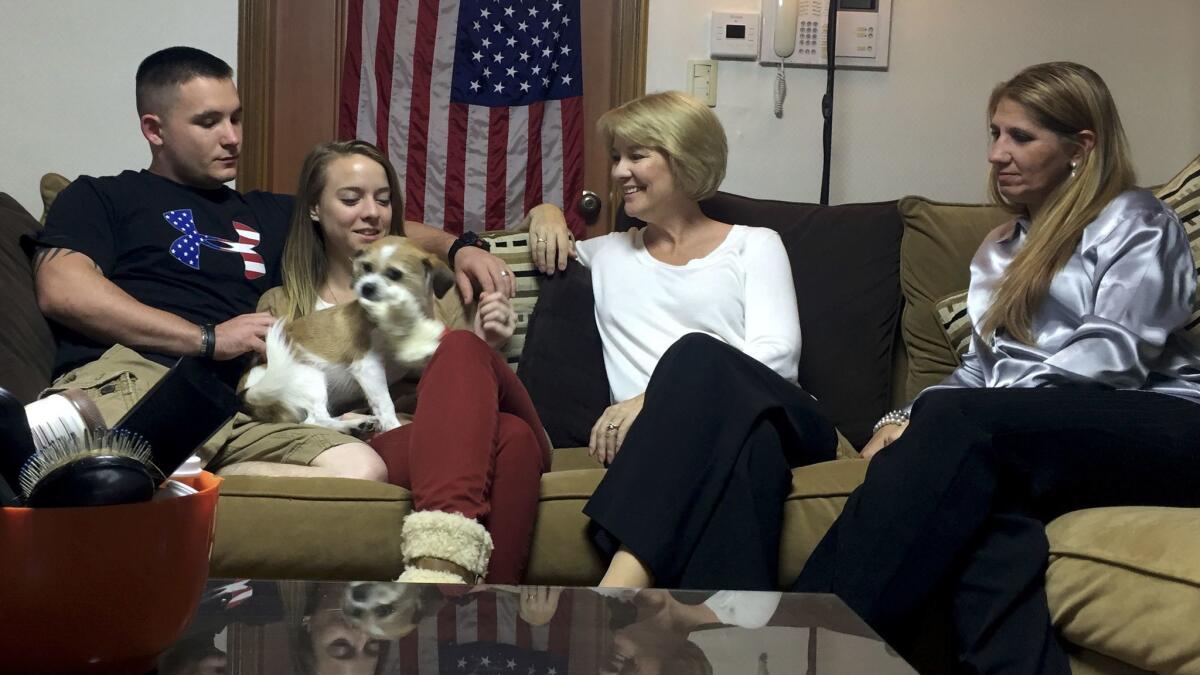 Royal was born in February 1994, and raised in a trailer park in Matthews, N.C. He was the oldest of five children. His mother was a waitress; his father a handyman. When he was 6, his parents grew addicted to methamphetamine. They often disappeared for long stretches, leaving him to raise his siblings alone. Sometimes, he went hungry.
Royal's father went to jail, and at 11, his mother sent him to live with his cousins in Culberson, N.C. In seventh grade, he met Chrissy — he was on the football team, and she played in the band. A few years later, in high school, they fell in love.
"She and her family would eventually become my foundation," Royal said later. In his senior year, he broke his shin, taking him off the field. Stanfield's husband Rob bought Royal decent shoes, and ran with him, slowly nursing him back to health. When Royal decided to join the Army, the Stanfields took him to the recruiting office.
"The day that Chrissy's father and I actually thought Ray would be a good option for our daughter," Kathleen Stanfield said, "was the day he agreed he wanted to go into the Army — so that he could provide a good life for Chrissy and their future kids."
In October 2014, Royal packed off to basic training in Ft. Jackson, S.C., where he met Anderson. They bonded immediately. The first time the Army let Anderson use the phone, he called his mother.
"Why didn't you tell me I had a long-lost brother?" he said.
That December, while on leave from basic training, Royal married Chrissy on the beach.
When the Stanfield family heard that Royal would be dispatched to Korea, they were devastated. "It was like he was going to Mars and we'd never see him again," Stanfield recalled. But they were determined to make the marriage work, and Chrissy moved with him to Seoul. Stanfield flew out to help them settle in.
When Royal and Chrissy discovered that Anderson would be based not far away at Humphreys base, they were elated. Anderson would visit the couple every weekend. He and Royal would play-fight constantly, mimicking the mixed martial-arts stars they'd watch on television. One night, Stanfield returned to Royal and Chrissy's apartment to find them wrestling.
"Flopping around on the floor, being boys, trying to out-strong each other," Stanfield testified. "It freaked me out — it was a lot. I have two daughters."
On March 19, about 5 p.m., Karen Anderson walked into a ice skating rink for her twin daughters' 12th birthday party, and her phone rang. It was an Army captain.
"Are you Ms. Anderson?" the captain said.
"Yes," Karen replied.
"Are you Cornelius O'Shea Anderson's mother?" he said.
"Yes."
"He's been in an accident."
::
The prosecution's case seemed clear-cut.
It had the testimony of Kim Yongsik, a young Korean man who had witnessed Royal and Anderson, as he put it, fighting. He testified that he was so alarmed by their behavior that he called the police.
Then there was Kim Byeong, 42, an office worker who had hit Anderson in his sedan while returning home from a social gathering. He testified that he was sober, that he obeyed traffic regulations and that he did not realize he'd hit a person until his wife screamed from the back seat.
A Korean policeman, Lim Ji Hun, testified that Royal attempted to flee when officers tried to apprehend him.
But under cross-examination, their testimonies began to fray.
"Though many aspects of Korean and American society look similar, you can never assume they function similarly," said Culp, a Texas lawyer who has worked on military cases in Korea since 2003. Cross-examining Korean witnesses through an interpreter, he said, can be "like playing a difficult piano or guitar piece with gloves on — at best it's clumsy, and at worst it's ineffectual."
In a cross-examination, Kim Yongsik, the witness to the fight, said he'd been drinking that night, and was too far from the soldiers to see or hear them clearly.
Lim, the policeman, said that officers had not attempted to apprehend Royal before he supposedly fled.
And dashboard camera footage, presented as evidence, showed that Kim Byeong, the driver, blew through a blinking red light seconds before he hit Anderson — and continued driving for several seconds afterwards.
"The police didn't ask for a breathalyzer?" Culp asked.
"No," Kim said.
"Did you find that surprising?"
"I don't know."
"Did the police officer even ask if you'd been drinking?"
"I don't remember."
"Am I the first person who has asked you whether you'd been drinking that night?" Culp asked.
Kim paused.
"I think so," he said.
::
Anderson was rushed to the Yonsei University Medical Center. His prognosis was good. He sustained injuries to his ribs, jaw, and kidney; a lacerated liver; and a concussion. But the doctors, miraculously, expected him to heal.
Days later, the hospital hooked Anderson up to a mechanical ventilator, and suddenly, his condition began to deteriorate. Karen walked into his hospital room, and sat by his bedside. "Do you know who I am?" she asked. He nodded his head, and began crying.
"I love you," she said. "I'm here. We're praying for you. Your sister is here, it's just a minor surgery and you're coming home. Do you believe me?" He shook his head.
"I hate to ask you this," she said, "but was this an accident?" Anderson's eyes went wide, and he nodded.
"Stop moving your neck," Karen said. Then Anderson mouthed the word: "Royal."
"I'm gonna make sure Royal is OK," Karen said.
"Promise," Anderson mouthed.
"Promise," Karen said.
"Promise Royal OK."
"Baby," Karen said, "Royal's gonna be OK."
Nearly two weeks after Anderson entered the hospital, he died from Acute Respiratory Distress Syndrome, an often-fatal buildup of fluid in the lungs.
Lisa Rivera, an Army commander who performed Anderson's autopsy, had told the prosecution that his death was probably caused by injuries "resulting from blunt-force trauma." Yet a pulmonary expert — and Rivera herself, under cross-examination — suggested that Anderson's death may have been at least partially the hospital's fault.
James Lineback, a San Francisco pulmonary internist, testified that ARDS caused by mismanagement is "actually very common."
Applying a ventilator "is very, very labor-intensive, and very complex to monitor different variables," he said. The hospital may have made a mistake with the ventilator, he continued, or neglected to administer the proper antibiotics to prevent infections.
Rivera, under cross-examination, said her initial supposition was only a "guess."
Layers of potential culpability were accreting. Royal had pushed Anderson into the street. A driver running a stop light ran over him. Fluid somehow built up in his lungs at the hospital.
Anderson was dead. But whose fault was it?
::
America's military and civilian justice systems are similar, but they are not the same.
"There are two things that go on in the military justice system," said Eugene Fidell, a lawyer who teaches military justice at Yale Law School. Administering justice, he said, is not its only goal; the military system also aims to "instill good order and discipline," to ensure that the country's fighting force remains in top shape.
There's another key difference, he said. In the military, a general — not a trained lawyer — ultimately decides whether a case goes to trial.
At Royal's hearing, all of this mattered. Soldiers at the Yongsan base, historically, have had a drinking problem. In 2012, a commander banned alcohol sales after 9 p.m. on the base to promote "the health and welfare of the military community," according to Stars and Stripes, a U.S. military newspaper.
Yongsan "obviously [has] a drinking problem. A G.I. has died in this incident. I don't think they can walk away from it," Fidell said. In other words, Royal could have plenty of the evidence in his favor, and still end up on trial.
"No one thinks he was malicious in what he did, that he wanted to kill his friend," Pardo, the government prosecutor, said in his closing statement. "But the big picture, we're dealing with a homicide, and that's why this is appropriate for a general court martial," he added. "Pushing someone into a road in Seoul — that may result in a death."
::
Royal was weeping.
"I know I was responsible for [Anderson] falling into the street, and being hit by Mr. Kim led to Cory dying," he said, near the hearing's end. "I dream about that night often. In my dream, I'm often aware that I am dreaming, and I try to make the night end in a different way. Even in my dreams, I am unable to change what happened. I am sorry in a way I don't know how to express."
Karen and Chrissy stood and embraced him.
A week after the hearing, the Yongsei University Medical Center released Anderson's medical records. They showed that Anderson had contracted four infections in the hospital, including pneumonia.
On Oct. 21, Dulaney, the hearing officer, sent a memo to Gen. Vandal, the ultimate authority on the case. "I do not recommend that he be tried by court martial," he wrote.
In the end, after all the evidence was presented, after all the arguments were made in court, it was the mothers who may have mattered most.
Vandal had left a business card by Anderson's hospital bed, and on Thursday, Karen made an appointment to visit him. He was kind, she said, and listened carefully.
"He looked at me and said, 'Do you truly in your heart believe this is an accident?'" she recalled.
 "I said 'Yes, I would lay down and die right now if Royal could come home.'"
On Friday, the general granted Royal an administrative discharge. Royal would have to leave the military, but he would go home.
For more news from Asia, follow @JRKaiman on Twitter
ALSO
Lessons of war: David Petraeus warns that a bigger challenge awaits after Islamic State is driven from Mosul
North Dakota pipeline activists say arrested protesters were kept in dog kennels
'This is slavery': U.S. inmates strike in what activists call one of the biggest prison protests in modern history
Sign up for Essential California for the L.A. Times biggest news, features and recommendations in your inbox six days a week.
You may occasionally receive promotional content from the Los Angeles Times.