Woman at center of South Korean political scandal: 'I've committed wrongs for which I deserve to die'
Reporting from SEOUL —
Peeking out from under a black bucket hat, with a scarf covering the lower portion of her face, Choi Soon-sil pushed through a roiling, shouting scrum of reporters and protesters Monday. Stopping briefly, she pleaded, "Please forgive me. I've committed wrongs for which I deserve to die."
Choi was then whisked into a prosecutors' office, where she faced questioning over her role in a scandal that has gripped South Korea for weeks and shaken the presidency of Park Geun-hye to its core.
At issue are allegations of corruption and interference in state affairs by Choi, a confidante of Park. Choi stands accused of using her connections to the president to strong-arm corporations into donating millions to dubious foundations under her control, and interfering in state affairs through her close relationship with Park, whom she has known since the 1970s.
The scandal has triggered an uncommon outpouring of anger from the South Korean public. Over the weekend, thousands of protesters in cities across the country gathered in public places carrying placards and chanting slogans calling for Park to resign, and the president's approval rating has fallen to its lowest point since she took office.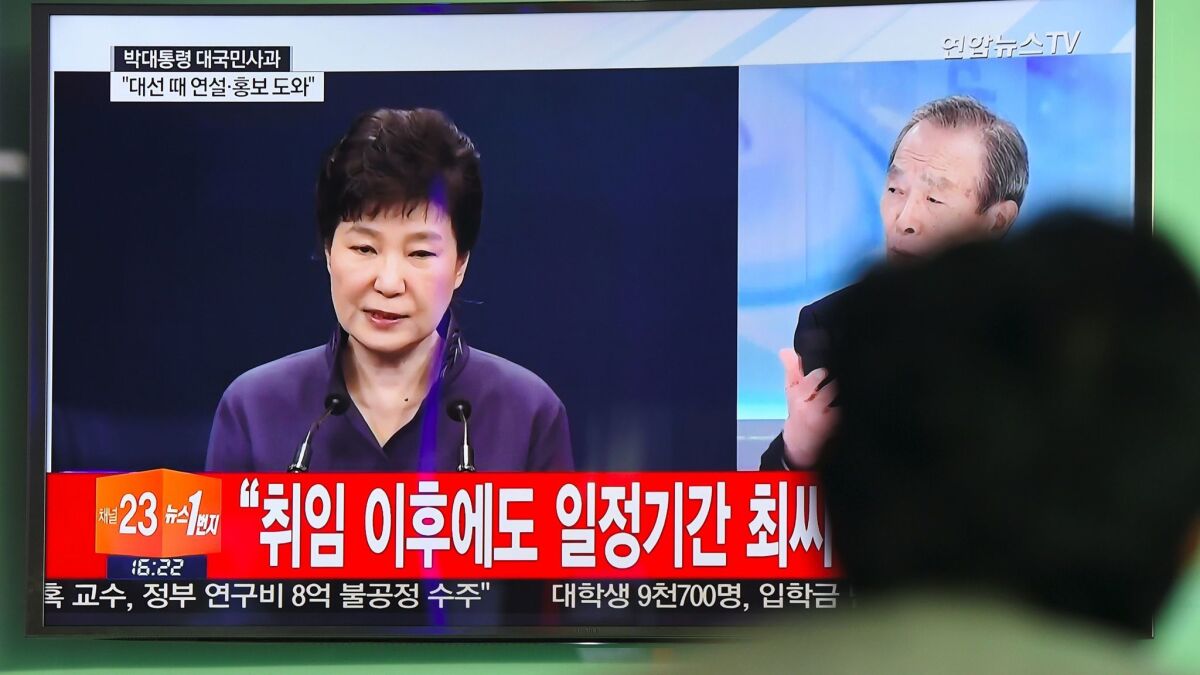 Last week, a broadcaster reported finding a discarded computer hard drive that belonged to Choi and contained confidential documents that she purportedly received from Park. Critics charged that the president was irresponsibly managing official information and blindly following directives from someone with no known expertise or experience in governance.
A particularly irksome allegation for many South Koreans is a charge that Choi used her connections to get her daughter into a prestigious university in Seoul. In South Korea, education is a national passion and competition for spots at top schools is cutthroat. The president of the school in question, Ewha Womans University, has resigned over the scandal.
Choi, 60, is the daughter of Park's late mentor, Choi Tae-min. Park has not clarified the nature of her relationship with Choi, but in a televised address last week in which Park apologized for causing "public distress" with the scandal, she described Choi as someone who had helped her "during difficult times."
Park, 64, is not known to have many close associates. She is estranged from both her siblings. Her father was the autocratic President Park Chung-hee, and he and her mother were assassinated while she was in her 20s. She has no children and has never married.
Back Story: A South Korean scandal with overtones of Clinton's emails »
She has been accused, online and at protests, of making decisions as president at Choi's behest, instead of in the interests of the people she was elected to serve. Shin Kwang-yeong, a professor of sociology at Chung-Ang University in Seoul, said the scandal has resonated so strongly because the revelations of Choi's influence over Park constitute something of a eureka moment for South Koreans befuddled by Park's manner of governing.
"As president, Park has pushed unpopular policies and ignored public opinion. Now it appears that someone else was behind her decisions," Shin said.
In response to the worsening public mood, over the weekend Park reshuffled her Cabinet by soliciting and accepting the resignation of her chief of staff and four senior aides.
Park is not unique among South Korean presidents in being beset by corruption allegations and low approval ratings late in her term; as their time in office wound down, Park's predecessors Lee Myung-bak and Roh Moo-hyun were also consumed by scandals involving financial improprieties and favor-giving.
The latest scandal has led to an unusual show of cooperation between Park's ruling Saenuri Party and the opposition, which have held meetings this week seeking ways to work together amid the crisis.
Analysts say Park is unlikely to resign but will face political gridlock over the rest of her five-year term, which ends in 2018. Shin said it will be impossible for her to push through any significant policy initiatives.
Borowiec is a special correspondent.
To read the article in Spanish, click here
ALSO
Secret tape recordings of Kim Jong Il provide rare insight into the psyche of his North Korean regime
Ties between the U.S. and Philippines run deep. It won't be easy for Rodrigo Duterte to unravel them
The saga of the Chinese spies and the stolen corn seeds: Will it discourage economic espionage?
---
Must-read stories from the L.A. Times
Get the day's top news with our Today's Headlines newsletter, sent every weekday morning.
You may occasionally receive promotional content from the Los Angeles Times.