One Pakistani city's horror: 12 children raped and all but one of them killed in a year. The latest was 6 years old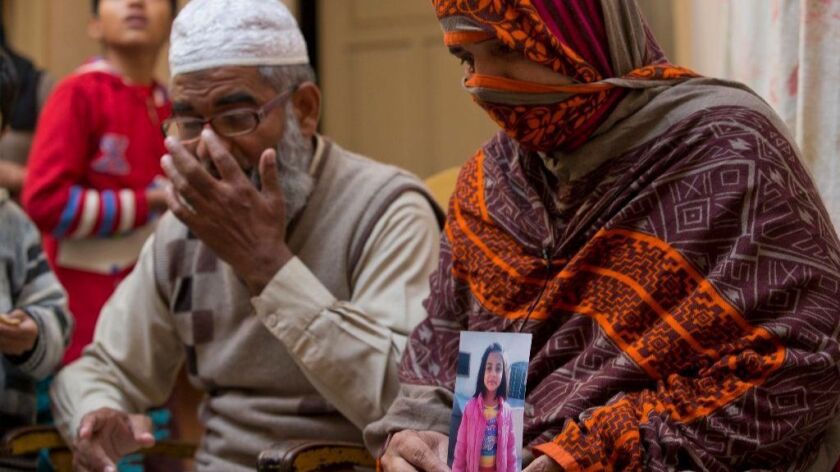 Reporting from KASUR, Pakistan —
Nusrat Ameen sat on her bed next to another mother who had come from more than 200 miles away to offer condolences. Aneeka Malik hugged Ameen and cried.
"I can't imagine this happening to my child," Malik said. "If I lose sight of her, I start getting panicked."

For the record:
10:00 a.m. Jan. 24, 2018An earlier version of this article identified the surviving rape victim as Laiba. The child's name is Kainat.
In the weeks since Ameen's 6-year-old daughter, Zainab, was found dead in a trash dump, her body showing signs of rape, the family has become Pakistan's portrait of grief. Parents from across the country have traveled to the eastern city of Kasur and sat in the family's two-story house, trying to offer comfort but also to voice their anxieties about what many describe as an epidemic of child sexual abuse in Pakistan.
Malik, a 37-year-old from the city of Multan, said she once could not find her kindergarten-age daughter during school recess. Malik said she screamed hysterically, causing a crowd to gather. Her daughter was quickly found on the playground, but a mother's worries do not fade easily.
"I am here in solidarity with Zainab's family," Malik said. "No parent in the world should go through this."
The agony in Kasur did not diminish Tuesday with the news that authorities had captured a man accused of raping Zainab and seven other children, all but one of whom died. A total of 12 children have been raped over the last year in this district of 3.4 million people, all the incidents occurring within a 1.5-mile radius, in neighborhoods with streets so narrow that cars cannot fit.
Police identified the man as a 23-year-old construction worker and religious singer. The news was immediately greeted with skepticism, however, because the national furor over the attacks has brought intense pressure on law enforcement to bring the culprits to justice — and police have frequently arrested and even killed suspects who were later found to be innocent.
Zainab's killing set off days of deadly riots and prompted a nationwide social media campaign — coinciding with the #MeToo movement in the United States against sexual misconduct — in which Pakistani celebrities and ordinary citizens told of abuse they faced as children.
In Pakistan, rape victims have long been silenced by cultural taboos, and culprits often go free. Zainab's killing occurred in Kasur, a city near the Indian border that was long famous for Sufi shrines but has gained the unwelcome moniker of Pakistan's "rape capital."
Anxiety runs deep among the parents in the city. Teachers cordon off campuses during school recess. Shopkeepers swear to keep an eye on anyone they don't recognize.
The street where Zainab's family lives is now adorned with decorations, colorful and shiny bunting stretching through the street in remembrance of the loss of an innocent child. Banners bearing Zainab's face carry slogans both sad and uplifting: "No more inhumanity in this city, monsters will be crushed," and "Children are our flowers."
Ameen and her husband were on a pilgrimage in Saudi Arabia when she received a phone call on the night of Jan. 4 notifying them that the youngest of their three daughters had gone missing outside her aunt's house, where she took Koran lessons with her cousins.
When police were slow to respond — a local barber said he saw officers napping in their vans the night she disappeared — relatives formed a search party, and a local baker and hardware shop owner turned over security camera images to the family to aid in the hunt.
"This could have been avoided," said her uncle, Shabbir Ahmed, 44. "The police pretended they were doing their part. But that night, the police were so lethargic that we had to gather the neighborhood to look for Zainab."
Five days later, Zainab's mutilated body was found. Her hands were broken, she was covered in blood and feces, and her body showed signs of rape, according to a doctor who conducted the autopsy.
Kasur was hit by revelations in August 2015 that a pedophile ring based in a nearby village had filmed about 280 children being sexually exploited. After one of the victims went public with a video, investigators found that parents who learned of the crimes had stayed silent to avoid bringing shame on their families in conservative Pakistan, where sex and rape are taboo subjects.
Authorities were castigated for their neglect in that case, and many residents of Kasur said it was only afterward that police took notice of child abuse complaints.
"Before 2015, police used to refuse to register rape cases and often blamed the families, discouraging them" from even filing reports, said Jawad Bukhari, 40, chief executive of Alpha Foundation, a child rights advocacy group in Kasur.
That case helped bring child sexual exploitation to light in Pakistan but did little to curb the problem. The independent Human Rights Commission of Pakistan said that 1,582 rape cases were reported in 2016, more than twice the year before, with child rape cases rising by 10%.
After Zainab's killing, three days of riots broke out in Kasur in which police opened fire on demonstrators, killing three people. The case became a political issue, with Pakistan's military chief and the Supreme Court chief justice issuing condemnations.
Right-wing Islamist parties joined the demonstrators, adding to the embarrassment for Prime Minister Shahid Khaqan Abbasi's governing party, whose stronghold is here in Punjab province.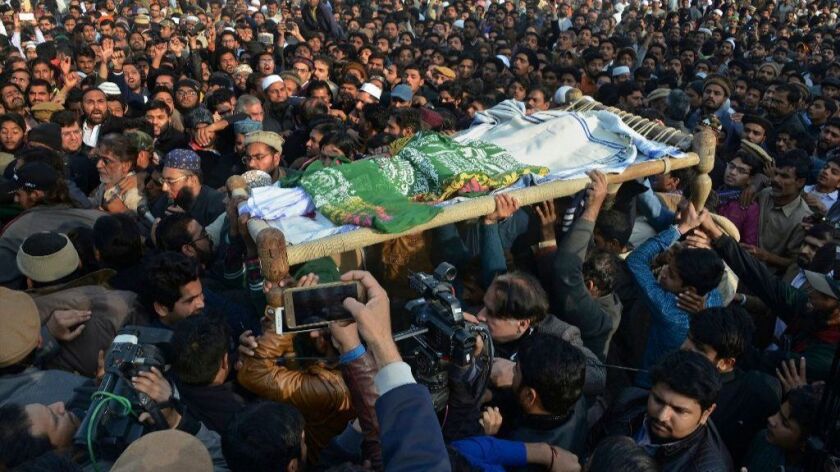 All the while, Zainab's family continued to press for justice, breaking a taboo on openly discussing sexual assault in Pakistan that has allowed victims to go ignored and perpetrators to go unpunished.
"The lengths this country goes to punish rape victims is unimaginable," Bukhari said. "From police to the judicial system, every step is flawed and filled with hurdles for victims and parents."
Families of victims in Kasur said police sometimes turned them away or ask for money to register an initial report.
Two months before Zainab's killing, a girl named Kainat was attacked and dumped in the trash in Kasur. She was the only one of the 12 child victims to survive, but family members say she is disoriented, does not recognize them and cannot speak.
Her father drained the family's finances to pay her medical bills. After Zainab's case became public, Kainat was offered free treatment at the local hospital.
Mohammad Asif, a fruit seller, said it was only after Zainab's death that the family received a forensic report in the rape and killing of his daughter, 5-year-old Ayesha, who was taken from a wedding in January 2017.
"For one year, I made trips to the police station, but they kept telling me that I should look for the culprit within my own family and surroundings," Asif said.
"If the police had done their job in the previous cases, my Ayesha would have been saved. Or if they would have done their job in Ayesha's case, Zainab would have been saved."
After Pakistan's army chief took notice of Zainab's death, a joint investigation team was formed involving local and provincial police departments and major intelligence agencies. Investigators said they tested DNA from 600 neighborhood residents and interrogated dozens of people.
Sajid Ali, a spokesman for the district police, acknowledged that the police in the past had "mistakenly caught the wrong culprits" in the child rape cases. Some were killed in "encounters," a term used to describe police killings in self-defense, Ali said.
After Tuesday's arrest, Zainab's mother said the culprit should be punished publicly.
He should be "stoned and skinned in the middle of this neighborhood," Ameen said. "The world should watch him, so no man in the world ever abuses a child like this."
Nazish is a special correspondent. Times staff writer Shashank Bengali in Mumbai, India, contributed to this report.
---
UPDATES:
8:25 p.m.: This article was updated throughout with additional interviews from Kasur residents.
This article was originally published at 9 a.m.
---
Must-read stories from the L.A. Times
Get the day's top news with our Today's Headlines newsletter, sent every weekday morning.
You may occasionally receive promotional content from the Los Angeles Times.