Pakistan grapples with epidemic of child rape cases, in a society where sex education is taboo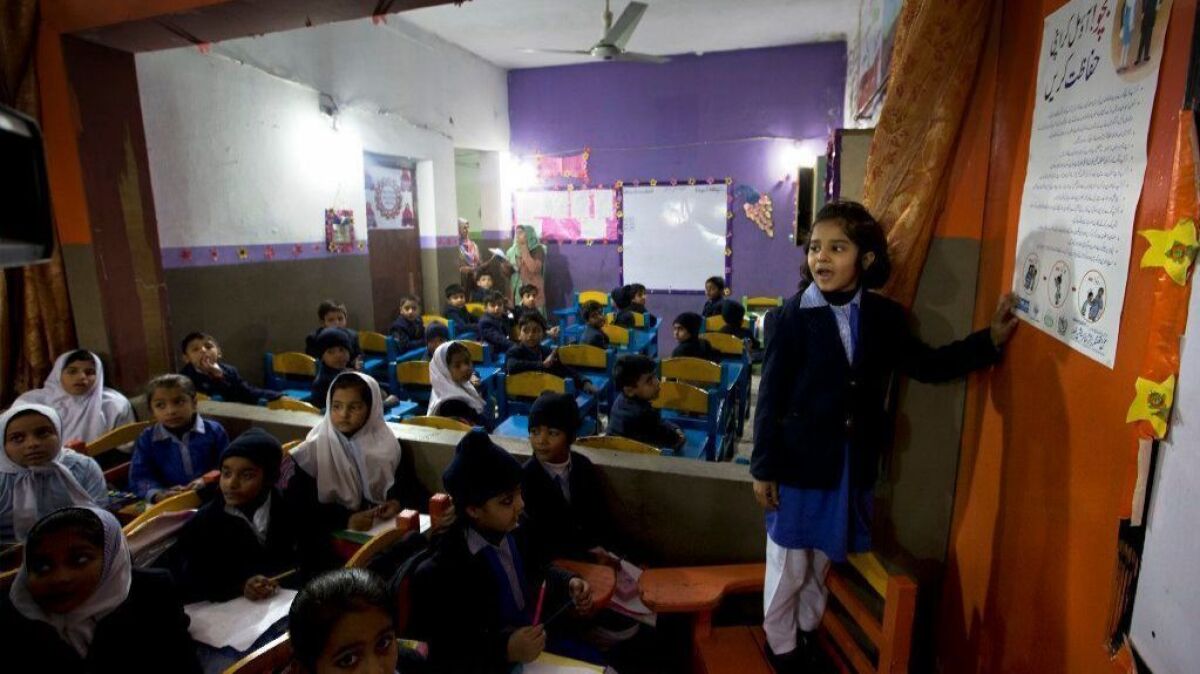 Reporting from Peshawar, Pakistan —
Ashfaq Ahmad would never have talked about sex with his three children, least of all his daughters, who are 5 and 3. In his socially conservative Pashtun community near the border with Afghanistan, the topic is taboo.
But Ahmad had grown worried for his children's safety, particularly after stories of killings and sexual abuse of minors began appearing almost nightly on Pakistani news channels. In January, the nation was transfixed by the case of a 6-year-old girl who was found raped and left for dead in a dumpster in a town in Punjab province.
Then Ahmad, a marketing manager, saw a video clip of Indian movie star Aamir Khan, who is popular in Pakistan, educating a group of children on a TV show about inappropriate touching. The years-old clip, which was making the rounds on Pakistani social media, persuaded Ahmad and his wife to sit down with each of their children, including their 8-year-old son.
"I told them if a stranger touches your body parts, you start crying and tell mama, papa or your grandfather too," Ahmad said.
A spate of child sexual abuse cases has torn apart Pakistani families and prompted a flood of anger at politicians and law enforcement officials for failing to curb a long-standing menace. It has also forced many Pakistanis to explore ways of broaching a topic that has long been thought too sensitive to discuss.
While sex education is not taught in public or private schools, education officials in the two largest provinces recently introduced chapters on child protection in government textbooks. But officials are skirting the issue of sex to avoid offending parents and religious groups.
Textbooks in Sindh and Punjab provinces now include verses from the Koran, the Muslim holy book, and sayings of the prophet Muhammad that refer to keeping children safe — without explicitly mentioning sexual abuse or body parts.
Allah Bakhsh Malik, the secretary of the provincial education department in Punjab, said the government had designed the classroom materials in collaboration with religious scholars, advocacy groups and UNICEF, for students in both primary and secondary schools. The state Curriculum and Textbook Board prepared free supplementary material to sensitize parents and teachers.
One passage, addressed to parents, reads: "Keep a vigilant eye on people in contact with children, including close relatives, as sometimes trustworthy people could inflict harm on them." Another, quoting Muhammad, says: "That person is not among us who does not show pity toward children and extend respect to elders."
Imran Taker, a child rights activist in Peshawar, praised Punjab for taking a positive step.
"I think it should be extended to other provinces too," Taker said. But resistance in more conservative places is fierce.
In the northern province of Khyber Pakhtunkhwa, which includes Peshawar, Education Minister Muhammad Atif said the provincial government has started to explore how to include such material in the curriculum for boys and girls ages 5 and up. "But the government will not include material in textbooks that is in conflict with our culture and tradition," Atif said.
Khwaja Yawar Naseer, director of a private elementary school in Peshawar, disagreed with teaching sex education.
"We organized a workshop for students and told them to start crying if anyone except their parents touched their sensitive parts of body," Naseer said. "But it is very risky to discuss sex education in classrooms. It is unacceptable in our society."
Fazal ur Rahim Marwat, a former head of the provincial textbook board in Khyber Pakhtunkhwa, said children needed more awareness of sexual abuse but argued that it should be taught in an indirect way, using moral education and enlisting parents and community leaders, not just teachers.
"We have a conservative society and such topics can't be discussed at the school level," he said.
The child protection advocacy group Sahil says that millions of Pakistani children are vulnerable to abuse, often from relatives and educators. In July, a principal was arrested on multiple counts of sexual offenses, including forcing female students to engage in sexual activity at school and capturing the acts on cellphones and hidden cameras. He is currently on trial.
In 2016, Sahil documented 4,139 cases of child sexual abuse nationwide — roughly 11 a day, and an increase of 10% from the year before. The group says that while media coverage of the problem has encouraged more victims to come forward, few cases result in convictions because of a lack of investigative capacity among police.
Mamtaz Gohar, a spokesman for Sahil, said the organization was providing free legal aid to 209 families of child abuse victims.
"This is an alarming situation," Gohar said. "Our office in Islamabad" — Pakistan's capital — "monitored 120 child abuse cases in the 15 days after the Zainab Ansari case."
He was referring to the 6-year-old girl in Punjab whose rape and killing sparked deadly riots in the city of Kasur, where 12 children were raped within one year. Investigators took DNA samples from dozens of people and faced intense pressure from government officials to find the culprit before arresting a 23-year-old religious singer, Imran Ali, who eventually confessed to killing Zainab and seven other children.
He was convicted by a court that normally hears terrorism cases and sentenced to death.
The weeks since Zainab's killing brought more cases. A 4-year-old girl was abused and killed in the town of Mardan, near Peshawar, her body recovered from a sugarcane field near her house. Police arrested three people, including a 15-year-old relative of the girl, on the basis of DNA evidence.
In early March, a man gunned down his three teenage nieces in Khyber Pakhtunkhwa after they reported to police that their father had raped one of them. Police arrested both men.
But Gohar said that despite the number of high-profile cases, most perpetrators of child abuse go unpunished.
"The conviction rate in child abuse is very low," Gohar said. "Most of the victims' families either avoid registering cases or settle out of court."
Ali is a special correspondent. Times staff writer Shashank Bengali contributed to this report from Mumbai, India.
---
Must-read stories from the L.A. Times
Get the day's top news with our Today's Headlines newsletter, sent every weekday morning.
You may occasionally receive promotional content from the Los Angeles Times.