Law used against journalist Maria Ressa stirs fears among Filipinos: It could target 'all of us'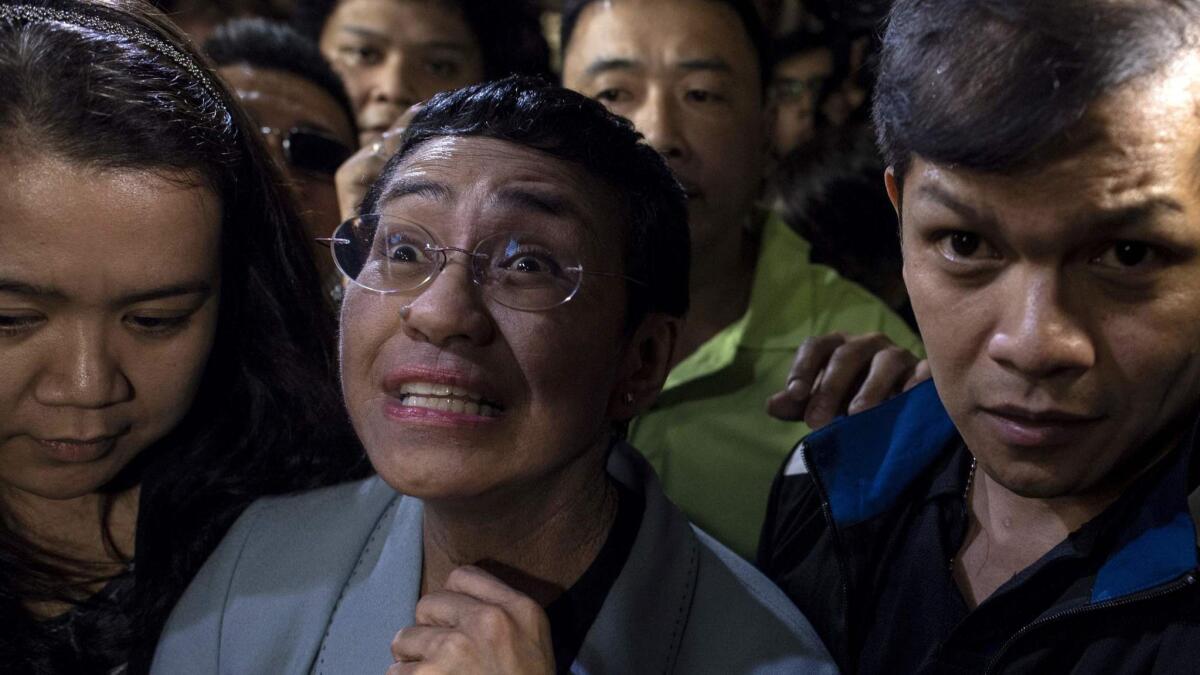 Reporting from Manila, Philippines —
A day after posting bail, a defiant Maria Ressa sat in a car winding its way through Manila's notoriously congested traffic to attend a rally in support of press freedom.
The chief executive and executive editor of the news site Rappler, Ressa was arrested last week and charged with cyber libel, a move she described as an act of naked intimidation to quash critical reporting of President Rodrigo Duterte and his administration.
Ressa, a 55-year-old veteran journalist who spent nearly two decades with CNN and authored two books on the spread of terrorism in Southeast Asia, said she would not be cowed and hoped that others would speak out against the administration's tactics.
"I will hold the government to account as a Filipino citizen," said Ressa, who was a Time magazine "Person of the Year" in 2018 and garnered support from around the world after her arrest. "I will hold the government to account as a journalist."
The odds are not in her favor. Though Duterte said he had nothing to do with Ressa's arrest, he has proven in the past that he can use the law to silence media publications that challenge his authority and policies.
The cyber libel law, which applies to speech online and carries far more serious penalties than ordinary libel, provides Duterte and his supporters a powerful tool to go after perceived enemies.
Freedom of speech is constitutionally protected in the Philippines. But fears of a chilling effect as a result of Ressa's arrest were quickly realized. On Saturday, the Philippine Star, one of the country's leading broadsheets, removed from its website a 2002 story about influential businessman Wilfredo D. Keng's suspected links to the death of a former Manila councilor.
It was Keng who instigated the libel suit against Ressa after Rappler published a story in 2012 that alleged he was involved in human trafficking and illegal drugs. (The Duterte administration has denied any ties to Keng, who called Rappler's reporting false). Rappler stands by its story, which remains online.
Ressa's attorney has argued that the charges shouldn't apply. The story ran four months before the cyber libel law was introduced within a broader cyber-crime bill.
The Philippine Star wasn't taking any chances. In a statement, the newspaper said it took down the story after Keng threatened legal action.
"Although laws are not supposed to be applied retroactively, the scope and bounds of the Cybercrime Prevention Act of 2012 are still unexplored and the takedown was seen as a prudent course of action," the newspaper said.
Experts say other news organizations, many already struggling to maintain revenue in the digital era, will self-censor rather than deal with the consequences of a law that was primarily designed to address online scams and child pornography but also expanded the scope of libel beyond print and broadcast to include online speech.
"This is proof of the chilling effect," said Nonoy Espina, chairman of the National Union of Journalists of the Philippines.
"With the way the government has mangled the cyber libel law, it can be used on all of us," he added. "It is beyond an issue of press freedom; it is now a question of basic freedom of expression."
Carlos Conde, a Philippines-based researcher for Human Rights Watch, agreed, saying the law could be applied to any form of dissent.
"If the government pursues this line of thinking and ignores the statutes of limitations," he said, "it can use cyber libel to go after journalists, bloggers, anyone."
The law mirrors efforts in authoritarian and one-party states, particularly in Asia where governments are wary of the way social media has wreaked havoc on the U.S. elections and Brexit, and of how it can be used to sway popular opinion.
Philippine journalists and media rights groups have been lobbying to decriminalize libel and cyber libel for years. But in 2014 the Supreme Court junked a petition calling for decriminalization. The government also raised penalties on cyber crimes, which happened to include libel online, reasoning it had to deter the increase in illegal behavior on the internet.
Online libel carries a penalty of six years, at minimum, to 12 years of imprisonment. A fine, if imposed, can run from a minimum $120 to any amount determined by the court.
The law adds to an already difficult environment for journalism in the Philippines. The country ranked 133rd out of 180 countries on last year's World Press Freedom Index maintained by Reporters Without Borders.
In December, the International Federation of Journalists tagged the Philippines as the deadliest peacetime country for journalists in Southeast Asia.
The Philippine Center for Investigative Journalism said 12 journalists had been killed since Duterte assumed office in 2016.
The mercurial president is prone to making inflammatory remarks about one of his least-liked professions, calling reporters "sons of bitches" and warning that they're not exempt from assassination.
Early on, Duterte decided he had little use for the establishment news media. He banned them from covering his inauguration, opting instead to broadcast the event on state-owned media and Facebook, where he commands a troll army that can attack his opponents and spread misinformation. And when a news organization becomes too big an irritant, he has applied pressure through official channels.
That was the case when he threatened not to renew the franchise of media broadcasting giant ABS-CBN and when he accused the owners of the Philippine Daily Inquirer of tax evasion after the newspaper was critical of his war on drugs, in which thousands of poverty-stricken Filipinos have been killed by death squads. The owners relented and sold the broadsheet to one of Duterte's deep-pocketed allies.
Ressa and Rappler have been subjected to similar official harassment. The Philippine Securities and Exchange Commission attempted to revoke Rappler's business license, citing foreign ownership, and Ressa herself has been charged with tax evasion. She has had to post bail six times since December — five times for tax evasion and, now, one time for cyber libel.
A presidential spokesman on Friday accused Ressa of abusing her power as a journalist and "weaponizing" free speech to attack Duterte and his administration.
The National Bureau of Investigation dismissed Keng's case against Ressa last year, saying the one-year prescriptive period for libel had already lapsed. But the Philippine Department of Justice came back and charged Ressa with cyber libel, arguing that the crime was classified as a special act that had a longer statute of limitations.
It didn't matter to prosecutors that the law didn't exist when the Rappler story was first published seven years ago because the story was republished in 2014. Rappler said it merely updated the story then to correct typographical errors by adding punctuation marks.
"This particular case of cyber libel is a travesty," Ressa said.
Times staff writer Pierson reported from Singapore and special correspondent Santos from Manila.
david.pierson@latimes.com | Follow me @dhpierson
Sign up for Essential California for news, features and recommendations from the L.A. Times and beyond in your inbox six days a week.
You may occasionally receive promotional content from the Los Angeles Times.