An unlikely opponent emerges against the Philippine president's brutal drug war: the vice president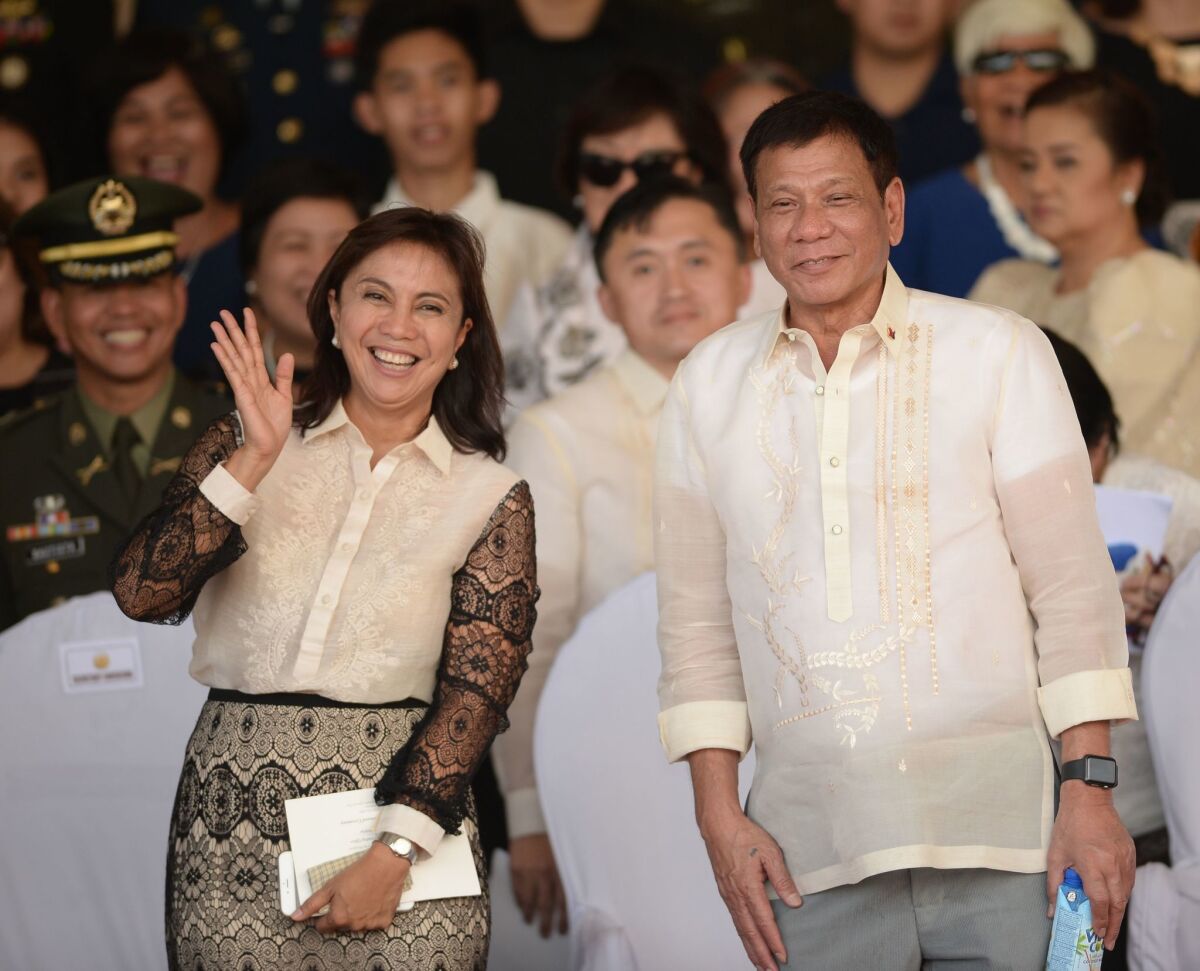 Reporting from Manila —
Philippine President Rodrigo Duterte, a tough-talking populist who took office in June, has earned international condemnation for ordering or encouraging thousands of extrajudicial killings intended to rid the country of illegal drugs and bragging about personally having killed people.
But at home, he remains extremely popular, with approval ratings topping 60%, and firmly in command, with his supporters controlling Congress, the courts and the police and military.
His detractors have found some hope in an unlikely figure: the vice president.
Maria Leonor "Leni" Robredo, a soft-spoken former human rights lawyer, was not Duterte's running mate. In the Philippines, the president and vice president run separately.
Over the last month, the 52-year-old Robredo has emerged as the most powerful critic of a president whose authoritarianism recalls the days of Ferdinand Marcos, who ruled the Philippines from 1965 to 1986 and used murder and torture to silence his opponents.
"I think people are coming out [against Duterte] now more than before," she said in an interview at her office in Quezon City, a few miles from the presidential palace. "During the first three or four months of this administration, it felt like no one was willing to make known their opinions on many issues, for fear that they would become vilified in social media. Because that's what happens, all the time. But we have to fight it out."
Robredo spent her early career as a social activist. Her husband, Jesse Robredo, was a popular politician who became secretary of the Interior in 2010 and two years later died in a plane crash. Robredo decided to carry on his political legacy, winning a seat in Congress and serving for a term before seeking the vice presidency.
She narrowly defeated Ferdinand Marcos Jr., the late dictator's son, in the election last May.
Traditionally, the vice presidency is largely a ceremonial role, although several vice presidents have run government agencies. Duterte named Robredo to his Cabinet as head of the Housing and Urban Development Coordinating Council.
But any harmony between the two was short-lived.
This fall, when Duterte approved the interment of Marcos' remains at the National Heroes' Cemetery and buried him in a surprise ceremony, millions of Filipinos objected. Robredo channeled their grievances.
"Ferdinand Marcos was a thief, a murderer and a dictator," she said at the time. "He is no hero."
Duterte accused her of attending antigovernment protests, which she denied, and on Dec. 4 the Cabinet secretary ordered Robredo to "desist from attending all Cabinet meetings."
She resigned from the Cabinet the next day.
Resigning meant she no longer had to feign respect for Duterte's policies, she said, and can now attend "public events" protesting the killings without fear of political blowback.
"When I was still a member of the Cabinet, even if I wanted to participate I didn't, because it would've been offensive to the president," she said. "Now that particular thing, it isn't there anymore."
Her defiance has made her a hero to some Filipinos. But her popularity lags far behind that of the president, who had a satisfaction rating of 63% in a December survey by the polling organization Social Weather Station.
In the last five months, we seem to have forgotten our core as a nation.
— Maria Leonor "Leni" Robredo
Soon after the election, Duterte promised a "dictatorship against evil" — namely, illegal drugs. The scope and brutality of his anti-drug campaign has stunned the world, as police and vigilantes have killed about 6,200 suspected drug dealers and users, and hundreds of thousands more have turned themselves in.
In December, he announced that he personally killed three suspected criminals while he was mayor of the southern city of Davao. He has repeatedly threatened to declare martial law.
To many Filipinos still taken with strongman nostalgia, the harsh action and tough talk struck a chord. To Robredo, it is an unsettling setback.
"I think for a country that has recognized strong democratic institutions in the past — and has believed that the rule of law will bring order and stability to the nation — it's scary," she said. "In the last five months, we seem to have forgotten our core as a nation."
Some of her supporters have compared her to former Philippine President Corazon Aquino, who entered politics after the death of her husband and stood up for human rights and civil liberties in leading the "People Power" protests that ousted Marcos in 1986.
The vice president plans to continue promoting an agenda of "nutrition and food security, universal healthcare, education, rural development and women empowerment," her spokesperson said.
Yet since resigning from the Cabinet, she has focused on extrajudicial killings.
Her position has made her a frequent target for Duterte supporters. They flood her social media accounts with threats and insults, she said.
In late December, after a typhoon battered her home region of Bicol, critics attacked her for being out of the country and not returning immediately from vacation in New York.
"Where are you?" Mocha Uson, a popular Filipino singer, told reporters on New Year's Eve in comments directed at Robredo. "In the past, you would hold a press conference over a small issue. But now, a disaster hit your hometown and you can't be reached."
Robredo has since visited the region.
See the most-read stories in World News this hour »
She also faces a challenge from Marcos Jr., who contested the result of the May election and lodged a protest with the Supreme Court, which has yet to resolve the issue.
Richard Javad Heydarian, an expert on Philippine politics at De La Salle University in Manila, said Robredo faces a more fundamental problem: "You need a tough-minded leader to take on Duterte, or take over for him — and she still doesn't project that. She's sweet, she's nice, but people don't see her as leader material.
"My concern is — not because I'm for or against her — but that for any functioning democracy, you need a robust opposition," he said. "And I don't see a robust opposition, or even a robust opposition leadership here."
For more news from Asia, follow @JRKaiman on Twitter
ALSO
In China, live-streaming apps soothe lonely souls and create fortunes
As Khmer Rouge guerrillas in the '70s, they took part in genocide. Now, as Christians, they ask for forgiveness
An overloaded boat, packed with dreams: Hundreds of migrants plucked from a hazardous journey across the Mediterranean
Must-read stories from the L.A. Times
Get the day's top news with our Today's Headlines newsletter, sent every weekday morning.
You may occasionally receive promotional content from the Los Angeles Times.