Singapore is orderly, civil — and aghast over a family feud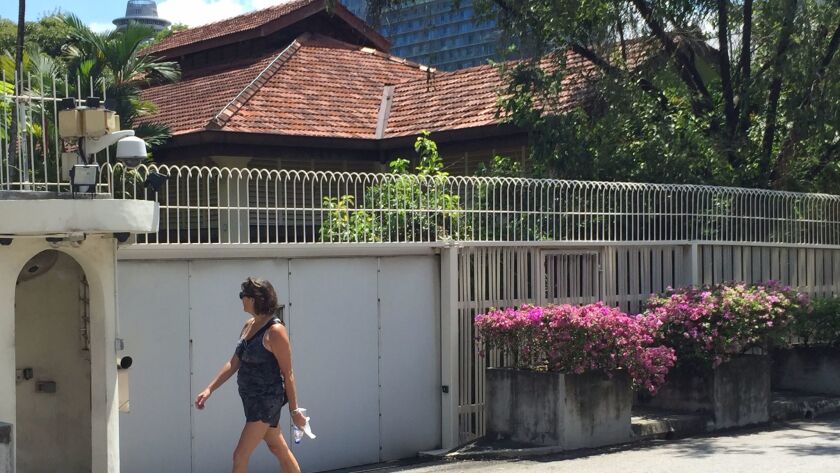 Reporting from Singapore —
Paint is chipping off the two-story house at 38 Oxley Road. If not for the empty white guard posts, few could tell it housed the man who built Singapore into a global symbol of order and opportunity.
Now this modest former residence of Lee Kuan Yew, Singapore's founder and first prime minister, is at the crux of a bewildering battle that has entangled the city-state's most prominent family — his own. It has tested the very principles he relied on to transform an unknown backwater into one of the most prosperous societies in Asia.
His two youngest children accuse their brother, the current prime minister, of betraying their father's wishes to demolish the house after his death. They say he abused his power for political capital and to ensure his own son's dynastic rule. The leader argues he wants to honor Lee's desires, but must leave the decision about such an iconic place in the hands of the government, as his father recognized.
It was in the basement of 38 Oxley Road that Lee and his supporters plotted an independent Singapore in the early 1960s, free of its British colonial masters. They envisioned a disciplined society based on meritocracy, one that rooted out corruption even at the sacrifice of some political freedoms. That vision steered the country during his three-decade rule.
Under Lee's watch, Singapore became a gleaming financial capital known for having one of the world's best education systems — and a penchant for strictness that bordered on the obsessive. Chewing gum was famously outlawed, and caning was employed as a punishment for relatively minor crimes.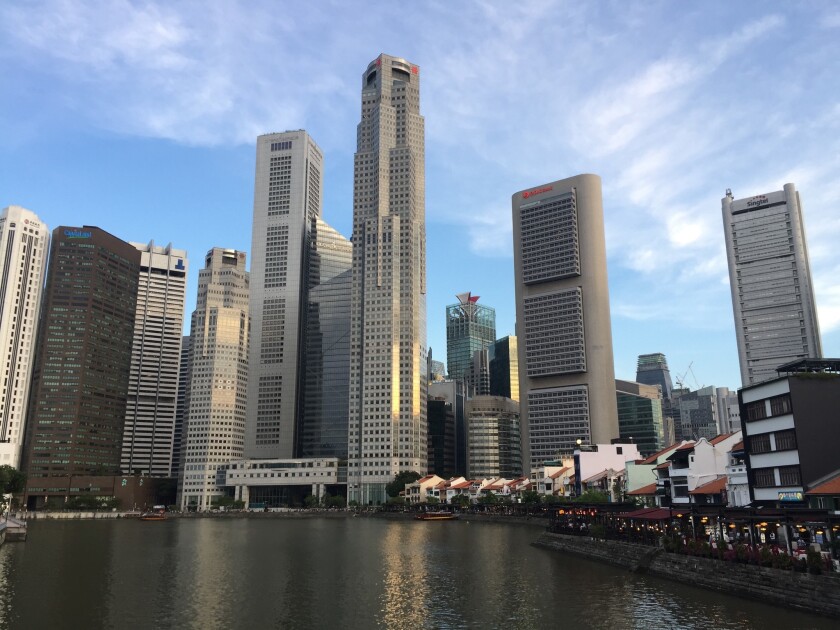 Lee himself cultivated an image as a humble exemplar of Confucian virtues — of which none is more important than loyalty to family.
These recent allegations of impropriety, from within that circle, have shaken the long-term conviction in the sanctity of Lee's ideals.
People wonder "will good governance be maintained in Singapore and transcend the lifespan of Lee Kuan Yew, or is it fraying?" said Gillian Koh, who researches local politics at the National University of Singapore. "Is it falling apart, imploding right at the heart of government?"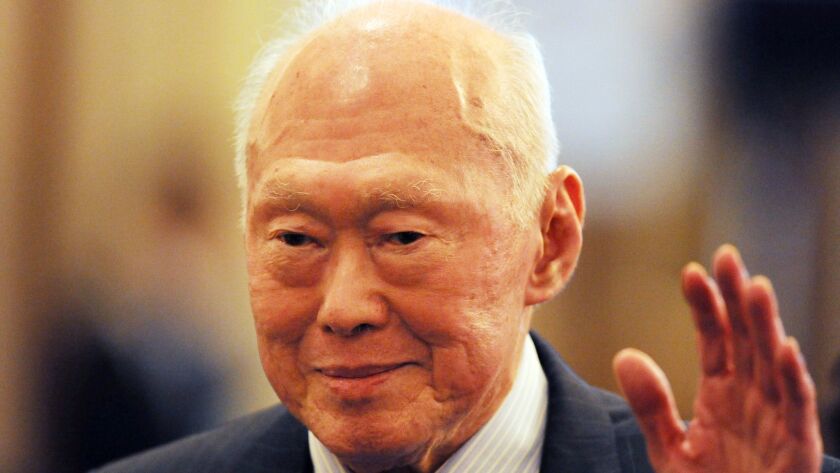 Lee Kuan Yew, who died two years ago, gave instructions in his will to eventually tear down the house. It lacks a foundation and needs repair, making it the plain cousin in a neighborhood with multimillion-dollar condos and Singapore's glitzy version of Rodeo Drive.
The former leader talked about houses that become a "shambles" when they are turned into museums and opened to the public. He considered it an unnecessary, costly expense.
So Singaporeans were shocked when the dispute erupted into public view last month on Facebook, an unprecedented outburst against a government that often sues its critics.
The siblings titled their attack: "What has happened to Lee Kuan Yew's values?"
The youngest of Lee's children, Lee Hsien Yang, head of the Civil Aviation Authority and former chief executive of global telecom company Singtel, said he planned to flee the country. He feared his brother, Prime Minister Lee Hsien Loong, would use "the organs of state against us."
Their sister, Lee Wei Ling, a well-known neurologist, also signed a six-page letter that questioned their elder brother's "character, conduct, motives and leadership."
The pair accused the prime minister of setting up a secret government committee to drive his own agenda for the house and "milk" their father's legacy. They indicated he may have lied under oath and claimed his wife, Ho Ching, who runs the sovereign wealth fund Temasek Holdings, helped mastermind the deception.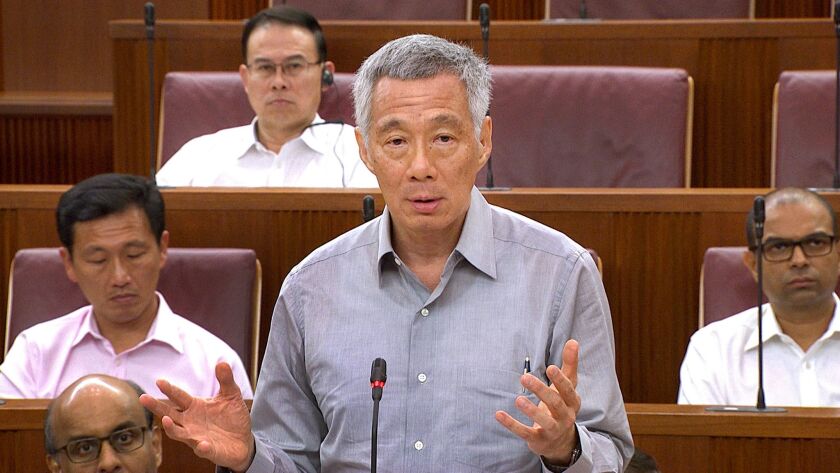 This sudden publicity drew attention to the small circle that governs the city-state. Lee Hsien Loong, a lauded Cambridge graduate who took power in 2004, is only the third leader, after his father and Goh Chok Tong, a longtime civil servant.
The prime minister, wearing a simple blue button-down, held a special session of Parliament this month to refute the allegations. He called them "baseless" and said he had no role in a committee that explored the future of the house.
His father understood the government might want to preserve the place, he said, and had considered other options for it.
The leader further described how he sold the house to his brother to avoid any conflict of interest, and stressed his son had no interest in politics.
"When the dust has settled on this unhappy episode, people must know the government in Singapore operates transparently impartially and properly," he said. "That in Singapore, even Mr. Lee's house and Mr. Lee's wishes are subject to the rule of law."
The siblings called the session a "whitewash" since the prime minister's party controls almost all parliamentary seats. But they agreed to handle the dispute privately, at least for now.
"Ultimately, it is up to the people of Singapore whether they hold Lee Hsien Loong to a true accounting," they said.
Singaporeans appear divided. Some view the building as a national treasure. It's not only Lee's home, but the birthplace of the People's Action Party — the only party to ever govern Singapore.
Others believe the nation should respect the wishes of a dying man. Many are embarrassed by the discord in a state that prides itself on decorum.
"This is a private matter," said Jeffrey Koh, 55, as he scanned the newspaper at a cafe off Oxley Road. "We're a laughingstock."
Lee Kuan Yew suffered his own short-lived property scandal in the mid-1990s, when he and family members were accused of buying condominiums at discounted prices. He also went before Parliament. A government investigation found no wrongdoing.
But this time the allegations aren't directed at the family; they're from within it.
This nation of 5.5 million already is wrestling with its future. The tiny island, just south of Malaysia and slightly more than half the size of Los Angeles, has thrived off free trade. Now it faces rising protectionism and an increasingly aggressive China. Pictures of squirming sperm and signs about fertility wellness cover Singapore subways, a reminder the city has one of the lowest birth rates in the world.
The dispute "is a referendum, in a way, on what Singapore politics is today, how sustainable it is and whether one-party rule is effective in meeting Singapore's challenges," said Ali Wyne, a nonresident fellow with the Atlantic Council, a Washington think tank, who co-wrote a book on Lee Kuan Yew.
The incident adds to concerns among some young people about the nation's strong-arm tendencies. A U.S. judge granted asylum in March to a Singapore blogger jailed twice for critical social media posts about politics and religion.
Hundreds stood in the rain last weekend and demanded an independent inquiry into the siblings' allegations, a rare show of public frustration.
"It's worrying," said Kirsten Han, 28, an activist and journalist. "This seems to suggest our democratic institutions are not as strong as we think they are."
Lee Kuan Yew ruled until 1990. His blend of tough political enforcement and capitalist business practices still stands as a model for nations such as China. The former British colony remains a global finance hub, and shows no signs that investors have lost faith in its governance.
"We do not believe Singapore's reputation for an honest and transparent government has been damaged by this episode," Chang Li Lin, the prime minister's spokeswoman, said in an email.
Lee Kuan Yew's 62-year-old daughter, who cared for him until his death, continues to live in the house. Lee's will specified the place exist until she leaves, meaning a decision on its future — and a conclusion to the episode— will probably not come anytime soon.
"If it happened to be a less powerful Singaporean family, they would go to court and there would be a winner," said Aloysius Sng, 29, who runs a tech-start up.
Sng looked around at the greenery and glass towers.
The dispute "was never about the building," he said. "If you want a monument to Lee Kuan Yew, Singapore is that monument."
Meyers is a special correspondent.
Twitter: @jessicameyers
ALSO
Lee Kuan Yew remembered: To many, he was Singapore itself
The sayings of Lee Kuan Yew, the sage of Singapore
With orderly Singapore turning 50, citizens may see a freer society
---
Must-read stories from the L.A. Times
Get the day's top news with our Today's Headlines newsletter, sent every weekday morning.
You may occasionally receive promotional content from the Los Angeles Times.