Here's why the death of a 68-year-old farmer set off bitter protests in Seoul
Reporting from SEOUL —
As night fell, the line of mourners was still hundreds of people long, snaking from the memorial altar, down a corridor and out the funeral hall doors. The somber sounds of funeral hymns filled the air.
The mourners, shuffling forward, many with their heads bowed, had come to pay their respects to Baek Nam-gi, a 68-year-old farmer who died Sunday after 10 months in a coma. As is customary at Korean funerals, the mourners placed a white carnation on a memorial altar, then bowed on their hands and knees three times in front of the casket.
Baek, a longtime activist, had been hospitalized in a coma since November, when he fell back and hit his head after being blasted by a police water cannon at an antigovernment protest in central Seoul.
We have to remember, and reveal the truth that can't be blocked with a water cannon.
— Seoul Mayor Park Won-soon
Protesters had been criticizing President Park Geun-hye's government on a variety of issues. Baek and other farmers took part to call on the government to intervene in the rice market to boost prices.
South Korea's liberal opposition seized on Baek's case as emblematic of what it calls the Park government's heavy-handed handling of dissent. Photos of a soaked Baek lying unconscious on his back in the middle of a road were widely shared on South Korean social media and came to symbolize what some called the regression of democracy in the country.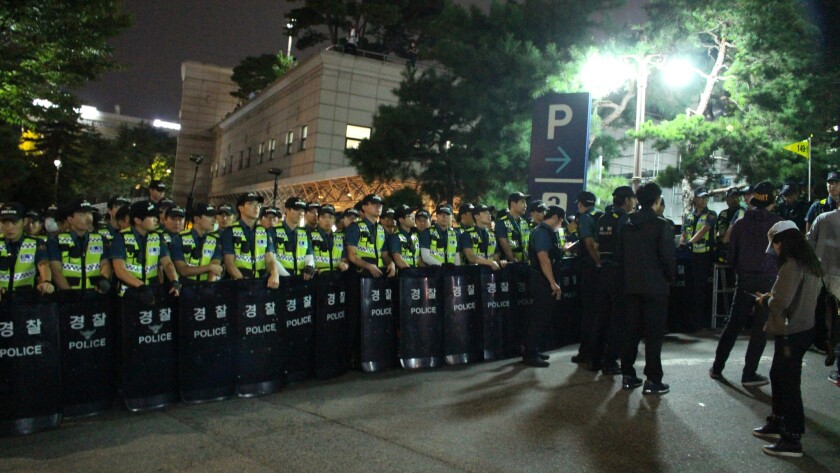 Baek's death has prompted growing calls for the government and police to apologize, and to determine the specific cause of his death.
Seoul Mayor Park Won-soon took to his official Twitter account to express his condolences, also writing: "We have to remember, and reveal the truth that can't be blocked with a water cannon." By early Monday, the message had been retweeted nearly 10,000 times.
On his Facebook page, Moon Jae-in, a prominent left-wing politician and presidential candidate in 2012, criticized the president, writing, "Baek died without a word of apology or consolation. President Park and the police should now offer warm words of consolation."
Outside the room that held Baek's casket, Yoo Young-hoon, 64, said, "This is a very sad day. We think that the government should investigate the exact cause of Baek's death and should apologize sincerely."
Yoo had known Baek since 1987, through their work with the Korean Catholic Farmers Movement, an activist group. He said he will fondly remember Baek as a kind man. "He was someone who sacrificed, who fought for our country's democratization," Yoo said.
"I'm just a citizen who wishes to mourn how an unarmed man died because of government violence," said Son Chang-yeon, 50, a teacher.
The calm inside the funeral home contrasted sharply with the scene outside, where there was tension between mourners and the hundreds of riot police officers who stood guard, carrying shields and clad in protective gear. Police standing shoulder to shoulder formed a barricade that blocked off one of the main entrances to the funeral home, leading to arguments with mourners.
"What you're doing is illegal, while you're the ones who are supposed to enforce the law," one furious middle-age man screamed at police as they denied him access to the main entrance, instructing him to enter the funeral home through another door.
Baek was born in 1947 in Boseong, a rural community in the south of the country, known for its rolling tea fields. He was expelled from university twice in the 1970s for his activism opposing the military government of President Park Chung-hee, the father of the current president. He is survived by his wife, son and two daughters.
Borowiec is a special correspondent.
ALSO
After five decades in the jungle, Colombian guerrillas get a PR makeover as they prepare for peace
Maryam Monsef was hailed as Canada's first Afghan-born member of Parliament. Then news broke that she was born in Iran
Jordanian journalist shot to death on courthouse steps after posting controversial cartoon to Facebook
---
Must-read stories from the L.A. Times
Get the day's top news with our Today's Headlines newsletter, sent every weekday morning.
You may occasionally receive promotional content from the Los Angeles Times.