Isolation-wary, Chinese-speaking Taiwan moves to make English an official language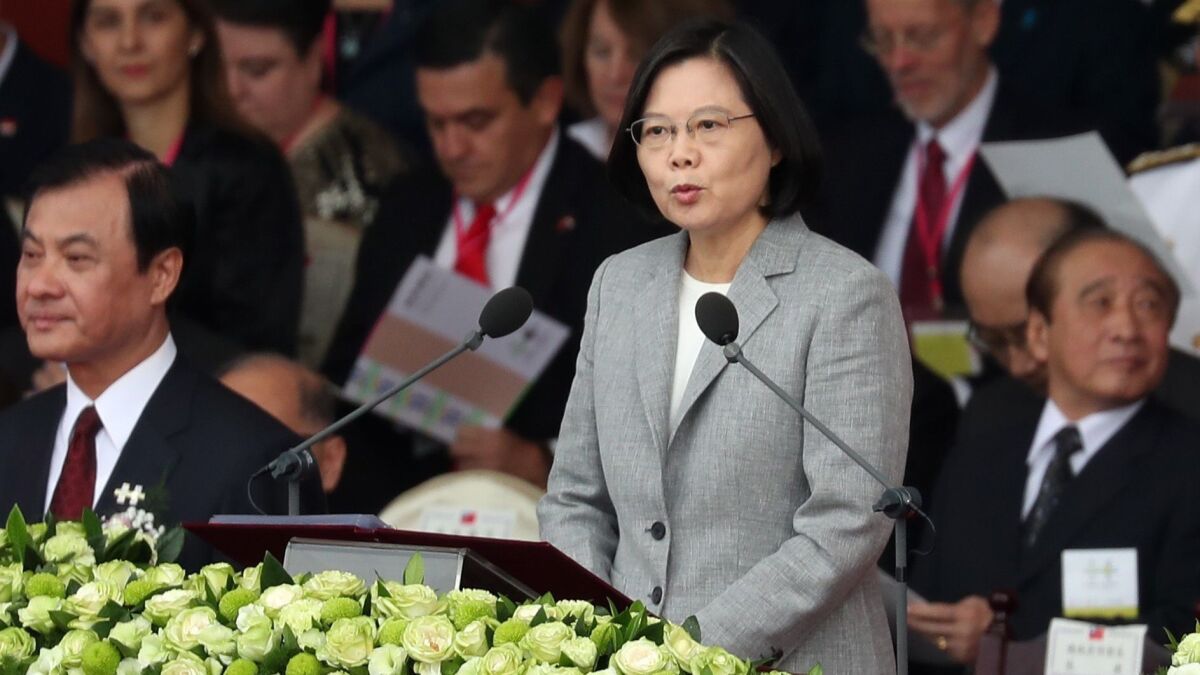 Reporting from Taipei, Taiwan —
When Taiwanese President Tsai Ing-wen vowed last week to not back down to Chinese military and diplomatic pressure, she was also nixing the chances of talks with Beijing on investment, trade and tourism.
Taiwan under Tsai seeks a future where it maintains its decades-long autonomy from China, which considers the island part of its territory, and seals prosperous deals with other nations around the world.
To help connect with those other countries, the government is planning a major push during the new year to establish English as an official language along with a type of Mandarin Chinese. The plan, in the works for about a year, is expected to provide extensive bilingual education beginning in elementary school with the goal of producing more university students who can excel abroad, generating business opportunities and building tourism at home.
The diplomatically isolated island has strong economic ties to the mainland and other countries such as the U.S., but needs to become a bigger player on the international stage, government officials say.
"The promotion of this policy is hope that Taiwan can benefit from opening its gate to people, enterprises and governments from all around the world," said Kolas Yotaka, spokeswoman for Premier William Lai. "The government hopes to promote this policy to make Taiwan become a more international country."
One major problem is that China refuses to treat Taiwan as a country regardless of Taiwanese government polls showing strong island support for autonomy, which began in 1949 after civil war. Recent tension included Chinese officials demanding that commercial airlines stop treating Taiwan as a nation.
Taiwanese officials say that since Tsai became president in 2016, China has pressured some countries to switch their alliances. Taiwan is recognized by 17 countries; China counts more than 170 allies. The mainland has more sway in world affairs in part because of its $12-trillion-plus economy, compared with Taiwan's $572-billion economy.
Tsai, unlike her predecessor, has refused to discuss deals with China that require acceptance of the mainland and island as one country. She vowed to not back down to China during a speech on Taiwan's National Day on Wednesday.
"For some time now, China's unilateral diplomatic offensive and military coercion have not only harmed cross-strait relations, they have also seriously challenged the status quo of peace and stability," Tsai said.
The island government wants to pursue greater English proficiency among its 23.5 million people, but has not provided details about how it plans to make that happen.
Most Taiwanese already learn English from as early as first grade, and some study voluntarily in the evening and over the weekend at private schools. But ultimately a lot are equipped only to pass written tests rather than speak English fluently.
Teachers tend to be fluent in English, often after living in Western countries, but lack training in how to teach a language to others, academics say.
To catch up, the Taiwanese government set out this year to establish "rules and infrastructure" for what it is calling its "bilingual nation" campaign, the ministry said.
There's no budget or timeline or many details yet, but the Education Ministry pledges to open schools where English is all but required, offer new English-language schoolbooks and mandate more English study from third to sixth grade.
The government is looking into use of virtual reality as an extra language learning tool, expecting that the technology might raise students' interest. High school students seeking university admissions may someday take tests of spoken English skills, not just the written language. And university students, according to the ministry, may be given more ways to interact with foreign-born English speakers.
"English is an international language and we hope we can use the 'bilingual country' policy to let Taiwan acquire more international competitiveness," the ministry said.
The countries that Taiwan has cited for more trade ties include Australia, India, New Zealand, the Philippines and Singapore. Taiwan's trade with those nations rose 15.6% to $110.9 billion from 2016 to 2017 and its outbound investment to the same countries climbed 54.5% to $3.68 billion, government figures show.
But English seldom appears in Taiwan's official documents and is rarely heard on the air or in legislative sessions, unlike in Hong Kong, Singapore or the Philippines, where English is officially recognized by each of the governments.
Lai Yi-chieh, a student who plans to work in public relations after her internship at a multinational firm this year, can speak English but said that doing more to help students obtain fluency would be worthwhile.
"In school, there is no full-English environment for students to put English learning into practice," she said. "If the government can include more oral practice with native speakers in English education, it would be helpful for students."
Some Taiwanese fear the government may plow too much money into educational changes. Legislative sessions, courts and other public events will require fluent English interpretation, they believe, and someone must translate the mountains of official documents written only in Chinese.
"The clear and precise translation and bilingual communication will be extra burdens to the operation of our government," said Bernie Huang, an English teacher at a city-run vocational high school near Taipei. "I don't think this policy is feasible or necessary."
Chen Ping-kuei, assistant diplomacy professor at National Chengchi University in Taipei, said a lot of Taiwanese may avoid English even under a dual official language system because they need only Chinese at work.
"I can understand that Taiwan wants to use the language to connect to other countries," Chen said. "But comparing the resources we are going to spend to create another official language, I think the return is far smaller than what the government is claiming."
Jennings is a special correspondent.
Must-read stories from the L.A. Times
Get the day's top news with our Today's Headlines newsletter, sent every weekday morning.
You may occasionally receive promotional content from the Los Angeles Times.