New study shows widespread risk of quake damage in Taiwan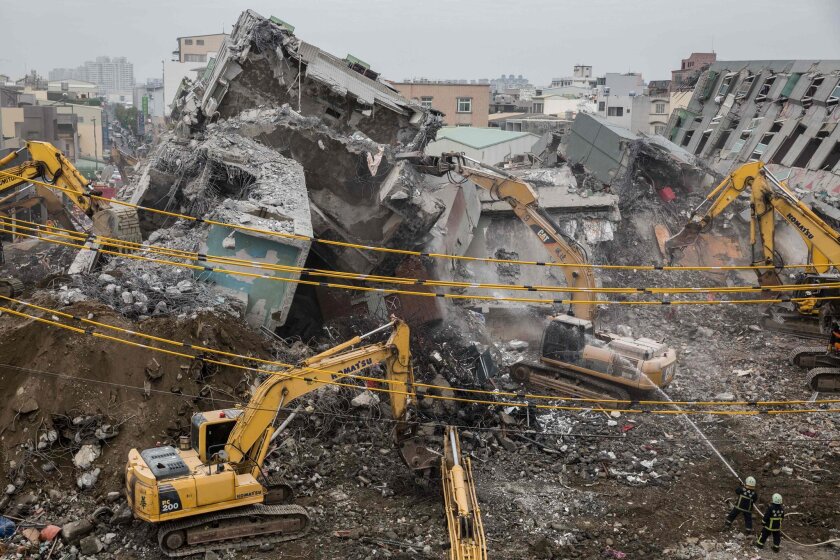 Reporting from Taipei, Taiwan —
The Taiwanese government published a study Monday showing that areas of eight cities and counties, including about half of the capital, Taipei, are highly vulnerable to structural collapse in an earthquake.
The study was ordered last month after a mid-strength earthquake killed 116 people in a collapsed apartment tower. That prompted a wide-ranging examination of earthquake preparedness, including the possibility of risks because of lax or inconsistent code enforcement.
Taiwan, despite material comforts and three decades of democracy, has let much of its development proceed with relatively light inspections compared with earthquake-prone peers such as Japan or California, engineers and historians say.
Developers cut corners, and mixed-use high-rises let businesses use open ground-level space instead of putting in crucial support beams.
Officials say they have no estimates of the number of buildings facing risks from earthquakes that regularly shake the island of 23 million people.
But the publication Monday of a soil liquefaction study suggested the risk was greater than previously recognized. Liquefaction refers to a phenomenon that can occur during earthquake, causing the soil to move like a fluid instead of a solid. It poses a danger to any structures above.
Officials will spend $735 million over the next six years on improvements, the premier's spokesman said.
In 2013, then-Interior Minister Lee Hong-yuan warned that 4,000 structures could fall in a magnitude 6.3 quake, and many quakes around the Pacific Rim are significantly stronger.
"Whether the government can offer incentives to help homeowners to do quake retrofits, in the future that's an important step for improvement in the cities," said Li Wei-sen, chief secretary of Taiwan's National Science and Technology Center for Disaster Reduction. The premier, he said, has "indicated immediate need for inspections of older buildings."
In Tainan, the city worst hit by the recent quake, inspectors have found 86 unsafe buildings since February. In the neighboring city of Kaohsiung, five bridges were closed after the magnitude 6.4 quake, early on the morning of Feb. 6, shook much of southern Taiwan. Taiwan had earlier ordered retrofits of 2,400 schools.
"I'm worried," said Huang Yu-ling, an insurance worker who lives in Tainan. "I hope that before putting up any more buildings, the government will announce soil conditions and developers will consider safety over short-term interests."
Her concern reflects that of much of Taiwan, where assigning blame has become a focal point since the last bodies were recovered from the fallen tower.
Safety issues go back about 40 years. Before 1980, Taiwan was relatively poor, had few professional architects and lacked understanding of quake safety, said New Taipei City-based publisher and historian Yang Lian-fu, whose doctoral thesis focused on population shifts.
Since the 1980s, building companies that are publicly traded or backed by government agencies typically follow quake safety codes, Yang said. The codes were strengthened to U.S. levels in 1999 after Taiwan's worst quake in recent memory killed about 2,400 people. According to Li, Taiwan's seismic codes now match California's, which are significantly more robust than those for the U.S. overall.
But Yang said that smaller firms, about half the total, may cut corners and use connections in local government to get permits.
"They know you, so they won't check all the way," Yang said of the permitting authorities. "Only if the developers are good-hearted people will their quality be good."
Taiwan is unsafe as well because of its thousands of mixed-use buildings. Stores or offices on lower floors forsake crucial beams or walls to give themselves open space. If the ground floor buckles, everything above it can slip or collapse. Some structures are completely unlicensed.
"Every building's design and specifications are different," said Cheng Ming-chang, director of Tainan city's Civil Engineering Assn. "Quake safety is not about how old a building is, but about its overall design and construction. I'd advise everyone to get a checkup of their home."
When U.S.-based Degenkolb Engineers sent a team from California to check the Tainan quake damage for research and education purposes, it found "severe irregularities" in the buildings, such as weak floors and "torsional problems," meaning exterior walls arranged in ways that allow structures to twist during quakes, firm principal Daniel Zepeda said.
The Tainan district prosecutor's office is investigating three suspects associated with construction of the collapsed 17-story apartment tower, which was built partly on oil cans. The quake's impact in Tainan, some distance from the epicenter, was the equivalent of magnitude 5.
Remodeling on the collapsed building's ground level and second floor may have weakened the structure as well, local media say, though the prosecutor would not comment on that element. "When a building falls over, there have got to be a lot of reasons," prosecutor's office spokesman Chen Chien-hung said.
Suspects could be charged with negligence after the investigation ends in about a month. The tower's developer also owns 30 other properties in Tainan.
Government officials acknowledge they do not plan to check every structure in Taiwan. That work would be left to individual property owners, who may hesitate because of retrofitting costs or difficulty reaching agreement among multiple owners to share expenses.
Jennings is a special correspondent.
---
Must-read stories from the L.A. Times
Get all the day's most vital news with our Today's Headlines newsletter, sent every weekday morning.
You may occasionally receive promotional content from the Los Angeles Times.