Taiwan weighs whether to become the first country in Asia to legalize same-sex marriage
Reporting from Taipei, Taiwan —
Legislators in Taiwan began deliberations Thursday on Asia's first same-sex marriage law, which if approved would cap two decades of growing visibility for LGBT causes on the island, as thousands of demonstrators on both sides gathered outside.
Legislators have drafted three bills this year to legalize same-sex marriage and potentially offer those couples rights such as welfare benefits, joint property rights and shared custody of children. After Thursday's initial discussion, lawmakers may merge the three into one before taking a vote, said Liu Yin-chun, an aide to bill sponsor Yu Mei-nu. A vote could be taken by year's end.
Taiwan's first woman president, Tsai Ing-wen, has expressed support for same-sex marriage legislation and her LGBT-supportive Democratic Progressive Party controls parliament, indicating little long-term resistance from lawmakers or government.
Impetus for the legislation came largely from the demands of same-sex couples who are raising children born overseas via surrogacy, which remains illegal in Taiwan. Without marriage, only one partner can legally get custody, leaving the other with no say when it comes to medical, legal or educational decisions about the child.
"Over the past few years, LGBT groups have suggested this legislation," Liu said. "Our gay and lesbian friends here will marry overseas and bear children through surrogacy but then come back to Taiwan where only one can have custody, though it's both of their kids."
I'm confident we can turn out even more people, but we didn't want this to become ... anything divisive, because this is a bill about love and about family.
— Jay Lin, director of the Taiwan International Queer Film Festival
Adding to the push for legislation was the fatal fall by a retired French-born professor from a Taipei apartment building in October. The fall fanned suspicion of a suicide because he had lacked rights to make medical decisions for a partner who eventually died of cancer, local media reported.
Taiwan would join Canada, the United States and 18 other countries that have legalized same-sex marriage over the last 15 years, according to the Human Rights Campaign, a Washington-based LGBT rights advocacy group.
In Asia, including the Middle East, 20 countries ban sex between people of the same gender. In places such as Japan and China, conservative government leaders and Confucian moral codes have held up any same-sex marriage moves.
Several thousand people, many affiliated with Christian churches in Taiwan, demonstrated outside parliament Thursday morning to oppose the same-sex marriage bills. Some shouted for Yu to step down and broke into the parliament compound. Christians comprise a relatively small segment of Taiwan's population — an estimated 4.5%.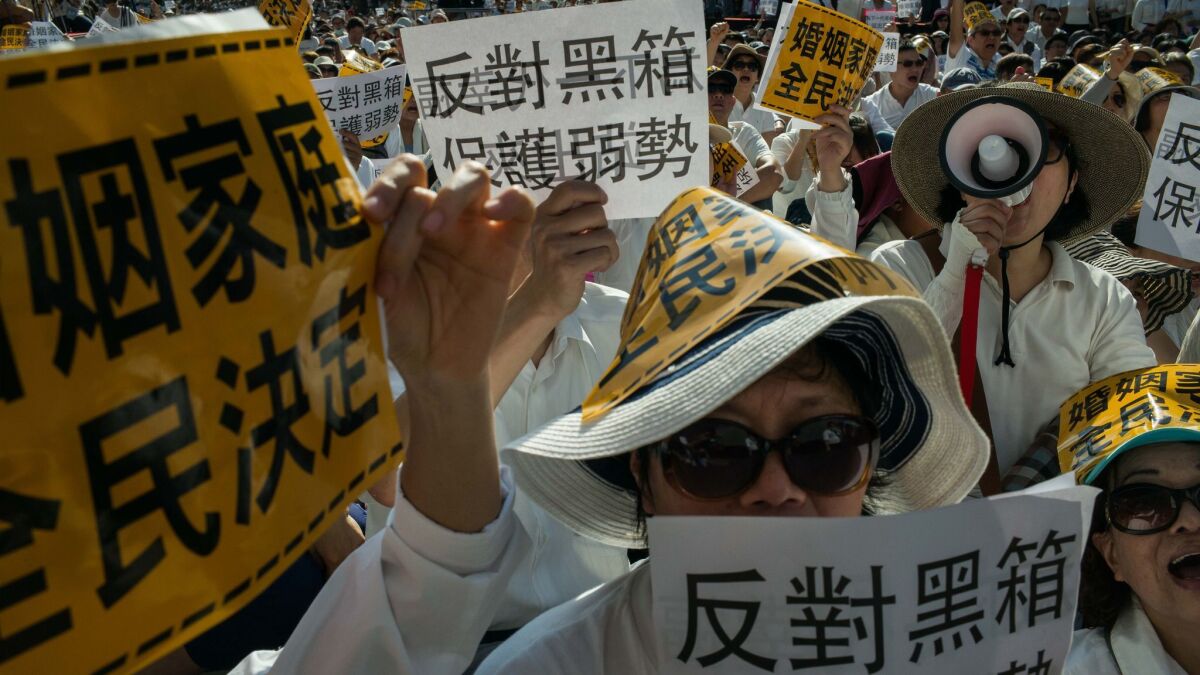 Their protests, which also blocked streets in central Taipei, also brought out thousands of supporters of the legislation.
"I'm confident we can turn out even more people, but we didn't want this to become a shouting war or anything divisive, because this is a bill about love and about family," said pro-legislation demonstrator Jay Lin, father of 4-month-old twin boys and director of the Taiwan International Queer Film Festival.
"So we figured we'd let them have their say and leave it at that," said Lin, a Taiwanese American who also belongs to a group of about 100 single parents.
About 80% of Taiwanese in their 20s support same-sex marriage, according to the group Taiwan LGBT Family Rights Advocacy. Taiwan's United Daily News found in a survey four years ago that 55% of the public supported same-sex marriage and 37% opposed it.
Gay pride marches have become routine annual events in Taipei and one in October drew tens of thousands, many calling for legalization of same-sex marriage.
Opponents say same-sex marriage would obligate the government to pay outsized benefits to survivors after a spouse dies, in part because they might lack children to support them. Children often help support elders in ethnic Chinese societies, including Taiwan.
With surrogacy illegal in Taiwan, same-sex couples may end up with numerous adopted children, said Chen Chih-hung, chairman of the small, religious-based political party Faith and Hope League, which has no legislative seats. "Is that fair to adopted children, and do they get a robust environment in which to grow up?" he asked.
Taiwan's LGBT movement still vies with traditional perceptions of gender roles and family values that extend from Confucianism.
The opposition Nationalist Party, when it controlled parliament, stopped previous same-sex marriage bills, including one introduced in 2013. The Nationalists lost the presidency and control of parliament in January elections.
They want to open new public hearings on same-sex marriage before approving legislation that's pending now, the lawmaker's aide said.
Jennings is a special correspondent.
ALSO
Mexican president proposes legalizing same-sex marriage
A primer on executive power: Trump can't end same-sex marriages, but he could speed up deportations
Baseball was nearly dead in Taiwan after a major cheating scandal. Here's how it made a comeback
---
Must-read stories from the L.A. Times
Get the day's top news with our Today's Headlines newsletter, sent every weekday morning.
You may occasionally receive promotional content from the Los Angeles Times.