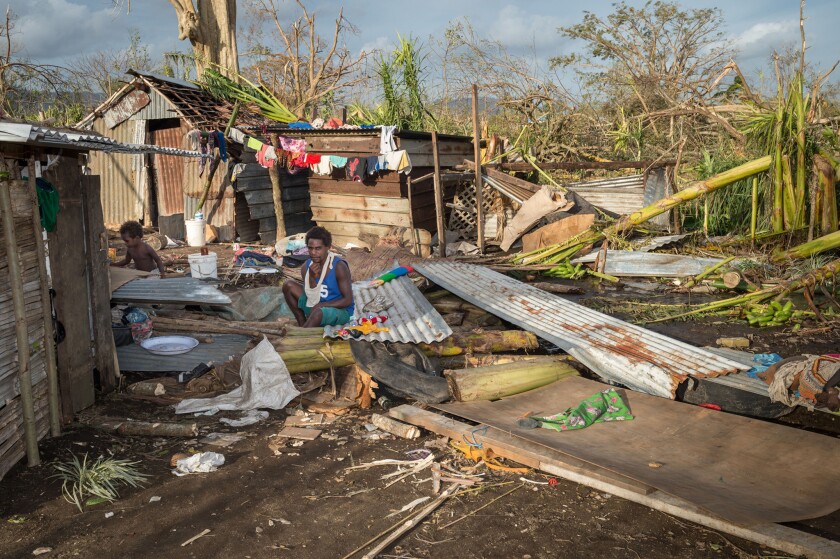 The United Nations revised the death toll caused by Cyclone Pam, which tore through the South Pacific island nation of Vanuatu, downward from 24 to 11 Tuesday, as relief workers struggled to reach the country's remote outer islands.
The storm has caused "severe and widespread damage," the agency said in the latest data released Monday, displacing 3,300 people who have sought shelter in 37 evacuation centers.
Running water and electricity were slowly being restored in the capital of Port Vila, three days after what the country's president called a "monster storm." The cyclone knocked out or damaged an estimated 80 percent of power lines there, the United Nations said, and is believed to have destroyed or damaged 90 percent of buildings in Port Avila alone, President Baldwin Lonsdale told the Associated Press. A 7 p.m. curfew has been put in place there.
"This is a very devastating cyclone in Vanuatu," Baldwin told the AP. "I term it as a monster…After all the development that has taken place, all this development has been wiped out."
Radio and telephone communications have still not been restored on some of the island's outer islands, the UN said.
For days, relief workers had battled poor weather and communications problems, which stalled their efforts to reach the islands. As the weather cleared Monday, officials carried out aerial assessments with military aircraft from New Caledonia, Australia and New Zealand. Commercial flights to Port Vila, the capital and largest city, resumed.
But most of the islands have no airports, and those that do have only small landing strips that can be tricky for large supply planes to navigate.
Aid groups are providing emergency food rations to evacuees, the UN said, but infrastructure damage from the storm is hampering rescuers' efforts to reach hard-hit areas. Crops throughout the country have largely been destroyed, and the UN estimates that about 19,000 households will need food aid based on the cyclone's path, it said.
Further supplies are expected to be deployed soon via aircraft from France, Australia, and New Zealand. The New Zealand Red Cross has sent more than 1,000 tarps, as well as water containers and first aid kits, but shelter and non-food supplies are "critically low," the UN said.
The Associated Press was used in compiling this report.
For more breaking news, follow me @cmaiduc
---