6 Images
Indian flavor at USC
At Dockweiler State Beach, USC students celebrate the Indian national holiday of Holi, in which people splash each other with paint and colored dust. More than 1,500 Indian citizens are now full-time students at the campus, and with more than 83,000 last year at U.S. schools, they are the largest group of international students in the country.
(Barbara Davidson / Los Angeles Times)
Viral Somaiya, left, and USC alumnus Bharathwaj Nandakumar celebrate during a game of cricket on Cromwell Field on the USC campus.
(Genaro Molina / Los Angeles Times)
So many students from India are now enrolled at USC that they run popular cricket games on Friday nights at the field, with squads named Trojan Tigers and Leavy Lions.
(Genaro Molina / Los Angeles Times)
Alumnus Tarun Tyagi plays in a game of cricket.
(Genaro Molina / Los Angeles Times)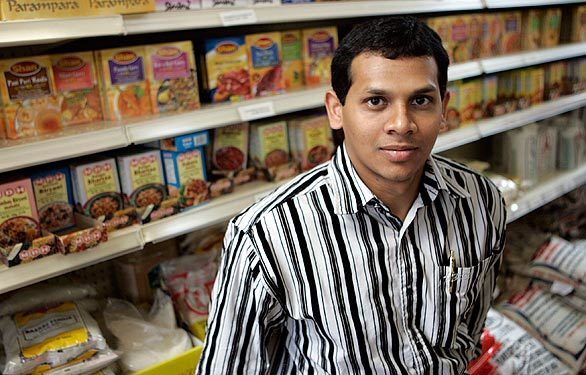 With a large contingency of students from India, the Manas grocery store on Vermont Avenue near USC, co-owned by Kumar Vankata, provides prepackaged traditional meals.
(Carlos Chavez / Los Angeles Times)
Student Gaurav Kumar, president of USC's Assn. of Indian Students, shops regularly at Manas. "If they miss home, they can always come here," co-owner Vankata said.
(Carlos Chavez / Los Angeles Times)