Political crisis leaves Brazilians reeling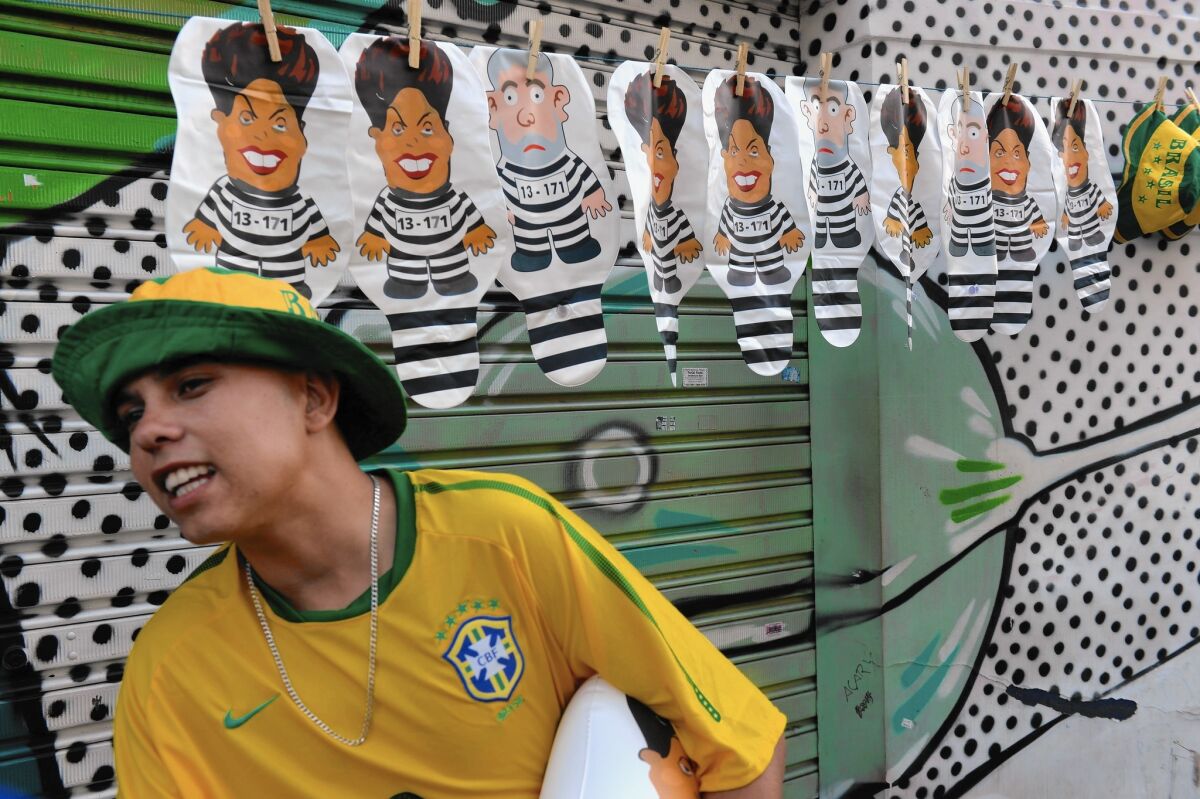 reporting from SAO PAULO, Brazil —
All three branches of Brazil's government are accused of wrongdoing. Old political heroes are being cast in new, unflattering light. And streets across the country have been filled with hundreds of thousands of demonstrators.
Ge de Souza, a doorman in downtown Sao Paulo, pointed to streets Saturday and offered his assessment of the unfolding political crisis: "In my house, I guess everything is just OK. Out there, it's all chaos."
Protesters have been demanding President Dilma Rousseff be removed from office and former President Luiz Inacio Lula da Silva be sent to prison. Other protesters have been defending them.
"Everything is changing every few hours, and absolutely no one knows what will happen next," the doorman said.
After overseeing nearly a decade of economic growth and enormous social gains for the poor, the ruling Workers' Party now appears helpless as Brazil plunges into the sort of economic collapse and institutional crisis that was common here in the last century.
Over the last week, a dizzying array of judicial actions, government reorganizations and media revelations have left it unclear who is governing the world's fifth most populous nation.
"The political crisis is taking up all the oxygen in Brazil," said Peter Hakim, president emeritus at the Inter-American Dialogue, a Washington think tank that focuses on relations with Latin America. "This is coming to a head. It has to be resolved soon."
It began with a corruption probe.
Since 2014, federal investigators have been slowly uncovering a multibillion-dollar kickback scheme at the state-run oil company, Petrobras, building cases and arresting increasingly high-level members of Brazil's political and economic elite.
At the same time, the economy was moving into deep recession as prices for oil and its other commodities dropped. Rousseff's approval ratings sank to historic lows as allegations that she mismanaged the budget put her at risk of impeachment. She has not been directly implicated in the corruption scandal.
Everything is changing every few hours, and absolutely no one knows what will happen next.
— Ge de Souza
The investigation took an explosive turn this month when federal police brought Lula in for questioning and Sao Paulo state prosecutors requested "preventative imprisonment" while they look at his relationship to properties involved in the scandal.
Then Rousseff's government announced that it intended to make the former union leader and president — who left office in 2010 as one of the world's most popular leaders — her chief of staff, a move that would hand his case from the current investigators to the Supreme Court.
Antigovernment protesters poured back into the streets.
Adding another shock, a prominent federal judge, Sergio Moro, released tapes of Lula's tapped conversations with various government officials and Rousseff.
The tapes, which soon were heard on television and the Internet, were filled with tawdry language and personal attacks — and, in the view of some government opponents, evidence that Rousseff sought to appoint Lula in order to keep him out of prison, or that Lula had tried to influence the Supreme Court.
The government shot back that Moro's action was illegal and that the tapes didn't demonstrate what the critics said they did.
"This is how coups start," Rousseff said Friday, invoking some of South America's darkest history. Rousseff is a victim of torture by the military dictatorship that took power after a U.S.-backed coup in 1964.
Some legal scholars and journalists have accused Moro of overstepping the duties of his office and pulling the judiciary into the political muck.
"There has been no suspicion of wrongdoing in the judiciary until now," said Sergio Salomao Shecaira, a professor of criminal law at the University of Sao Paulo. "But regarding Moro's actions in releasing the tapes there is more than suspicion of a crime having been committed: There is concrete evidence."
As for Rousseff, political analysts said they see multiple paths to a quick departure from office: Impeachment by Congress, annulment of her 2014 victory by electoral authorities or — least likely — resignation.
It's not clear who would take her place. Nearly half of Congress, including prominent members of the opposition, is under investigation for possible criminal activity.
The legality of Lula's appointment to the Cabinet has been a running debate, with a series of judges going back and forth on the issue since last week as opposing protesters have taken turns occupying the streets around the country.
Marco Antonio Siqueira, a 32-year-old advertising professional who came out to oppose Rousseff on Thursday in Sao Paulo, said he felt indignant about the unfolding political soap opera but compelled to make his voice heard. "I'm not in favor of radicalization," he said. "But to have a big change, sometimes big steps need to be taken."
The next day, a Lula-led rally brought tens of thousands onto the same streets and around the country.
Gabriel Victor, a student, said that Rousseff and Lula had made many mistakes. "But I'm here because I don't support impeachment," he said. "We do need a political revolution, but not in the form of impeachment right now."
The polling firm Datafolha released a survey Saturday indicating that 68% of Brazilians support impeachment.
In the afternoon, antigovernment protesters retook parts of Avenida Paulista, one of Sao Paulo's main thoroughfares. They set up tents on the sidewalk and said they would leave when the government falls.
Bevins and Rigby are special correspondents.
ALSO
Community activist freed after more than 2 years in Mexican prison
On eve of historic visit, Cuba prepares for 'Hurricane Obama' -- and Mick Jagger too
A young Virginian met a girl abroad, and soon was living in a place called Islamic State
Must-read stories from the L.A. Times
Get the day's top news with our Today's Headlines newsletter, sent every weekday morning.
You may occasionally receive promotional content from the Los Angeles Times.