Palme d'Or goes to France's 'Entre les Murs'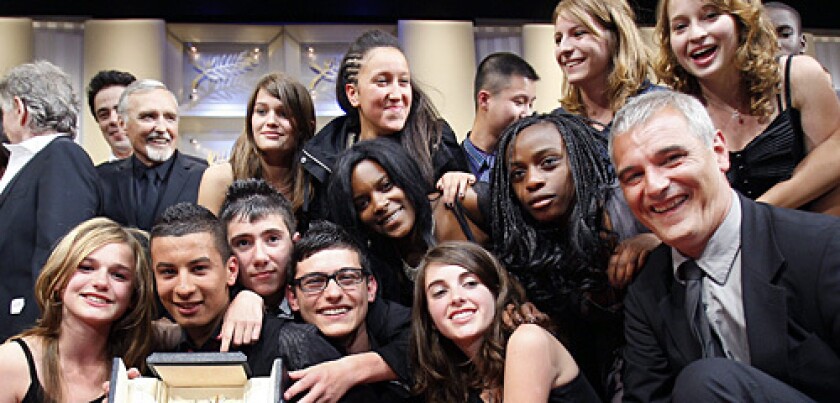 Times Movie Critic
CANNES, France —
What a difference 21 years makes.
In 1987, the last time a French film won the Palme d'Or, the audience at the Palais du Festival was so angry at the choice of "Under the Sun of Satan" that it hooted furiously and the director, Maurice Pialat, yelled right back.
But when Laurent Cantet's masterful "Entre les Murs" won the top prize at the Festival de Cannes on Sunday night -- one of only two unanimous votes, jury president Sean Penn revealed -- the audience erupted in ecstatic rhythmic applause, which only increased as most of the 24 middle-school students who made up the cast joined the director onstage.
The last of the competition films to be screened, "Entre les Murs" (which literally means "between the walls," though it's being translated as "The Class") manages to touch on a surprising number of serious personal and societal issues by focusing on one year in the life of a class in the 20th arrondissement, one of Paris' poorest neighborhoods.
Based on a book by teacher François Bégaudeau (who stars), this film's considerable emotional impact is especially powerful because it seems to come out of nowhere. Best known for 2001's "Time Out," Cantet has always focused on the realities of contemporary life. "What I'm interested in is individuals facing a very complex world," he said at his news conference. "I take an interest in what's happening around me."
Aside from France, it was the national cinema of Italy that did best at the awards, taking two top prizes. The Grand Prix, the festival's runner-up award, went to Matteo Garrone's involving "Gomorra," a film that offers a panoramic view of the suffocating stranglehold the Mafia-like Camorra organization has over Naples. Taken from Roberto Saviano's bestselling book (which has been translated into 33 languages), "Gomorra" expertly intertwines five separate stories that insert us into this pitiless world from which no escape seems possible.
One of "Gomorra's" actors, Toni Servillo, is also the star of Paolo Sorrentino's "Il Divo," which took the Prix du Jury. This is an arresting, visually jazzy picture about the unlikeliest subject: the sphinx-like former Italian Prime Minister Giulio Andreotti. Joining head-turning style with an intense focus on the intricacies of Italian political life, this is a fearless, invigorating film.
While some observers thought Servillo might get the best actor award, it went, in the jury's other unanimous choice, to Benicio Del Toro, the only universally praised element of Steven Soderbergh's hefty 4-hour, 28-minute two-part biopic "Che." Del Toro, who was also greeted with great applause, said he'd "like to dedicate this to the man himself, Che Guevara."
The best actress award, a major surprise even to the filmmakers, went to Sandra Corveloni, who played a heroic mother trying to raise four fatherless boys in the slums of São Paulo in "Linha de Passe," directed by Walter Salles and Daniela Thomas.
Special prize
The jury also created a special 61st Festival Prize and gave it to two veterans doing work that Penn characterized as "so rare and so important." One recipient was Catherine Deneuve, star of Arnaud Desplechin's marvelous "A Christmas Tale," a multi-generational drama centered on a gorgeously fractious family that comes together for a memorable Christmas-week reunion. Unexpected but still made squarely in the French humanistic tradition, this is a film you don't want to end, not because the characters are so happy but because they are so human and so alive.
The other recipient was Clint Eastwood for directing "Changeling," a dark yet hopeful drama made with his trademark assurance and storytelling skill. Eastwood was not present to accept his award, while Deneuve said she was "very touched" by hers.
The festival's remaining two awards went to a pair of Cannes veterans. The best screenplay prize was given to Belgium's Dardenne brothers for their "Lorna's Silence," about a young Albanian woman wrestling with her conscience. And the best director award went to Turkey's Nuri Bilge Ceylan for his formally beautiful "Three Monkeys." Taking the Camera d'Or for best first film was "Hunger," a look at the 1981 hunger strike in Northern Ireland directed by Turner Prize-winning video artist Steve McQueen.
The non-winning competition film most deserving of recognition was the Israeli animated documentary "Waltz With Bashir," directed by Ari Folman. Dealing with Israel's 1982 invasion of Lebanon in an often surreal way, this haunted, haunting film is aesthetically adventurous and passionately committed to the cause of peace.
Knockout films
As always with Cannes, some of the most satisfying films were not found in the official competition. Perhaps the most out and out enjoyable was Bent Hamer's small wonder, the luminous and deliciously funny "O'Horten," a fine successor to an earlier Hamer creation, the knockout "Kitchen Stories."
The Horten of the story is a stolid, pipe-smoking Norwegian train engineer whose first name is Odd. Forced to retire at 67, Odd enters into a series of serendipitous adventures that show him the necessity as well as the absurdity of embracing life. "If you think the thought, it is possible to do anything," Hamer says. "It's never too late."
Illustrating the other side of the coin was James Toback's "Tyson," a completely mesmerizing and remarkably candid portrait of the former heavyweight champion that surprised many people with its intimacy, including the subject himself. The director says that when Mike Tyson saw the film, "he was silent for above five minutes and then he said, 'It's like a Greek tragedy. The only problem is that I'm the subject.' "
A comeback of another sort came from the gifted 70-year-old Polish director Jerzy Skolimowski, who opened the Directors' Fortnight with a double surprise. His new movie, "Four Nights With Anna," his first in 17 years, was every bit as good as such films as "Deep End" and "Moonlighting," which made his considerable reputation. Set in contemporary Poland, this story of obsessive desire and the power and limits of human love is a small gem, created with exceptional skill and command.
Revivals too
Though Cannes can be an exasperating place, its willingness to embrace all aspects of cinema is a tonic. The festival boasts an extensive revivals screening program that this year showed a newly restored version of David Lean's little-seen, noticeably adult 1949 romantic melodrama "The Passionate Friends."
And in honor of the 85th anniversary of Warner Bros., the festival not only screened Richard Schickel's perceptive documentary, "You Must Remember This," to be seen on PBS this fall, but it also featured 10 different Warners films at public screenings on the beach. Eastwood made a surprise appearance at the "Dirty Harry" screening, leading one impressed French critic to award him "the Palme for love of cinema."
Finally, as always, there was the Marche du Film, the Cannes market, where films to suit every taste and every mood are dreamed about, bought and sold. If, for instance, you yearn for a new film from Asian action star Tony Jaa, here is "Ong Bak 2," which promises "several dangerous scenes including the fight on the back of tens of elephants."
If your tastes are a bit more refined, there is "Prince of the Himalayas," no doubt accurately described as "Shakespeare's Hamlet as you've never seen it, gorgeous filmed in Tibet at 16,000 feet with an all-Tibetan cast."
Even more multicultural, if that's possible, is Tamil B picture hero "Quick Gun Murugan," described as "a South Indian karmic cowboy whose duty is to protect vegetarianism and cows."
Even Clint Eastwood would be impressed.
---
Must-read stories from the L.A. Times
Get all the day's most vital news with our Today's Headlines newsletter, sent every weekday morning.
You may occasionally receive promotional content from the Los Angeles Times.