Global Development: The faces of Armenia's revolution: Here are some of the people who helped change the government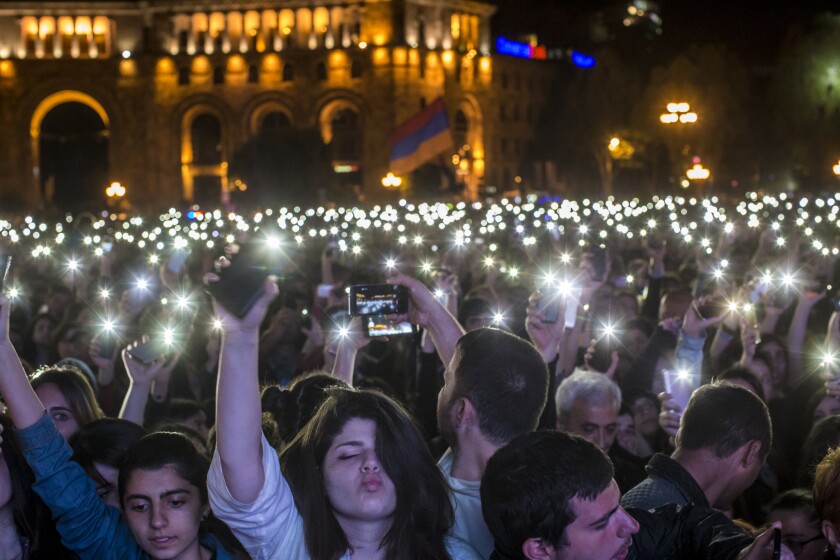 Armenia's Velvet Revolution was a grass-roots, nonviolent movement that toppled the decade-long rule of President Serzh Sargsyan. The movement started when opposition leader Nikol Pashinian launched a cross-country walk to protest the ruling party's attempts to prolong Sargsyan's rule.
Pashinian's march inspired a series of civil disobedience acts across the capital, Yerevan, including street protests, road blockages and labor strikes. Tens of thousands of Armenians took part, many of them young and frustrated at the corruption, nepotism and economic inequality created under the Republican Party's entrenched rule. The movement held Yerevan's city center hostage for days as the demonstrators demanded that Sargsyan — who had become prime minister when he was termed out as president — step down.
Finally, after weeks of protest, Sargsyan resigned April 23. Parliament held new elections for prime minister. After one failed attempt, the Republican Party agreed to elect Pashinian as prime minister on May 8, ending the three-week standoff between the streets and the ruling elite.
The best thing was that people have that feeling that their voice matters. That they can make changes themselves.

Eduard Kankanyan, graphic designer
The revolution was remarkable in both its scope and scale, and because it gave Armenians hope that they could use peaceful, public demonstrations to force change after years of economic and political disparity among the small South Caucasus nation's population of 2.9 million.
In the beginning, demonstrations were dominated by Yerevan's young. But the movement quickly spread to other generations, from Yerevan's urban middle class to retirees elsewhere in the country.
Here are some of their stories.
The revolution veteran
Leila Gevorgian, 78, walked three miles every day from her apartment on the outskirts of Yerevan to the city center to join the demonstrations. Then, for hours she would march in circles with other protesters to block traffic and paralyze the capital. When the sun went down, the petite, gray-haired great-grandmother walked back to the apartment she shares with her son and daughter-in-law.
The next day, she'd get up and do the same.
"I never missed a day," she said in her living room the night before Pashinian became prime minister. "As soon as you leave, I'm heading back to the square to celebrate with them."
On May 2, Gevorgian stood in Republic Square with tens of thousands of others to watch parliament question Pashinian for 10 hours. The temperature was close to 80 degrees and the sun beat down on the demonstrators. Gevorgian stood in front of the crowd. Someone gave her a baseball cap with the words "I am Nikol." A local photographer posted her photos on social media, and the image of Gevorgian's face — her eyes squinting from the sun and her lips pursed — went viral. The Armenian internet named her the Grandmother of the Revolution.
Last month's protests were not her first, nor will they be her last, Gevorgian said. In 2008, she protested against Sargsyan's first contested presidential election. She stood in front of a tank, raised her fist and shouted, "If you want to pass, you'll have to drive over me." The tank retreated, she said.
Gevorgian said she wants justice and peace for Armenia. And better healthcare and fair pensions. She gets $66 a month. "It's hardly enough to buy toilet paper," she said.
The graphic designer
As it did in other youth-driven revolutions, social media played a large role in Armenia's demonstrations. The creative class helped fuel its momentum, said Eduard Kankanyan, 30, a graphic designer from Yerevan.
"Every revolution needs symbols, because if you don't have symbols, it's not a massive protest," Kankanyan said.
Kankanyan's creative designs, images and slogans of the revolution have spread across Armenia since they first appeared last month on his Facebook page. His simple image of the word "revolution" in a font he designed himself — and aptly named Revolution — was posted to more than 20,000 Facebook profile pictures in one day. The design is now on stickers, T-shirts, posters and caps.
"All these images and creative things made the revolution seem like a cool thing," he said.
His latest creation was inspired by a photo he took of an old Russian-made car overflowing with demonstrators blocking the streets of Yerevan in April.
"Before the revolution, there was a lot of complaining about Armenia's situation, but no one was doing anything except taking care of themselves," he said. "The best thing about this revolution was not that one government went, and the other is coming. The best thing was that people have that feeling that their voice matters. That they can make changes themselves."
The IT specialists
Armenia's information technology sector is a bright light in an otherwise dreary economy that lacks opportunities for the young. Western software developers and design companies have invested in Armenia, and IT specialists populate the tiny upper echelons of the middle class, making nearly four times the national average monthly salary of $350.
"Look, we don't have much to worry about with our own economic situation," said Narek Mamikonyan, 28, a software development specialist. His wife, Christina Kazapetyan, 26, designs augmented reality software. "We got involved in the revolution because we don't want to live in a country with such inequality."
"We want to live in a country where people have rights," Kazapetyan said.
The couple, who are expecting their first child, were roused to join the other protesters in blocking roads after Kazapetyan's younger sister was caught up in police clashes in central Yerevan. Police threw stun grenades, and several people were injured in the confrontations.
"Those are our taxes that the police are using to throw stun grenades and detain people," Kazapetyan said.
The next day, the couple took their car and joined others in setting up roadblocks around Yerevan's center. Mamikonyan was in charge of not letting anyone through the front line.
"Men would come up to me and ask to be let through the blockade because they'd say their wives were pregnant," Mamikonyan said. "I'd point to Christina and say, 'My wife is pregnant, too, and she is standing over there. Come join us here!'"
The initial doubter
In the beginning of the year, Arman Gharibyan watched hopelessly as Armenia's parliament passed several laws restricting journalists' access to government proceedings. When it became obvious that Sargsyan would remain in power and become prime minster, Gharibyan said he had all but given up on Armenia.
"I thought my country would become just like any other authoritative regime in the former Soviet Union, like Belarus or Turkmenistan," said Gharibyan, 29, a human rights worker in Yerevan.
When the demonstrations started, Gharibyan said, he didn't pay much attention. "I didn't think they would make any difference."
But when he saw teenagers and young people come out in large numbers, something changed for Gharibyan. "These are the people that we in civil society have been teaching to stand up for themselves, and here they were actually doing it," he said. "I knew I couldn't just sit back and watch."
He joined the street blockades by pulling large trash cans and benches into intersections. When police tried to tear down the blockades, Gharibyan suffered minor injuries while being detained. He returned to the demonstrations as soon as he was released.
"People are not sure what will happen next, or how the system will change," he said. "People are nervous, but I'm still optimistic."
Generations of Armenians have protested in the past to no avail, but this revolution's young protesters saw their efforts succeed, he said.
"So many youngsters learned it by doing it," Gharibyan said. "They were given confidence. This generation will be unstoppable."
The agitator
Weeks before Pashinian labeled Armenia's street demonstrations the Velvet Revolution, Maria Karapetyan, 30, and a small group of activists were spray-painting "Reject Serzh" on the main streets of Yerevan in the middle of the night. It was the small group's way of showing their discontent with what seemed like the inevitable prolonging of Sargsyan's rule.
"We knew there was nothing we could do to prevent him from becoming prime minister," she said. "But at least we would know we didn't just sit at home and watch it happen on our television screens."
Karapetyan's group continued to agitate with small acts that used satire and black humor. In the eight days between the end of Sargsyan's presidential term and his election as prime minister, Reject Serzh activists stood on street corners holding plastic jars marked "Fundraising for Serzh's retirement." The act drew laughs and more attention to the Reject Serzh initiative.
In Armenian, the phrase "Reject Serzh" has a catchy sound. It went viral on social media as a hashtag. Reject Serzh activists joined Pashinian's walk across Armenia, and the phrase spread across the country.
"We needed to find the trigger to get people out to the streets," Karapetyan said. "We believed that if there were tens of thousands of people on the streets, this would prevent the Republican Party doing whatever they wanted with our dissatisfaction."
Twitter: @sabraayres
Ayres is a special correspondent.
---
Must-read stories from the L.A. Times
Get all the day's most vital news with our Today's Headlines newsletter, sent every weekday morning.
You may occasionally receive promotional content from the Los Angeles Times.