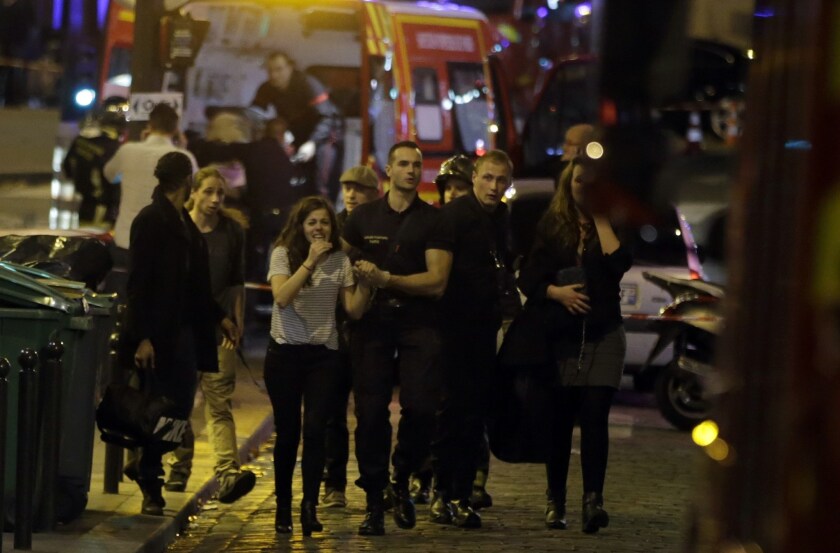 Reporting from Paris —
The terrorist attacks that rocked Paris on Friday night occurred far from the sites that tourists are most familiar with.
Three of the four assaults struck at the heart of one of the city's hippest neighborhoods, known for its grungy cafes, progressive inhabitants and vibrant mix of cultures.
It is far from the iconic Eiffel Tower or glitzy Avenue des Champs-Élysées that adorn postcards, yet it is a section of the city that Parisians are particularly proud of.
The area, encompassing the 10th and 11th arrondissements in eastern Paris, is one where residents sip coffee during the day and let loose in sweaty music clubs by night. Just north of the Place de la Bastille, it includes neighborhoods full of unmistakable diversity, with Turkish kebab and Vietnamese restaurants a few doors down from pizzerias or tattoo parlors.
NEWSLETTER: Get the day's top headlines from Times Editor Davan Maharaj >>
It is a largely working-class neighborhood of multi-generational Parisians and newly arrived immigrants from Africa, Asia and the Middle East. A typical scene on a Friday night is marked by groups of friends, many visiting from other blue-collar neighborhoods, huddled in cafes around small round tables near glass windows, eating and drinking at the end of a long week.
"It's a vibrant area," said longtime resident Christina Benfeld. "And one of the most mixed by ethnic origin, social origin. There has been a bit of gentrification here, but not much. It's really an interesting area to live."
The significance of the terrorists choosing to wreak havoc in the heart of working-class Paris, instead of a more bourgeois or touristy neighborhood, has not been lost on residents.
Some said Saturday that they were sure the gunmen wanted to convey a specific message - that Paris was a target because of the city's core values and inclusive way of life.
"It is this Paris that was hit," said Mayor Anne Hidalgo, who paid a visit to the sites on Saturday afternoon and shared quiet words with those gathered. "Probably because this example of living together, which is so strong in our city, is unbearable for fanatical people."
Sylvain Perriot stops to take a picture of the flag at half mast above the Presidential Palace in Paris. France's Sate of Emergency will continue, with flags at half mast.
(Carolyn Cole / Los Angeles Times)
Looking inside the courtyard of the Presidential Palace, guards stand at attention for the departure of Secretary of State John Kerry after his meeting with French President Francois Hollande.
(Carolyn Cole / Los Angeles Times)
On the third day of national mourning, the Eiffel Tower was illuminated in the colors of the French flag after going dark.
(Carolyn Cole / Los Angeles Times)
On the third day of national mourning, people continue to gather in public places like the Place de la Republique, including Tao Cisse, age 5, and Maya Sutej.
(Carolyn Cole / Los Angeles Times)
People observe a minute of silence in front of the Le Carillon cafe in Paris on Nov. 16, paying tribute to victims of the terror attacks.
(Lionel Bonaventure / AFP/Getty Images)
Paris residents take part in a Nov. 16 moment of silence under the Eiffel Tower in observance of those who died during the terrorist attacks three days earlier.
(Carolyn Cole / Los Angeles Times)
French President Francois Hollande, center, stands with government officials to observe a minute of silence Nov. 16 at the Sorbonne University in Paris.
(Stephane De Sakutin / AFP/Getty Images)
Members of the French Foreign Legion stand guard near the Eiffel Tower on Nov. 16.
(Carolyn Cole / Los Angeles Times)
A Paris shopkeeper stays inside Sunday as soldiers guard the street where she works.
(Carolyn Cole / Los Angeles Times)
A sign that reads 'Not even afraid' is draped on the statue on Republique plaza in Paris.
(Ian Langsdon / European Pressphoto Agency)
Women run past French soldiers as panic spread through the streets of Paris when rumors spread of another possible terrorist attack, which turned out to be a car left running in the street.
(Carolyn Cole / Los Angeles Times)
French police have released a photo of Abdeslam Salah, a 26-year-old sought in connection with the Paris attacks.
(National Police)
Prelates arrive to celebrate a Mass in memory of the attack victims at the Notre Dame cathedral.
(LIONEL BONAVENTURE / AFP/Getty Images)
An emotional crowd gathers in front of Le Carillon restaurant.
(Carolyn Cole / Los Angeles Times)
The glasses and silverware remain on the table where bullets were fired at Cafe Bonne Biere.
(Carolyn Cole / Los Angeles Times)
Armed police stand guard Nov. 14 near the Eiffel Tower, which was kept dark in honor of those who died in the terrorist attacks.
(Carolyn Cole / Los Angeles Times)
Mourners place flowers and candles outside the Bataclan theater in Paris.
(Carolyn Cole / Los Angeles Times)
A woman is evacuated from the Bataclan theater after the shootings in Paris.
(Thibault Camus / Associated Press)
People lie on the pavement near the Cafe Bonne Biere in Paris following a series of attacks.
(ANTHONY DORFMANN / AFP/Getty Images)
A man wounded in the shootings is treated near the Stade de France.
(Ian Langsdon / European Pressphoto Agency)
Rescuers evacuate people following an attack in Paris, where there were also reports of an ongoing hostage crisis at a concert venue.
(Kenzo Tribouillard / AFP/Getty Images)
A victim lays dead under a blanket outside the Bataclan theater in Paris.
(Jerome Delay / AP)
Hundreds of people spilled onto the field of the Stade de France stadium after explosions were heard nearby during a match between the French and German national soccer teams.
(Christophe Ena / Associated Press)
Businesses were mostly shuttered after President Francois Hollande declared three days of national mourning, and most people appeared to be heeding warnings and staying indoors.
Many parks and sidewalks were uncharacteristically quiet and people spoke in hushed voices as they thought about the 129 dead and 352 injured. The police presence was intense and occasional sirens sparked nervous jitters.
Islamic State on Saturday claimed credit for the coordinated attacks, calling Paris the "capital of prostitution and obscenity."
"It's like they struck at the young, strong force of Paris," said Benfeld, 55. "The people who go to concerts, the people who go out. It's really the urban side of the city, and it gives us the impression that the victims were everyone here in Paris."
Looking across at a pizzeria where bullet holes had shattered the glass, Benfeld mulled over the mundane targets of the attacks.
"It really could be a pizzeria anywhere," she said resignedly. "It's the way we are living and the values we have, and we became a target because of that."
After the attacks on the Charlie Hebdo satirical magazine headquarters in January, which left 17 dead, France united in defiance. Huge solidarity marches took place and people joined arms and vowed not to be beaten by extremism.
On Saturday, as the shock settled in again, the indiscriminate nature of the attack and its location created a more contemplative mood.
"They targeted people no matter what religion or who they were," said Parisian Jean Marie Delprat, 55. "They attacked our values. They touched my city, and I don't like that. They are savages."
As night fell, the bouquets of flowers continued to grow. Candles were placed at each of the scenes and people bowed their heads as they gathered their thoughts or quietly recited prayers.
One young man of Algerian origin arrived outside Café Bonne Bière on Rue de la Fontaine au Roi, where more than 20 bullet holes had shattered sections of the windows and several innocents had been killed.
He sang the national anthem, "La Marseillaise," and the crowd applauded as he finished.
"My parents came here from Algeria in 1962, and I was born here. They always say this country is magnificent and it is," he explained. "They can't divide us."
Then he backed away and headed up a winding, dimly-lit street in search of a quiet place he could grab a drink and continue to process the events of the past 24 hours.
Boyle is a special correspondent.
MORE ON PARIS ATTACKS:
Paris terror attacks were plotted by a small extremist cell in Brussels, investigators suspect
24 hours of coverage: Coordinated attacks kill 129 people
---