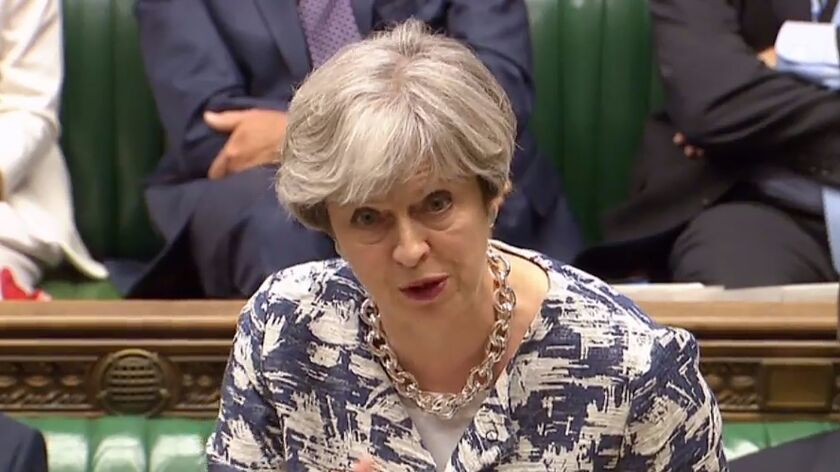 Reporting from London —
Prime Minister Theresa May on Monday attempted to allay the fears of European nationals living in Britain, saying they would not be forced to pack their bags once the country exits the European Union.
"We want you to stay," she told the roughly 3 million EU citizens who live and work in Britain during a speech in Parliament. "No families will be split up."
Anyone who had been living in the country legally and continuously for five years would be eligible to apply for "settled status," allowing them to remain in the country indefinitely with full rights to education, health, welfare and pension benefits, May said in a written statement to lawmakers. The new immigration status would also allow them to bring family members to live in Britain on the same terms as British nationals.
The 15-page statement elaborates on proposals May made last week during a private dinner with EU leaders in Brussels.
"I know there has been some anxiety about what would happen to EU citizens at the point we leave the European Union," May said. "Today I want to put that anxiety to rest."
The statement did not appear to reassure some European officials, however.
"More ambition, clarity and guarantees needed than in today's UK position," the EU's chief "Brexit" negotiator, Michel Barnier, tweeted Monday.
Britain's opposition Labor leader, Jeremy Corbyn, also hit out at May's proposals, saying this was an offer that could have been extended a year ago, when 52% of the country voted to leave the 28-member bloc.
"Too little, too late," he said. "This is people's lives we're talking about. Our neighbors, friends, husbands, wives, children."
May's standing in ongoing negotiations about Britain's departure from the EU was hurt when her Conservative Party saw its parliamentary majority wiped out and the Labor Party make strong gains in an election this month.
On Monday, Northern Ireland's Democratic Unionist Party agreed to back May's minority government in return for nearly $1.3 billion in additional funding for the region over the next two years.
There has been much concern in England about such a deal, given the party's opposition to abortion and same-sex marriage, as well as its links to loyalist paramilitaries in Northern Ireland.
There are even fears that it could revive sectarian tensions in Northern Ireland, where the Nationalist party Sinn Fein, backed by many Catholics, advocated remaining in the EU, while the Democratic Unionist Party said it would support May's government on Brexit.
The party's 10 members of Parliament will give the prime minister a small, yet crucial, majority. But her confidence appears to have been shaken by the election results. May's earlier bold statements about no Brexit deal being better than a bad deal were noticeably absent in Monday's speech on the status of EU nationals, which was conciliatory.
"This referendum was not a vote to turn our backs on our friends and neighbors," May said.
But she made clear that she was seeking reciprocal guarantees from partners on the continent for the more than 1 million British nationals living there.
The date by which EU citizens would need to have lived in Britain for five years in order to qualify for settled status has not been specified, but is likely to fall between March 2017, when Article 50 of the EU treaty was triggered beginning's Britain's formal withdrawal, and March 2019, when Brexit negotiations are supposed to end.
Under May's plan, those who haven't been in the country long enough would have to apply for temporary residency in the short-term, but could apply for settled status once five years have elapsed. There also would be a two-year grace period after Brexit takes effect during which EU citizens could continue to live in Britain while their status is being resolved.
Although May has said that she received a strong, positive response from her European counterparts to her proposals last week, publicly there has been some noticeable disdain. European Council President Donald Tusk said May's offer was "below expectations" and Jean-Claude Juncker, president of the European Commission, said it was "not sufficient."
German Chancellor Angela Merkel said it was "a good beginning" but added that "it was not a breakthrough."
On Monday, the European Parliament's chief Brexit negotiator, Guy Verhofstadt, said he would be studying May's written proposal closely, but there remained a number of "worrisome" limitations.
Among the likely sticking points is what if any role the European Court of Justice would play in adjudicating the rights of EU citizens in Britain.
May believes that British courts should have oversight over these issues but that is unlikely to sit well with the EU.
And then there is the matter of paperwork.
Given the number of EU citizens currently in Britain, the government could be faced with millions of applications to process. Officials have promised to implement a "light touch" online system, which would not involve unnecessary form filling, but have not divulged details.
Boyle is a special correspondent.
---