Senior Catholic Church officials have rarely faced charges in the sexual abuse of children. Here are a few who did
Victims rights groups have long complained that criminal accountability for the sexual abuse of children by members of the Roman Catholic clergy has rarely extended above the level of priests, despite evidence that bishops and archbishops knew about many of the suspected crimes — and in some cases played a role in the abuse.
On Thursday, Cardinal George Pell became the highest ranking Vatican official to be formally charged with sexual assault in connection with the scandals that have dogged the church for decades.
Pell, Pope Francis' top financial advisor, had already faced questioning last year by a royal commission in his native Australia over accusations that he mishandled cases of clergy abuse when he was archbishop of Melbourne and, later, Sydney. More recently, accusations surfaced that he himself had abused boys going as far back as the 1970s, when he was a priest in Ballarat.
At a news conference Thursday, Pell said that the pontiff had given him leave to appear in court in Melbourne next month, and that he was looking forward to the opportunity to clear his name.
While criminal charges have been brought against more than 100 priests in Australia alone, few senior Catholic prelates around the world have been brought to account. Here are some of those cases:
Jozef Wesolowski
The Polish former archbishop was the first high-ranking official in the Roman Catholic Church to be sent before the Vatican's own criminal court on charges of sexual abuse. Accused of paying shoeshine boys for sex while serving as papal nuncio, or ambassador, in the Dominican Republic, he was recalled by Francis in 2013 and defrocked the following year. While living at the Vatican, he was found to have child pornography on a computer. He died before his trial could begin in 2015.
Bishop Robert Finn
The first American bishop criminally charged in the scandals was convicted in 2012 of failing to report suspected child abuse, a misdemeanor. Finn, who led the Diocese of Kansas City-St. Joseph, Mo., between 2005 and 2015, acknowledged that he knew that a laptop computer belonging to a priest under his authority contained hundreds of images of child pornography but did not tell police for five months. He was sentenced to two years of court-supervised probation.
Msgr. William Lynn
The former secretary for clergy in the Philadelphia Archdiocese was the first U.S. church official charged or convicted in connection with the handling of complaints that priests had sexually abused children. Accused of reassigning pedophile priests in an attempt to protect the church's reputation and avoid lawsuits, he was sentenced to three to six years in prison on a charge of child endangerment. He served 33 months before he was released in August after a state appeals court reversed his 2012 conviction and granted a new trial.
Bishop Pierre Pican
The French bishop was accused of covering up for a priest in his Bayeux-Lisieux diocese who admitted to sexually abusing children between 1989 and 1996. Pican told a French court that he confronted the priest after learning about one case, but did not alert police. Instead, he sent the priest on a lengthy retreat and made him seek psychiatric help. In 2001, Pican received a three-month suspended prison sentence.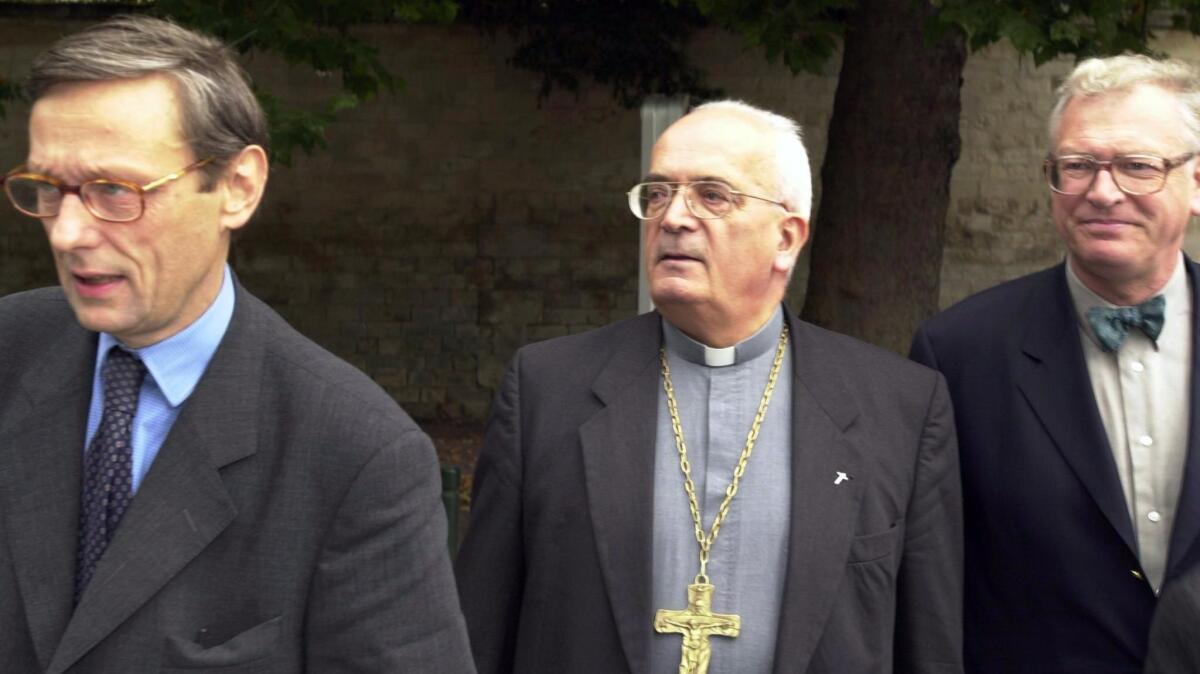 Retired Bishop Andre Fort
The retired French bishop was charged this month with failing to report accusations of child molestation made against a priest in the Diocese of Orleans, which he led from 2002 until 2010. One of the priest's alleged victims told a French radio station that he had informed Fort in 2010 about the abuse, which he said took place at a Christian summer camp in 1993. But it was not until the following year that Fort's successor notified the authorities. It is the first such case in France in more than 15 years.
Twitter: @alexzavis
---
UPDATES:
5:30 p.m.: This article was updated with the case of Andre Fort, a retired French bishop.
This article was originally published at 3:05 p.m.
Sign up for Essential California for news, features and recommendations from the L.A. Times and beyond in your inbox six days a week.
You may occasionally receive promotional content from the Los Angeles Times.