More than a million migrants in Europe stuck in limbo, still waiting for final decisions on their asylum applications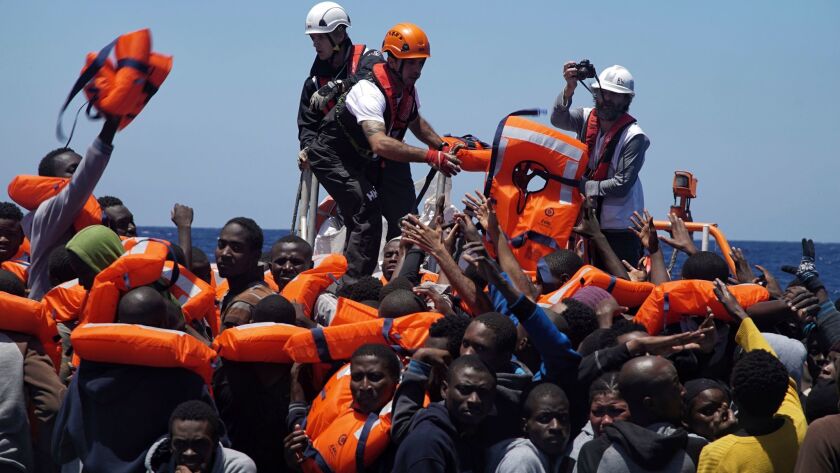 Of the 2.2 million people who fled their countries and sought refuge in Europe during 2015 and 2016, about half were still awaiting final decisions on their asylum applications at the end of December, according to a study by the Pew Research Center.
Most of the asylum seekers had fled war-torn Syria, Afghanistan or Iraq and endured a treacherous journey to Europe by taking small boats from Turkey across the Mediterranean to Greece or Italy.
The mass migration in 2015 and 2016 was one of the largest waves of people seeking refuge in Europe since World War II, accounting for 20% of all asylum applications in Europe since the mid-1980s.
The study, released Wednesday, found that by the end of 2016, an estimated 885,000 — or 40% of the total — had their asylum applications approved.
About 760,000 were still waiting for an initial ruling. An additional 385,000 were rejected and were waiting for decisions on their appeals.
An estimated 75,000 were sent back to their home countries or other nations not in the European Union.
Phillip Connor, a senior researcher at Pew and the author of the study, said the sheer number of applicants had overwhelmed immigration systems in many countries, leading to long waits.
The story of Ali Hayderi is typical.
He fled Afghanistan with his wife in 2015 and eventually arrived in Greece, where they spent four months at a makeshift shelter housing thousands of migrants in the abandoned Ellinikon airport in Athens. The couple then made their way to Germany and filed for asylum.
In May, after waiting nearly a year, they were told their application had been rejected. "We can't go back to Afghanistan. It is dangerous for us there," Hayderi said. "We have a home here now and my wife is six months pregnant."
He said he plans to hire a lawyer and appeal the decision. If that fails, the couple could be subject to deportation.
Many migrants cross several borders within Europe before applying for asylum.The greatest number — 45% of applicants in 2015 and 2016 — filed in Germany, the study found.
Applying for asylum in Europe isn't an easy process. Each country in the European Union has different rules governing the process.
Wait times also vary country to country and sometimes by the nationality of the asylum seeker. Germany established an expedited process for Syrians, who had to wait three months on average.
In contrast, 94% of applicants in Hungary and 90% of those in Greece were still waiting at the end of last year, the study found.
Continent-wide, applicants from Syria got decisions faster than those from Afghanistan, Iraq and Iran.
In all, 77% of Afghan and Iranian applicants and 62% of Iraqi applicants remained in limbo, while 80% of those from Syria had answers.
Follow me on Twitter @melissaetehad
---
Must-read stories from the L.A. Times
Get all the day's most vital news with our Today's Headlines newsletter, sent every weekday morning.
You may occasionally receive promotional content from the Los Angeles Times.