Alarmed by the rise of the far right, European leaders crack down — starting with Hungary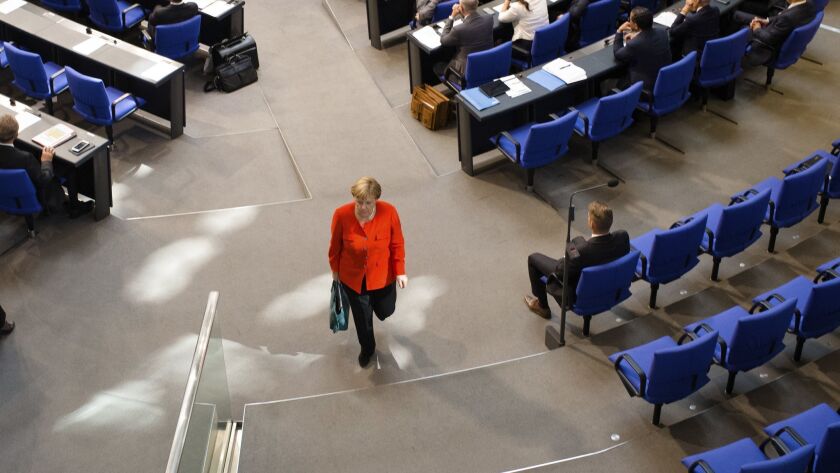 Reporting from Berlin —
Warning against the danger of intensifying nationalism across Europe, Chancellor Angela Merkel of Germany and European Commission President Jean-Claude Juncker said in separate appearances Wednesday that the rise of populism and the far-right represents an existential threat to the European Union's future.
In their respective speeches at the German Reichstag in Berlin and the European Parliament building in Strasbourg, France, the two powerful leaders raised alarm over burgeoning right wing movements in several member countries amid the arrival of large numbers of refugees and migrants. They also lamented waning cohesion in the EU, which grew out of efforts to unite European nations in the decades following the devastation of World War II.
In that vein, European lawmakers in Strasbourg voted overwhelmingly Wednesday to sanction Hungary for flouting EU rules on democracy and civil rights in a first step that could eventually strip the country of any voting rights in the EU.
The EU has been critical of Hungarian leader Viktor Orban since he came to power in 2010 and began cracking down on press freedoms and placed pressure on courts in ways opponents said violate EU rules. Orban's firm opposition to allowing any refugees into his country precipitated the crisis in 2015 that led to the flood of refugees pouring into Germany, Austria and Sweden.
The European Parliament voted 448 to 197 to start proceedings against Hungary's government for a "clear risk of serious breach" of European values. There is, however, little chance that Hungary will ultimately be suspended from voting in the EU because it has at least one ally, neighboring Poland, that would likely veto such a measure.
Merkel, in her address in Berlin, condemned right-wing mob attacks that erupted two weeks ago against foreigners in the eastern city of Chemnitz. Protests turned violent after two refugees were arrested in connection with the fatal knife attack on a German man, a crime that reignited a national debate on Merkel's decision to let in more than 1.5 million foreigners since 2015.
Merkel, in office since 2005, said illegal migration has become the defining issue across the continent. Her own country, Germany, at first welcomed the flood of refugees from Syria and the Middle East with open arms but has now become divided by fears that the nation is losing its cultural identity. Even though the numbers of refugees and migrants has declined sharply this year, her own popularity and that of her conservative party have dwindled over the decision to bring in so many outsiders.
There is no excuse or justification for hunting people down, the use of violence and Nazi propaganda.
— German Chancellor Angela Merkel
A far-right party, the Alternative for Germany (AfD) has been gaining strength from month to month with strident opposition to Merkel's pro-refugee policies, which President Trump has also criticized.
"The fundamental dispute is also taking place across Europe," said Merkel, currently Europe's longest serving leader, noting that European parliamentary elections next year would be a battleground over the issue of migration.
"This challenge seems to me to be a bigger question for the cohesion of the EU than the euro-zone crisis was," she added, referring to Europe's single currency, the euro, and Greece's sovereign debt crisis that caused enormous tensions across the EU in 2015.
Calling the lack of EU solidarity on migration the "Achilles' heel" of Europe, Merkel, 64, used her speech to members of parliament to take aim at the mobs in Chemnitz as well as deputies of the AfD – now the largest opposition party in the Bundestag, running neck and neck in opinion polls with her own conservative party for supremacy in the state of Saxony. Video of groups of Germans chasing after people in Chemnitz has shocked the country that has long struggled to come to terms with its Nazi past.
"There is no excuse or justification for hunting people down, the use of violence and Nazi propaganda, or showing hostility for people who appear to be [foreign], or who own a Jewish restaurant or for attacking police," said Merkel, referring to a kosher restaurant in Chemnitz that also came under attack by the rightists.
In Strasbourg, Juncker took aim at far-right nationalism and growing intolerance that has caused tensions in EU countries, none of which has taken in as many refugees as Germany. In his state-of-the-union address, the former Luxembourg prime minister, who will retire next year, recalled how Europe was caught off guard a little more than a century ago with tensions that led to the outbreak of World War I.
"I am not suggesting that we are on the verge of a similar catastrophe in Europe," said Juncker. "The EU is a guarantor of peace. Let's be happy that we live on a continent that enjoys peace thanks to the EU. Let us show more respect to the EU. Let's not sully its image. Let us defend our life, our way of being. Let's embrace the kind of patriotism that is not directed against others" and look for "solutions that allow us to coexist better."
Kirschbaum is a special correspondent.
---
Must-read stories from the L.A. Times
Get the day's top news with our Today's Headlines newsletter, sent every weekday morning.
You may occasionally receive promotional content from the Los Angeles Times.