French rail workers strike halts high-speed trains, presenting challenges for President Macron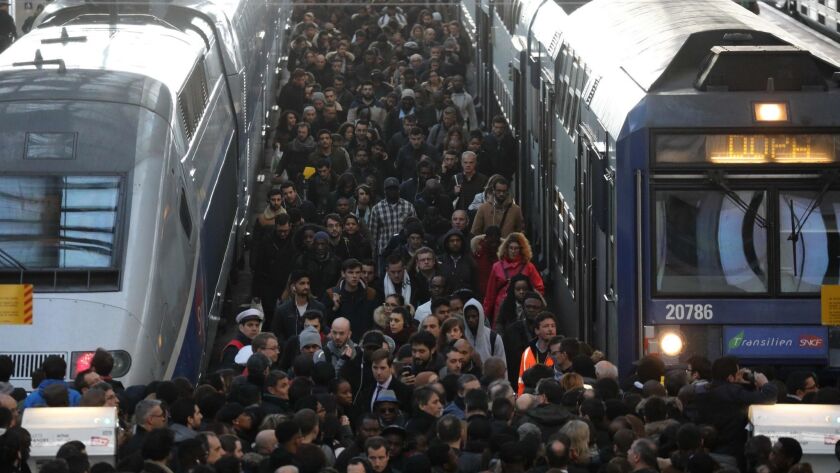 Reporting from PARIS —
French railway workers brought the country's high-speed train network grinding to a halt Tuesday in the first of a planned series of rolling strikes set to cause major challenges for President Emmanuel Macron's economic restructuring goals.
Striking staff at the national rail company SNCF began a series of two-day walkouts planned every five days for the next three months, leaving many passengers stranded. Unions are opposed to Macron's plans to overhaul the debt-ridden state rail network as part of his presidential campaign pledge to shake up France's economy.
Government plans for railway workers include removing benefits such as a job for life and an early retirement system for new workers, though it would remain for existing workers. The decades-old system cannot continue without adjustments for reasons such as the need for more flexible workforces, and European Union rules calling for its members to open public railways to competition, officials said.
A separate strike by staff at partially state-owned Air France demanding pay hikes caused further transport chaos with about a quarter of the airline's flights canceled. Simultaneous protests by municipal garbage collectors in several cities, including Paris, over working conditions and students opposed to education reforms such as changes to the admissions process to the country's universities blocking university campuses added to Macron's woes.
The industrial action poses the biggest threat to the centrist Macron since he was elected on a reformist program a year ago.
Tuesday's strikes stopped high-speed trains from France to Switzerland, Spain and Italy. Only one in three trains ran to Germany and only three out of four Eurostar trains to Britain.
National TGVs (Very Fast Trains) were also severely disrupted; only one in 10 trains ran from Paris to the southern city of Toulouse and only one in six to Bordeaux, Marseille and Nice. Several intercity services shut down, while others ran fewer trains.
SNCF said in a statement that 77% of train drivers were on strike and overall only 12% of trains were running Tuesday. Similar disruption was expected Wednesday.
As passengers squeezed onto overcrowded platforms to await trains, one woman fell onto the tracks at the Gare de Lyon in Paris and was rescued unhurt by station staff. A protest march in Paris led to clashes between police and protesters. Many frustrated travelers took to alternative forms of transportation such as private coach and bus companies, which provided extra vehicles, and car-sharing.
Macron is playing with fire in setting out to reform his country's railways. A similar attempt by center-right President Jacques Chirac in 1995 paralyzed the country for several weeks and led to the government backing down and then Prime Minister Alain Juppé resigning. Although a poll by Ifop published Sunday showed 51% of French people support Macron's planned reform, 46% of people found the strikes "justified."
On Tuesday, government ministers and union leaders showed no signs of compromise or caving.
Prime Minister Edouard Philippe told the National Assembly that the aim of the "ambitious reform" was not to privatize the railway network, but to open it gradually to competition — as neighboring countries have done or are doing under European Union regulations — to make it "more efficient, a better quality service and more competitive."
"I respect the strikers; the right to strike is constitutionally guaranteed. But if the strikers must be respected, then the millions of French people who want to go to work should also be respected, the millions who need to travel should also be heard. I salute them, they have difficult days ahead of them because the strike has been organized to have maximum impact on passengers," Philippe told lawmakers.
Philippe said $17.7 billion in public money is pumped annually into the railway while the service has declined. He said abandoning reforms was out of the question.
"The status quo is no longer tenable," he said.
Transport minister Elisabeth Borne, told BFM TV that the government would "hold out," but promised "to listen, to consult and to talk" to unions.
Union leaders reiterated their plan to continue the stoppages for two out of every five days until June 28.
Philippe Martinez, head of the General Confederation of Labor (CGT), said Macron and his government must "unblock their ears to hear the worker's discontent."
"It's this unwillingness to listen to the railway unions that has caused this situation," Martinez said on LCI television. "We are a social opposition and that's our role as a union."
---
UPDATES:
3:1o p.m.: This article was updated throughout with Los Angeles Times reporting.
This article was originally published at 5:15 a.m.
---
Must-read stories from the L.A. Times
Get all the day's most vital news with our Today's Headlines newsletter, sent every weekday morning.
You may occasionally receive promotional content from the Los Angeles Times.