French far-right party severs ties with elder Le Pen, gets a visit from Bannon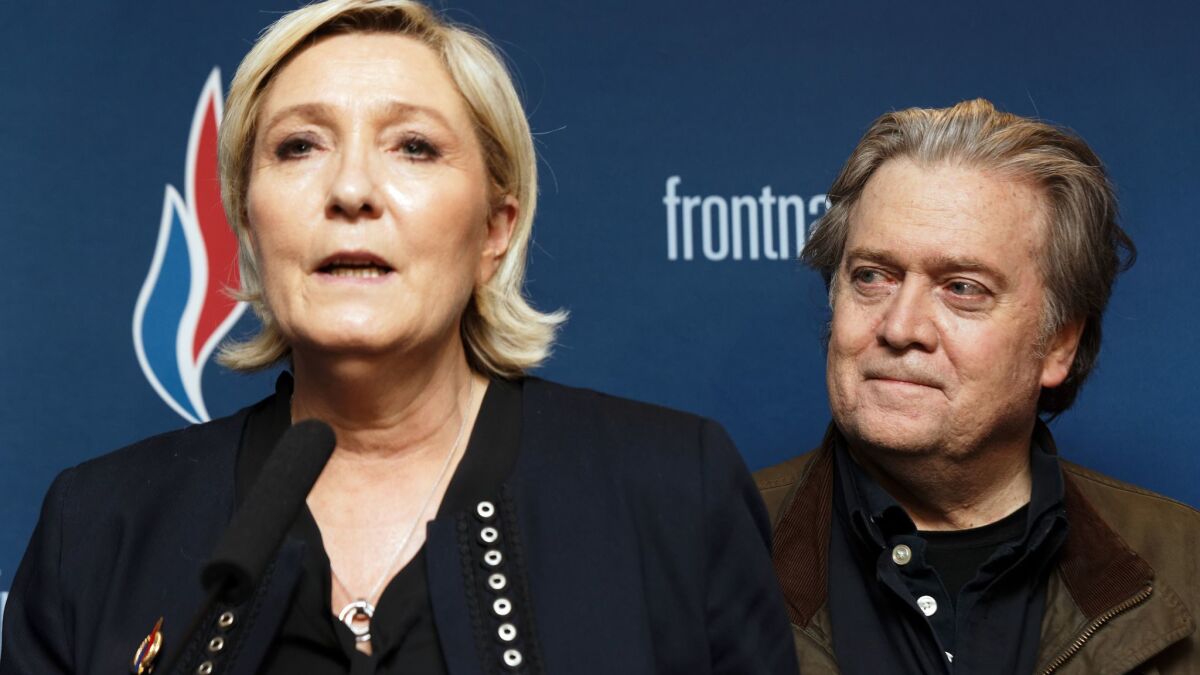 Reporting from PARIS —
France's far-right National Front definitively severed its ties to firebrand founder Jean-Marie Le Pen on Sunday, as the nationalist party completes a makeover designed to revive its fortunes after his daughter failed to win the presidency last year.
Despite her troubles, Marine Le Pen was reelected to a new term as party president at a congress where she was the only candidate for the post. A new leadership structure and 100-member governing council was also named.
The anti-immigrant party won a boost from a guest appearance at the congress Saturday by former White House strategist Stephen K. Bannon. He told National Front members that "history is on our side."
Party members approved new bylaws aimed at restructuring after internal divisions — and that include abolishing Jean-Marie Le Pen's position of party president for life. The party tweeted Sunday that more than 79% of participants approved the new statutes.
Jean-Marie Le Pen didn't attend the congress.
The party expelled him in 2015 over anti-Semitic remarks, but he kept the honorary position. Sunday's vote is a crushing blow for the 89-year-old Le Pen, who founded the party in 1972 and was the surprise runner-up in the 2002 French presidential election.
Father and daughter Le Pen have waged a bitter power struggle since he named her to succeed him in 2011. The elder Le Pen has been convicted multiple times for racism and anti-Semitism, and his positions complicated his daughter's efforts to clean up the party's image and expand its base into disillusioned mainstream French voters.
Abolishing the honorary position is an effort to bypass court rulings that he should be able to maintain his status as honorary party president for life.
The congress in Lille is aimed at remaking its image after Marine Le Pen made it to last year's French presidential runoff, riding a global populist wave — but suffered crushing defeat to independent, pro-globalization Emmanuel Macron.
Marine Le Pen wants to change the name of the National Front. Jean-Marie Le Pen has called the idea a betrayal.
---
Must-read stories from the L.A. Times
Get the day's top news with our Today's Headlines newsletter, sent every weekday morning.
You may occasionally receive promotional content from the Los Angeles Times.