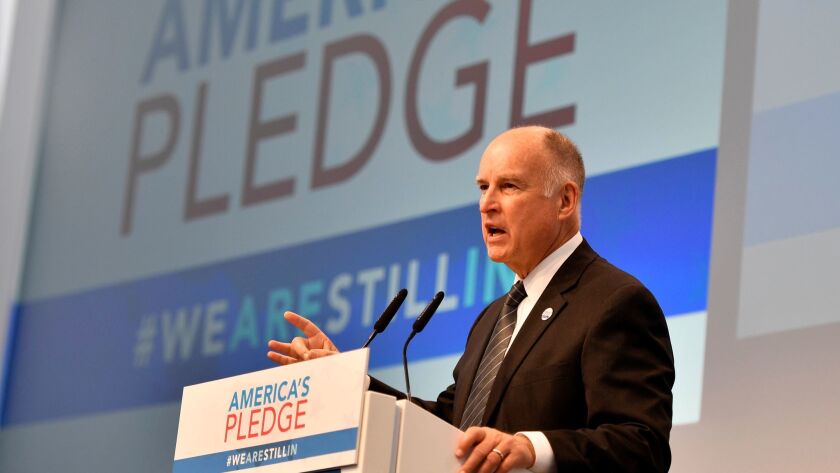 Reporting from BERLIN —
Determined to demonstrate that large numbers of Americans remain committed to fighting climate change, a loose alliance of cities, states, companies and universities from across the United States gathered on the fringes of a United Nations climate conference in Bonn Saturday to pledge their support for the Paris agreement.
California Gov. Jerry Brown, former New York City Mayor Michael Bloomberg and former U.S. Vice President Al Gore were among the leaders of the U.S. coalition during a series of speeches and panel discussions in a grand pavilion named the "U.S. Climate Action Center." It was set up just outside the building where the U.N. climate conference is taking place. The American political and business figures told the audience that states, cities and businesses have real power that they can leverage in the fight against climate change even though the federal government wants to bail out.
"It is important for the world to know — the American government may have pulled out of the Paris agreement, but the American people are committed to its goals, and there is nothing Washington can do to stop us," Bloomberg told the audience in the packed tent. He noted that the alliance of 20 states, 110 cities and 1,400 businesses would be the world's third-largest economy and represented about half of the U.S. economy.
President Trump announced in June that the United States will withdraw from the 2015 Paris agreement at the first possible date in 2020, arguing it was detrimental to U.S. business. Trump has expressed doubt about climate change, questioning how much human activity has contributed.
The Trump administration is represented at the Bonn talks of nearly 200 nations by a senior diplomat but has taken a low-key approach — in stark contrast to the attention-grabbing U.S. Climate Action Center.
Brown, who is on a whirlwind 10-day trip to four countries addressing climate change and promoting California, was one of the featured speakers Saturday that faced dozens of hecklers in the crowd who demanded his state do even more to fight pollution, stop fracking and oil drilling, and slow global warming.
After some good-natured jousting with the green activists, Brown praised them for their dissent and announced he would "reframe my speech." He also told them he was a former cheerleader in college and that he liked their rallying cry "We're still in" so much that he led the whole audience in a cheering: "We're still in, we're still in."
"Only in California can we stimulate this kind of opposition with strong advocates on all sides — [even though] we're doing more than anyone else," Brown said. "This is one of the reasons why California has the most aggressive goals: no matter what we do, we're being challenged to do more, and I agree with that. We'll do a lot more."
Despite his open and for the most part supportive exchange with the hecklers, Brown grew exasperated at one point by their persistent protests. When they started chants to keep oil in the ground, Brown shot back: "I agree with you, in the ground. Let's put you in the ground so we can get on with the show here."
Brown also diverted from the rest of his planned "America's Pledge" speech to say:
"California is the most aggressive, most far-reaching climate action state in the country and in the Western Hemisphere. Is it enough? No. Do we have a lot of pollutants? Yes. Do we have 32 million cars driving 335 billion miles every year? Yes. Are we going to stop them today? No. Are we going to stop them in time? Yes, if America's pledge is picked up by the rest of the country and rest of the world. If we can take some of that noise and bottle it into energy, we'll get the job done. America, we're here, we're in and we're not going away."
Bloomberg and Brown appeared along with Fiji Prime Minister Frank Bainimarama, who is presiding over the U.N. conference at its climate headquarters in Bonn that runs until Friday. The talks are focused on designing a detailed set of rules to help guide forward the 2015 Paris climate agreement that established a goal of ending the fossil-fuel era by the end of the century.
Earlier on Saturday, Sen. Edward J. Markey (D-Mass.) promised the United States would remain committed to its climate change goals.
"We are here in Bonn to say we are not saying 'bon voyage to our commitment on climate," he said.
---
UPDATES:
1:52 a.m.: The article was updated to include a comment from Jerry Brown directed at anti-fracking protesters.
---