Germany's Merkel sets the stage for her eventual exit by picking a successor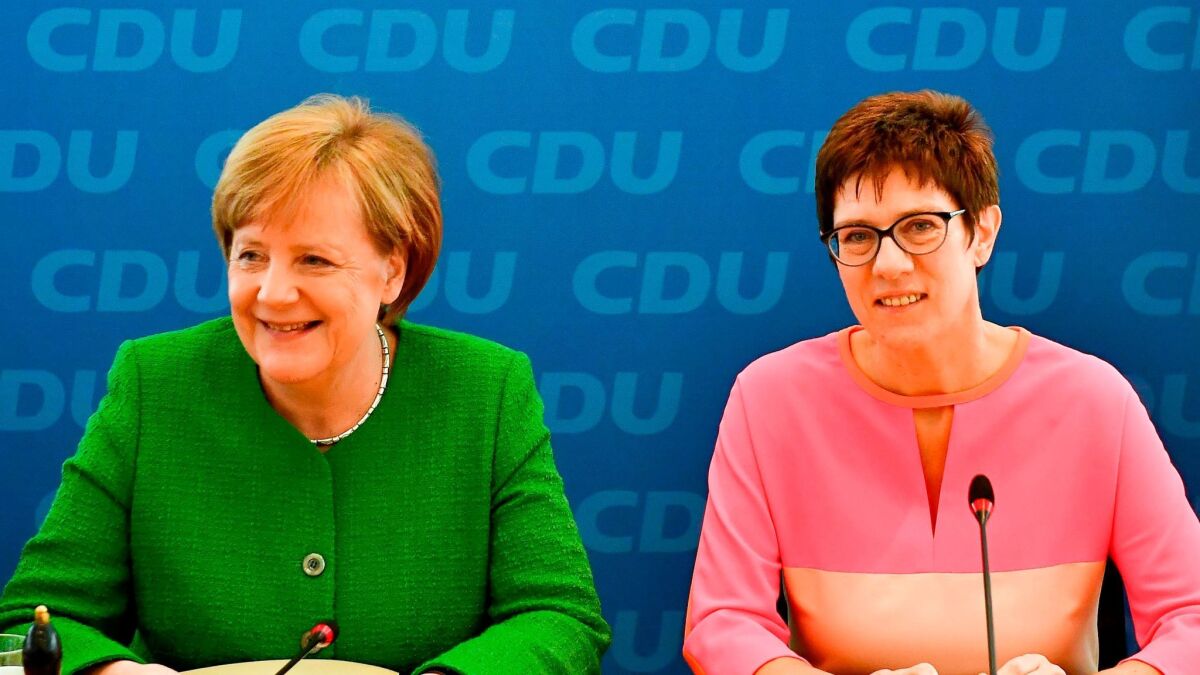 Reporting from Berlin —
Two decades after promising to quit politics before turning into a "half-dead wreck," German Chancellor Angela Merkel began paving the way for her exit from office by picking the popular governor of a small state on the French border as her successor in a surprise move on Monday.
In what had all the hallmarks of a classic Merkel attempt to thwart a rebellion in her conservative party's right wing, the 63-year-old leader, elected five months ago to a fourth four-year term, caught her rivals off guard by picking Annegret Kramp-Karrenbauer as deputy party leader — in effect, the crown princess.
Merkel did not, however, say when she might step aside.
The governor of Saarland, the 55-year-old Kramp-Karrenbauer has conservative views on social issues and a track record of electoral victories that should quiet Merkel's many naysayers. Right-wing critics of the chancellor, who has been in power since 2005, are upset about her pushing the conservative party to the center as well as her contentious 2015 decision to allow more than a million refugees from Syria and elsewhere into Germany. Merkel's popularity has plunged since elections in September, and a growing chorus of party leaders has called for her to step aside.
It was, political analysts said, a clever move by Merkel to name Kramp-Karrenbauer as the party's deputy leader, or general secretary. It was the first time since Merkel took office in 2005 that she had designated a successor, and it was seen as heading off critics who were calling for a conservative voice to take the deputy leader post.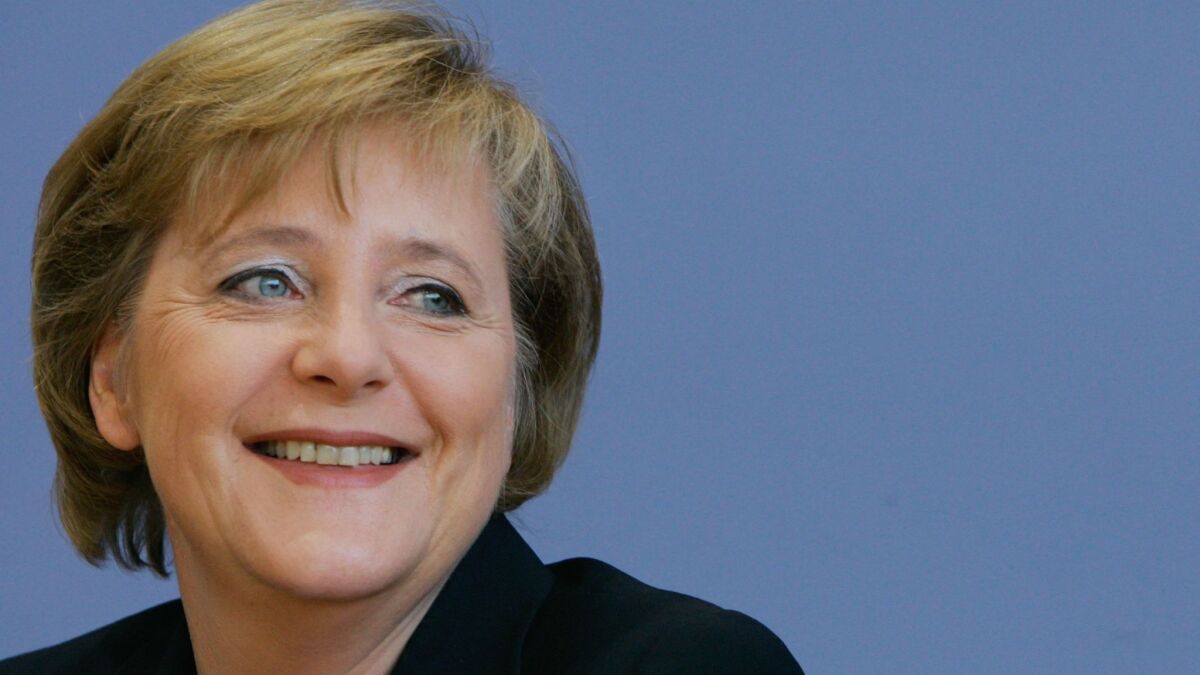 Merkel's Christian Democrats (CDU) crashed to their worst postwar result in the Sept. 24 election as a new far-right Alternative for Germany (AfD) party siphoned away millions of conservative voters tired of Merkel. Her powers abroad may be at their zenith, but at home she has probably never been more vulnerable.
"The party is fortunate that she's eager to come to Berlin to help hold the CDU together and help create a stronger feeling of belonging," Merkel said at a news conference in Berlin. The chancellor was the party's general secretary herself from 1998 until she became its leader in 2000.
Merkel, who is the de facto leader of the European Union as head of its strongest economy, in part owes her re-election last year to Kramp-Karrenbauer. The Saarland governor, who has ruled for the last seven years, won re-election with unexpected ease in her tiny state, with a population of just 1 million, after a spirited campaign in early 2017. That may have paved the way for conservative victories in three other states and Merkel's victory in September.
"This is one of the most difficult periods in Germany's history," said Kramp-Karrenbauer, standing next to Merkel. She was presumably referring both to the rise of the far-right AfD, which is now the largest opposition party in parliament, and to the bitter divisions in the country over the large number of refugees. "We need strong political parties. In difficult times like these, you can't just go out there and blame others and say, 'Someone else should do a better job.' I think in times like these you have to be willing to take on responsibility yourself."
Sometimes referred to in Germany by her initials "AKK" because of her difficult double name and her high levels of energy that remind some of the "AKW" abbreviation for nuclear power plants, Kramp-Karrenbauer comes from the center of the CDU and supported Merkel's decisions during the refugee crisis in 2015 and 2016. Yet her membership in the Roman Catholic Church and family — she is the mother of three -- make her an appealing choice for many conservatives in the party, as does her opposition to full adoption rights for same-sex couples.
How dinner with a lesbian couple changed Angela Merkel's position on same-sex marriage »
A devout AC/DC fan, she is married to a former mining engineer who quit his job to raise their children. Asked at the Berlin news conference whether she regarded herself as the new crown princess of the party, she replied, "I was never suited for princess roles."
Many on the right have long been wary of Merkel, a divorced woman with no children, whose policies have pushed the Christian Democrats to the left and away from traditional conservative values.
"Merkel has made an extremely smart move with Kramp-Karrenbauer," said Thorsten Hasche, a political scientist at Goettingen University, in an interview. "She's always been loyal to Merkel yet brings more traditional conservative viewpoints and her religion with her. This should quiet down the rebellion before it gets going any further."
Yet the ascent of Kramp-Karrenbauer from the tranquillity of Germany's provinces into the center of politics will likely also fuel speculation about when Merkel will ultimately step down – perhaps in two years, which would be halfway through the next legislative period. She had once hinted that she wanted to avoid the mistake made by two earlier Christian Democrat chancellors – Konrad Adenauer and Helmut Kohl – who were forced out after holding on too long (16 and 14 years, respectively) in the false belief they were irreplaceable. Merkel witnessed Kohl's withering election defeat in 1998 firsthand as his environment minister.
"I don't want to be a half-dead wreck when I get out of politics," she said at age 44 in 1998, right after watching Kohl's humiliating defeat at the age of 68.
ALSO
Germany moves toward a new coalition government after major concessions by Angela Merkel
Trump stirs a hornet's nest in Britain by blasting its National Health Service
Radiation levels near this Siberian village were 1,000 times above normal last fall. But no one worried much
Kirschbaum is a special correspondent.
---
Must-read stories from the L.A. Times
Get the day's top news with our Today's Headlines newsletter, sent every weekday morning.
You may occasionally receive promotional content from the Los Angeles Times.