Marking fall of the Berlin Wall, Mikhail Gorbachev warns the West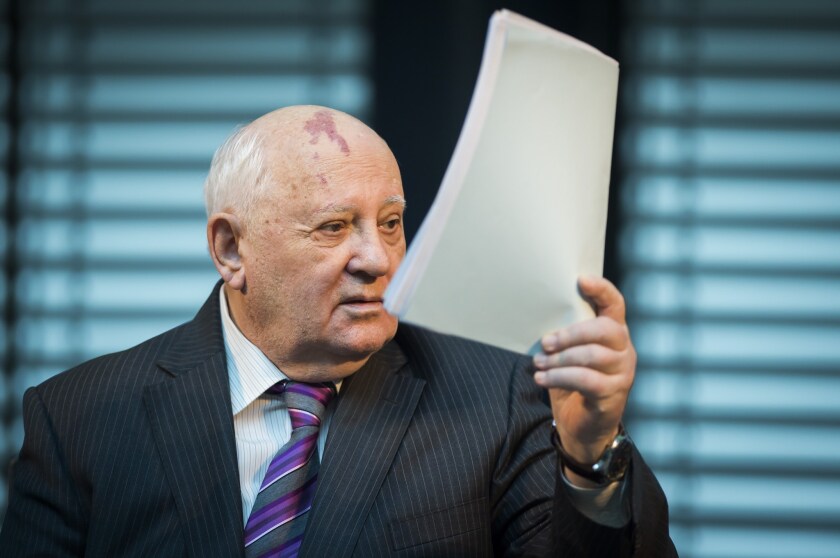 Reporting from Berlin —
Mikhail Gorbachev on Saturday had strong words for the United States and its allies over growing tension between Moscow and the West, a development he believes has put the world "on the brink of a new Cold War." Speaking at a symposium in Berlin as part of commemorations marking the 25th-anniversary of the collapse of the Berlin Wall, the former Soviet leader said the West's subsequent policy approach led to the current state of affairs.
"Instead of building new mechanisms and institutions of European security and pursuing a major demilitarization of European politics, the West, and particularly the United States, declared victory in the Cold War." As a result, he said, "a blister has now turned into a bloody, festering wound."
Gorbachev said recent actions by the West — including economic sanctions against Russia leveled by the U.S. and European Union in response to Russia's policies in eastern Ukraine as well as discussions over the expansion of the North Atlantic Treaty Organization — had further unraveled the situation.
"The events of the past months are consequences of short-sighted policies of seeking to impose one's will while ignoring the interests of one's partners," he said.
Gorbachev, who has been critical of Russian President Vladimir Putin, aimed few broadsides at him in his speech, saying he thought that Putin of late has been trying to "lower tension and build a new basis for partnership" even as Moscow has criticized the West.
Gorbachev's remarks take on a pointed quality given his role in Cold War-era reforms and the opening of new channels of cooperation between Russia and the West. His speech in Berlin, near the Brandenburg Gate, marked a return to the city that he influenced with his policy of glasnost during the 1980s.
At 83, Gorbachev remains one of the few leaders from that era to still be active on the world stage.
He is also one of a number of prominent European officials who will be taking part in Berlin Wall anniversary events this weekend — others include former Polish leader Lech Walesa and German Prime Minister Angela Merkel — as Germany commemorates the fall of the communist-era wall on Nov. 9, 1989.
The country has largely rebounded from that tumultuous period. Merkel, the first former East Germany-raised figure to lead the nation, remains highly popular, and a street festival that's expected to attract millions is on track after rail workers ended a four-day strike early.
But not all wounds have not been salved: This week the far-left party Die Linke formed a governing coalition in the eastern state of Thuringia, becoming the first such party since the fall of the wall to take such a leadership position.
---
The Latinx experience chronicled
Get the Latinx Files newsletter for stories that capture the multitudes within our communities.
You may occasionally receive promotional content from the Los Angeles Times.