Huddled masses? Not so much. The latest migration route to Europe is aboard luxury yachts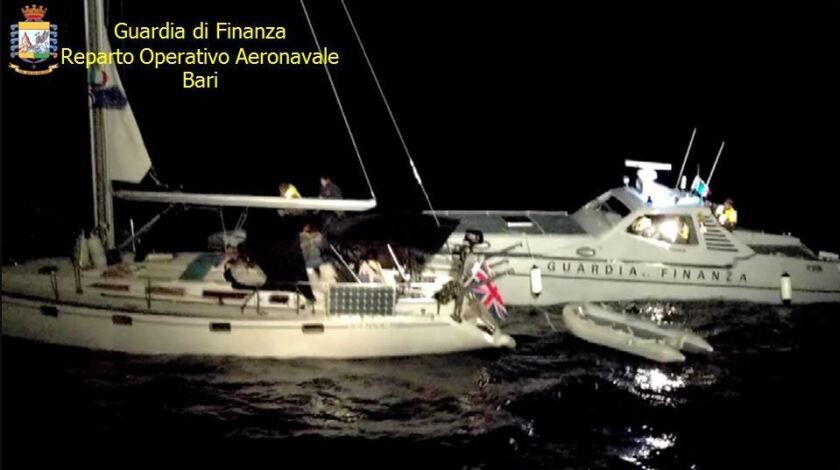 Reporting from ROME —
When the migrants got off their yacht on the tiny Italian island of Lipari last month, there was no point in trying to blend in.
"It's easy to spot a group of Syrians and Iraqis dressed in Dolce & Gabbana who are working their phones at 6 in the morning in an uninhabited part of the island," said one local law enforcement official.
The new arrivals, who sailed from Turkey with Eastern European pilots, are part of a growing number of migrants who can afford to pay around $7,000 to get around Turkey's best efforts to stop them from reaching Europe.
"These are migrants used to high standards," said the official, who spoke on condition of anonymity because he was not authorized to speak publicly.
With 160 yachts arriving in Italy in the 12 months leading up to July, according to European police agency Europol, the phenomenon is taking off, just as the number of African migrants trying to reach Italy from Libya on overcrowded, flimsy dinghies is slowing down.
In every popular coffee shop, every neighborhood, there is someone selling the dream.
Myriam Chabbi, International Organization for Migration
These are not vacation outings, no matter how nice the boats.
"It's a luxury trip from Turkey, since the boats are often luxurious, but it's not quite the same when 30 people are packed in," said Col. Antonello Maggiore, an official with Italy's tax police, which has investigated the sailings.
The trip from Turkey to Italy takes around a week, he said.
"It's a lot better than a dinghy from Libya, since you know you will arrive alive," he said. "When the migrants are out at sea they can come up on deck, so they are not like slaves in the hold, and while there may be one bathroom for 30, that might be better than the conditions in the war zone they come from."
An Italian investigation in October revealed how yachts were arriving from Greece on the coast of Puglia — the region in Italy's heel — as far back as 2014, packed with migrants who had made their way from Syria and beyond.
Italian smugglers who knew every secluded cove and beach after years of bringing cigarettes over from Albania worked with Greek and Albanian skippers to guide the yachts in under the noses of the Italian coast guard.
Then, in March 2016, the European Union agreed to pay Turkey the equivalent of $3.5 billion to stop migrants sailing from Turkey to Greece, while the land route into northern Europe through the Balkans was shut down.
"Smugglers soon switched to sailing migrants directly to Italy from Turkey, often using charter boats stolen in Turkish tourist ports like Bodrum and Marmaris," said a magistrate in Puglia who also declined to be named because he was not authorized to speak publicly.
Now the boats head for Puglia, Sicily and Calabria, in the toe of Italy, while the skippers hail from Ukraine, Georgia and other parts of the former Soviet Union. "They are good sailors but come from poverty and do it for little money," said the magistrate.
As the migrants, mainly Iraqis, Afghans, Syrians and Pakistanis, come ashore and request asylum, 90% of the skippers are arrested by the Italian police or coast guard, he said.
Two Belarusian pilots were arrested on the night of Sept. 30 after trying to drop off 59 Pakistanis and four Indians from a yacht at Santa Maria di Leuca in Puglia. The skippers on another yacht that arrived in the same area that night, packed with 34 Iraqis, had more luck. They set the yacht's autopilot and sped off in a dinghy before the police arrived and boarded the vessel 10 miles off the coast, police said in a statement.
Not all migrants are spotted as they land. In May, a husband and wife from Afghanistan, both magistrates, were found celebrating their successful arrival in a Sicilian fish restaurant.
The landings in Lipari last month of the Dolce & Gabbana-clad migrants have perplexed authorities because the island is hardly the first port of call when sailing from Turkey. Pilots need to circumnavigate the bottom of Italy and sail up the Strait of Messina, past Sicily, to arrive.
"I think they were trying to get to France but didn't make it," said the local law enforcement official.
The first landing on the island was in September, when the pilots stopped their boat at night, ferried their passengers to shore on a dinghy and vanished. On Oct. 9, a 60-foot yacht ran aground while edging up to the coast, again at night. That did not stop 119 Syrians and Iraqis from getting ashore.
"From what migrants have told us, it was the same yacht as in September," said the official. "This time, after the ship grounded and the passengers got ashore, the four pilots escaped on their dinghy, which we later found abandoned on the Sicilian coast."
As yachts arrive from Turkey, speedboats packed with migrants are also arriving in increasing numbers this autumn from Tunisia.
According to the International Organization for Migration, 1,286 arrived on the route in September, followed by more than 1,500 in October — a huge increase from the 1,207 for all of 2016.
Observers report that the arrivals, almost all Tunisians, are deserting their hometowns as the economy sours and traffickers offer quick trips to Europe.
"In every popular coffee shop, every neighborhood, there is someone selling the dream," said Myriam Chabbi, an official with the IOM in Tunis, the Tunisian capital.
Meanwhile, the beaches around Sabratha in lawless Libya have become quieter as trafficking drops off.
Just over 5,900 migrants were rescued at sea and brought to Italy in October after leaving Libya, a huge drop from the nearly 27,400 picked up during October last year.
The fall was partly due to extra patrols by the European Union-trained and funded Libyan coast guard, which has been halting migrants at sea and turning them back.
Multiple reports also say that Italy paid off militias in the smuggling town of Sabratha to stop human trafficking, although Rome has denied the reports.
The IOM reported that the halt in sailings left 14,000 migrants — mainly sub-Saharan Africans — stranded in warehouses, often in appalling conditions, near the Libyan coast, before they were moved by aid workers to other camps.
"Many have spent months in the hands of smugglers and are very vulnerable," said Christine Petré, an IOM official in Tripoli, Libya.
Still, sailings from Libya, as well as deaths at sea, picked up at the end of October, with 2,560 people rescued between Oct. 31 and Nov. 3, while a Spanish naval vessel docked in Italy on Nov. 5 with the bodies of 26 female migrants who apparently drowned at sea.
"Twenty-three of those women were Nigerians who drowned when their dinghy sank at sea," said Flavio Di Giacomo, an IOM spokesman in Italy. "Another 50 may have drowned but their bodies were not found."
Kington is a special correspondent.
ALSO
Poland strongly condemns racism while also defending weekend march by nationalists
'The Diary of Anne Frank' rings out at Italian soccer games in response to anti-Semitism
Brutal crackdown has gay and transgender Egyptians asking: Is it time to leave?
---
Must-read stories from the L.A. Times
Get all the day's most vital news with our Today's Headlines newsletter, sent every weekday morning.
You may occasionally receive promotional content from the Los Angeles Times.