Italy's prime minister says he'll resign if Sunday's referendum on political reforms goes against him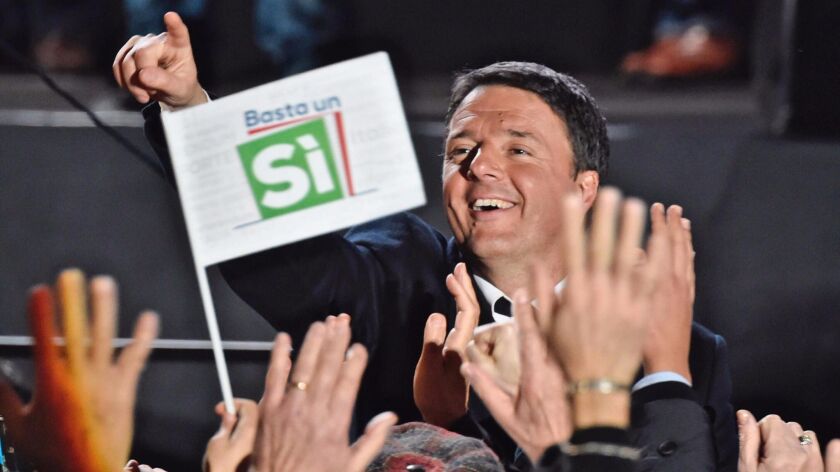 Reporting from Rome —
Italians will vote in a referendum Sunday on reforms proposed by Prime Minister Matteo Renzi that would bring complex changes to Italy's constitution, but which he says would streamline the country's sluggish lawmaking and centralize state power.
Voter approval of Renzi's plans could dramatically change the Italian government by, among other things, reducing the number of senators from 315 to 100. If the reform vote succeeds, most laws could be passed without Senate approval.
A "no" vote would mean a rejection of Renzi, who has said he would resign, and his reform plans. It could also be seen as part of a global populist surge that has already resulted in Britain's June vote in favor of leaving the 28-nation European Union and the U.S.' November election of Donald Trump as its next president.
Here is a brief guide on the referendum.
What exactly does Renzi want to achieve?
Renzi took power in 2014 promising to turn Italy's Parliament from a sloth-like bastion of cronyism into a fine-tuned lawmaking body ready to effect the reforms needed by Italy's sclerotic economy and creaking justice system.
To do this he proposed replacing the 315 senators in the upper house with 100 regional councilors and mayors who would have far fewer lawmaking powers. Under the existing system, the lower house, the Chamber of Deputies, and the Senate must both approve bills, meaning some measures bounce back and forth for years while being amended.
Crucially, when prime ministers ask Parliament for a vote of confidence to continue governing, votes must be held in both the lower house and the Senate. Numerous administrations have collapsed after losing confidence votes in the Senate.
To clip the wings of the Senate, Renzi needed to change Italy's 1948 constitution, and to do that, he needed a referendum. While he was at it, Renzi added measures to restore to Rome powers over key infrastructure and health programs, which are currently controlled by 21 regional governments, leading to waste and overlaps.
What are the objections to Renzi's proposals?
Critics say the reform will kill off checks and balances and give the government of the day too much power. Denuding regional authorities of their powers will deny local communities the chance to oppose new infrastructure programs like power stations or highways, they say.
Chief opponent of the reforms is Beppe Grillo, a former comedian who built an antiestablishment political party, the Five Star Movement, after launching a wildly successful blog. The party rivals Renzi's center left Democratic Party in the polls.
Renzi has tried to show a willingness to be antiestablishment and anti-big government through his plans to slash the head count in the Senate. Grillo, however, accuses the prime minister of plotting to strangle Italian democracy.
So Grillo's the populist here?
Grillo celebrated Donald Trump's victory by claiming, "It is those who dare, the obstinate, the barbarians who will take the world forward. We are the barbarians!"
Five Star officials have also accused powerful international banks like JP Morgan of encouraging Renzi to weaken Parliament and pass more business-friendly laws.
Grillo told voters this week to "vote with your gut, not with your brain" at the referendum. Renzi replied that if voters did use their brains they would surely vote yes on Sunday and back him.
Why does Renzi seem to have so many opponents?
Early in his campaign, Renzi promised to resign and quit politics if he lost the referendum, a statement he has come to regret, since his opponents have seized on the vote as a chance to oust him. And because Renzi has not turned around the flatlining Italian economy in his 2½ years in office, he has plenty of opponents, particularly in the moribund south of the country.
What happens if Renzi loses Sunday?
If Renzi loses, Italian President Sergio Mattarella may ask him to try to form a new government. If Mattarella asks and Renzi declines, the president could appoint a nonpolitical government of experts to run Italy until elections are held.
Economic markets may punish European stocks on Monday if the "no" vote wins. That would be bad news for Italy's banks, which have already lost half their stock market value this year because of the toxic loans they are sitting on. If they start collapsing, there could be a nasty Europewide fallout.
Which side is expected to win the referendum?
Italy banned opinion polls for the two weeks running up to Sunday so voters would not be influenced. The last polls showed the "no" side leading.
But in a rally Thursday, Renzi promised that he was lagging by only "a few thousand" votes.
Some observers believe Italy's civil servants, who do not traditionally talk to pollsters, may ride to Renzi's rescue — not least because they were given a raise this week.
Renzi has also been trying to win over undecided voters with a push of rallies and exposure on television and radio.
"Never have there been so many people undecided," he wrote on social media Friday. "The referendum match will be decided in the last 48 hours."
Kington is a special correspondent.
---
The Latinx experience chronicled
Get the Latinx Files newsletter for stories that capture the multitudes within our communities.
You may occasionally receive promotional content from the Los Angeles Times.