8-year-old girl is identified as a victim of Manchester bombing, which left 22 dead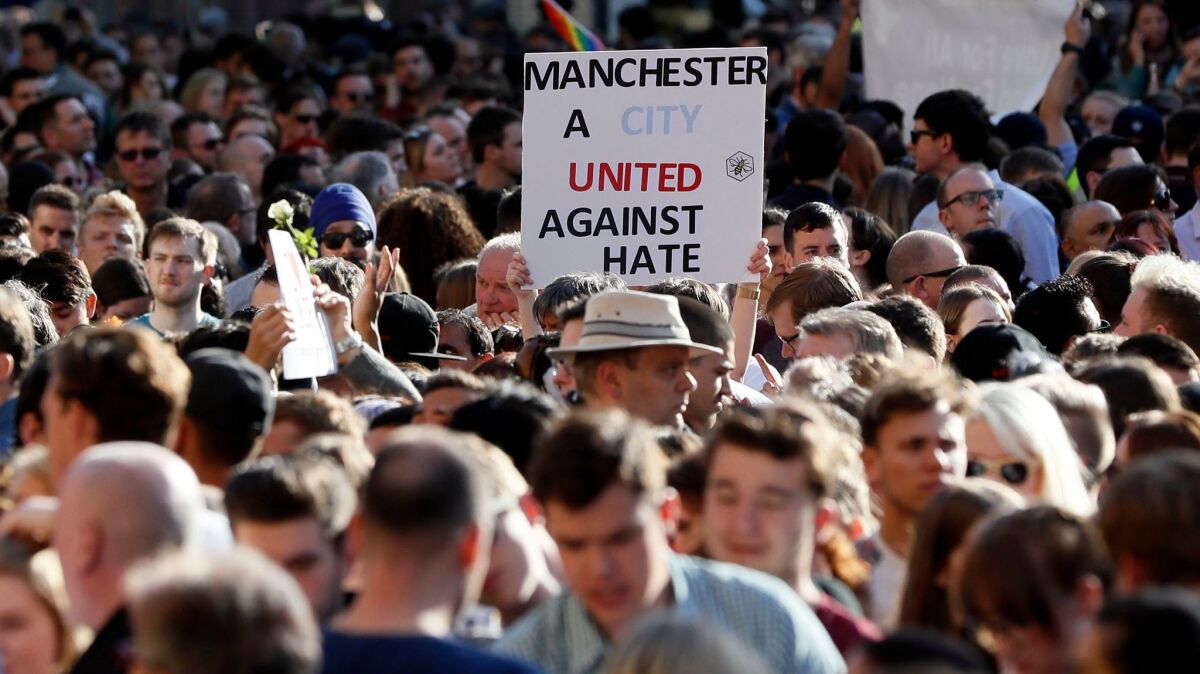 As the identities of victims of the Manchester bombing attack began to emerge, mourners gathered Wednesday to remember the 22 people who lost their lives, one victim as young as 8 years old.
Many of the concertgoers were young girls who had come with family and friends for a fun-filled evening of music. Some people had even planned the evening months in advance and traveled hours to attend the concert.
But as Ariana Grande finished performing "Dangerous Woman," the evening took a bad turn. A suicide bomber, who police identified as 22-year-old Salman Abedi, killed 22 people and injured more than 59, just as people were leaving the concert arena.
The next day thousands gathered for a vigil at Albert Square to pay tribute to the victims.
"The people of Manchester will remember the victims forever," Manchester Mayor Eddy Newman told the crowd. "And we will defy the terrorists by working together to create cohesive, diverse communities that are stronger together."
As officials continue to investigate Tuesday's attack, below are the names of the victims who have been identified.
8-year-old Saffie Rose Roussos
Eight-year-old Saffie Rose Roussos is the youngest known victim of the deadly attack. "Saffie was simply a beautiful little girl in every aspect of the word," her school principal, Chris Upton, said in a statement. "She was loved by everyone and her warmth and kindness will be remembered fondly. Saffie was quiet and unassuming with a creative flair. The thought that anyone could go out to a concert and not come home is heartbreaking." The girl was reportedly at the concert with her mother, Lisa Roussos, and sister Ashlee Bromwich, who were injured by the blast and taken to the hospital.
18-year-old Georgina Callander
Callander, a college student from Lancashire, was the first victim identified. She attended Runshaw College and was a second-year student studying health and social care. Her college released a statement saying: "It is with enormous sadness that it appears that one of the people who lost their lives in Monday's Manchester attack was one of our students here at Runshaw College. … Our deepest sympathies, thoughts and prayers go out to all of Georgina's friends, family and all of those affected by this loss." Callander appeared to be social and enjoyed concerts and music, according to photos on her Instagram account. Her friend Daisy Gill wrote on Twitter: "Rest in [peace] Gina my angel, we were both having such an incredible evening and I can't believe it ended this way."
26-year-old John Atkinson
Atkinson was the third victim to be identified in Tuesday's deadly attack. "Never would I imagine this happening so close to home," Talie Andrea wrote on Facebook. "Rest in paradise John you beautiful soul." A GoFundMe page set up to help pay for funeral costs raised more than $2,000 only a few hours after it was launched. Atkinson, who was from Bury — a town in Greater Manchester — was remembered at Freak Dance Radcliffe studio as a happy and gentle person. "He was a true friend, not just to our staff but many of the parents and students from the school," a post on the dance studio's Facebook page said. "We have lost a member of our dance family." According to his Facebook page, Atkinson was a student at Bury College.
Must-read stories from the L.A. Times
Get the day's top news with our Today's Headlines newsletter, sent every weekday morning.
You may occasionally receive promotional content from the Los Angeles Times.