Young people in Moldova dance away their frustrations as a threatening Russia lurks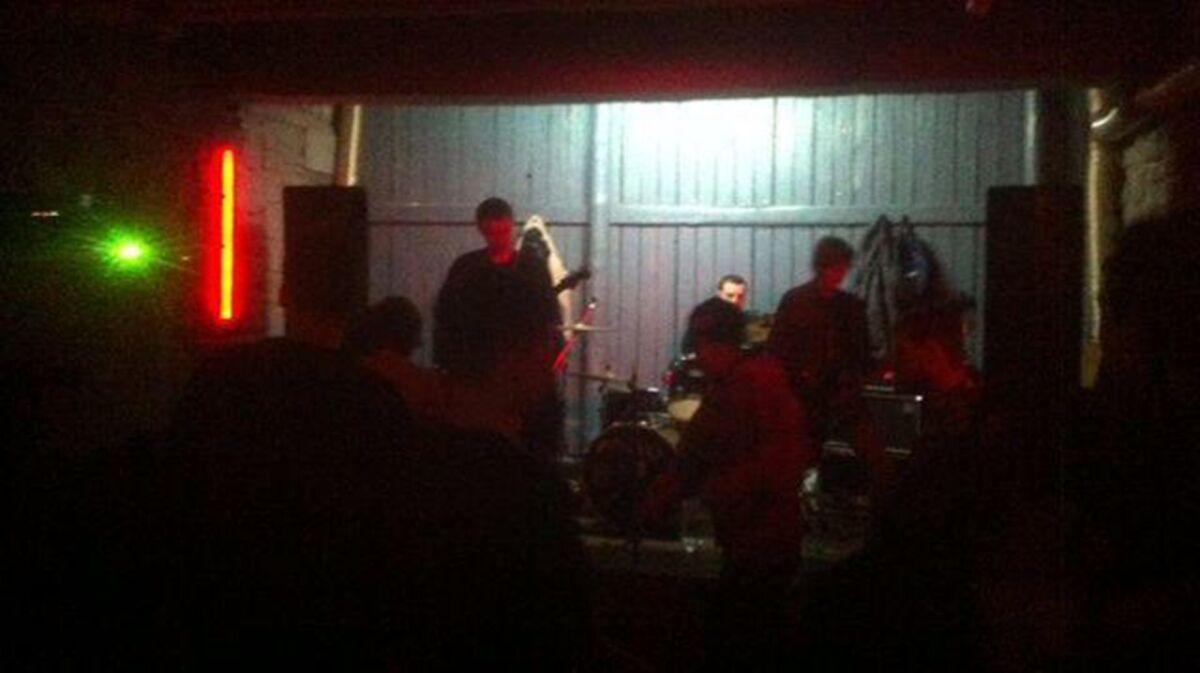 Reporting from Chisinau, Moldova —
Heads banging and arms flailing, the crowd writhes across a floor slick with melted snow dragged in from outside, slipping in piles as a death metal guitarist lays on the doom and a grimacing drummer plays insistent blast beats.
A beer bottle smashes. Someone else falls.
A young woman visiting from Russia, with "Psycho" tattooed in Cyrillic script on her forehead, stomps in agitated circles, pauses, asks for "a hug" and says maybe she could leave Moscow to start a band here in Moldova's capital, Chisinau.
"I think people here would accept me," she said.
At Spalatorie, a basement theater and alternative music venue in downtown Chisinau, young people from assorted subcultures gather most nights of the week, dancing late into the night.
In a country wedged between Russia and the West, riven with ethno-linguistic fissures, a progressive-traditional divide and rampant corruption, Spalatorie provides those on the fringes an opportunity for release and free expression.
It is the only venue of its kind — introducing underground music and politically charged theater — in this deeply traditional country, where nightlife normally revolves around discotheques cranking Russian turbo-folk, karaoke bars and staid patisseries.
"We want to encourage diversity," said Victor Scemanenco, a heavily bearded 33-year-old DJ, who blasts ultra-violent music — from bands such as Virginia's "deathgrind" group Pig Destroyer and New Zealand's dissonant metal act Ulcerate — until the late hours most weekends.
"When we have the liberty of choice, are exposed to new ideas, maybe we can improve our country," he said.
On this night, a cluster of local "grindcore" bands and a hardcore act from Ukraine are performing. Over the coming days, a local minimalist hip-hop artist and a rap group called Under Siege from neighboring Romania will take the stage.
There will be an LGBTQ party too. Some politically subversive theater. A bit of electronica and house. And a late-night metal and "breakcore" session.
The venue opened six years ago, initially to host alternative theater, much of it locally penned. That expanded into film screenings and poetry recitals, often highlighting marginalized voices.
"We wanted to have a different kind of discourse," said Nora Dorogan, one of Spalatorie's founders.
Over time, a party space with a tiny, self-service bar was opened next to the theater. The party space is sparse, with a scattering of tables and chairs, neon tube lighting set into the walls and a stage.
"We want to spread the idea that people should be open-minded and accepting," said Sergiu Rusu, 31, a former journalist who manages the venue and occasionally DJs there.
The events at Spalatorie tend toward the riotous.
At one recent performance, Artiom Zavadovsky, an LGBTQ activist, peeled off layers of clothes beneath the theater's glaring stage lights.
Standing naked aside the tricolor Moldovan flag, hair dyed blue, he held a stick of red lipstick, inviting the attendees to write hurtful words or phrases across his body.
"It is about hate speech and hurtful verbal slurs," he said, "about living in a country that does not respect individuality or dignity."
Later, Zavadovsky donned an off-the-shoulder top reading "Diva," white high-heel platforms, stockings and garters, and mixed a dance set late into the night.
One pair of young lovers, their goatees immaculate, stalked each other about the dance floor with exaggerated goosesteps. Pressing their foreheads together, eyeball to eyeball, they spun in circles to David Bowie's "Let's Dance."
Chisinau is Moldova's commercial hub, with a population of about half a million. Mostly leveled as the Soviet Union repelled the Nazi's advance through Eastern Europe in World War II, it was rebuilt in the fashion favored by Soviet architects: sprawling apartment complexes and sky-flung government offices.
The venue is down a darkened street off Chisinau's main boulevard that, in Soviet times, was known for its industrial laundries — spalatorie, in Romanian.
Moldova has at various times been a vassal of the Ottoman Empire, a part of the Romanian Kingdom and a Soviet republic, creating multiple, complex layers of identity.
Those layers were on display during a hip-hop show. Local rappers — one introduced himself as "Sly Fresh" — code-shifted among English, Romanian and Russian, as hands waved above baseball caps and bomber jackets.
"I love the Russian language and culture," said Scemanenco, the bearded DJ, "but the political background there is pretty messed up."
Tension between Moscow and the West is growing in Moldova, to the irritation of many at Spalatorie. NATO is due to open a Chisinau field office this year, angering Moscow, which imposed stinging sanctions on the country several years ago.
"We don't want Russia and NATO to compete here," Rusu said one recent evening, standing outside the venue drawing on a cigarette. "It is a catastrophe, and we are caught in the middle."
Amid such complexity, the response at Spalatorie is to challenge the status quo, through theater and dance.
At one of Scemanenco's brutal, late-night breakcore sessions, a woman, her hair twirling and feet skipping, whirled around the dance floor, red wine in one hand.
Scemanenco, arms pumping at the ceiling, blasted out a Bill Medley cover by the Munich, Germany-based metal band Panzerballett. The lyrics screamed atop distorted guitar riffs and double-kick drumming:
"I've had the time of my life."
Johnson is a special correspondent.
ALSO
Romania is engulfed by protest in a political awakening of the young
Russia's meddling in other nations' elections is nothing new. Just ask the Europeans
A small town in Belarus basks in the publicity of a Trump connection
Must-read stories from the L.A. Times
Get the day's top news with our Today's Headlines newsletter, sent every weekday morning.
You may occasionally receive promotional content from the Los Angeles Times.