President Obama and German leader Angela Merkel share a deep bond, aides say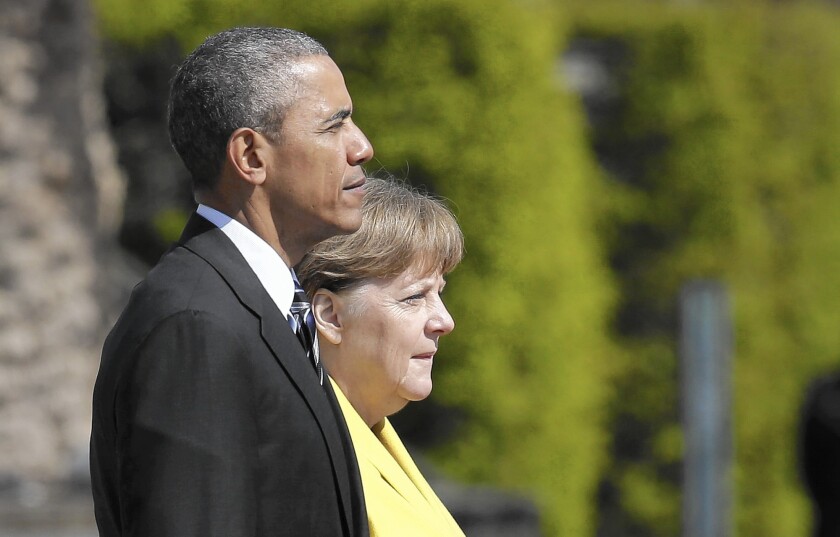 Reporting from HANOVER, Germany —
In London, it was a sight with long historical precedent: an American president and a British prime minister showing personal rapport as they tended to the long-running "special relationship" between their countries.
"I've always found Barack someone who gives sage advice," said David Cameron, the conservative prime minister. "He's a man with a very good heart and has been a very good friend."
At a joint news conference, Cameron and Obama reminisced about basketball, table tennis and barbecues; a day later the pair agonized over their misfortune on the golf course.
Here in Hanover on Sunday, a different scene emerged as German Chancellor Angela Merkel was asked to recount the ups and downs of her time with Obama.
"We're actually quite busy with the conflicts that we need to solve in the world," she said, brushing off the question. "I am not in position to take stock today."
Obama's bond with Merkel often has seemed as transactional as the one with Cameron is chummy. But as the only leader of a major ally whose tenure has spanned Obama's presidency, aides say they share a deep bond that has allowed them to weather domestic and global storms, and even clashes with each other.
"This is as important a relationship as I've had during the course of my presidency," Obama said Sunday, describing Merkel as consistent, steady and trustworthy.
They may not demonstrate overt personal chemistry but in some ways, according to a senior administration official, they are more compatible than Obama is with other leaders. Both are cool, deliberate and interested in finding solutions.
As Merkel responded in detail to a question about resolving the Syria quagmire Sunday, Obama at one point looked at her admiringly and nodded vigorously at the argument she made.
In an interview with the German newspaper Bild that was published before his arrival, Obama said that he has learned from Merkel over the years and that she embodies the leadership qualities he admired most, particularly her pragmatism.
"When she says something, she means it. When she says she'll do something, she does it," he said. "I trust her. And when there have been bumps in the bilateral relationship, as there inevitably are between any two countries, we've worked through them together as partners, with mutual respect."
That Merkel invited Obama for his fifth visit suggests strains have eased since the dark days of October 2013, when leaks from fugitive Edward Snowden disclosed that the National Security Agency had been eavesdropping on Merkel's telephone calls for at least three years.
Merkel was furious and Obama, who was embarrassed, later said he had ended the intelligence-gathering operation.
Merkel had her doubts about Obama early on, at least according to comments attributed to a former U.S. ambassador to Germany that were related to Hillary Clinton by her longtime confidant Sidney Blumenthal.
"She dislikes the atmospherics surrounding the Obama phenomenon, that it's contrary to her whole idea of politics and how to conduct oneself in general," Blumenthal wrote in an email made public by the State Department last year.
But the two leaders quickly found common ground.
As head of Europe's largest and most stable economy, Merkel was an essential partner in Obama's efforts to help steady the global economy after the recession. The administration also worked closely with Germany on emerging security threats.
In 2011, heading into his reelection year, the president feted Merkel with a Rose Garden state dinner. He awarded her the Presidential Medal of Freedom, tracing her path in Cold War East Germany to becoming the world's most powerful woman.
Merkel now is eyeing Obama to buttress her political standing after fallout from the Syrian refugee crisis cost her party in recent regional elections. Before Obama arrived, she visited refugee camps in Turkey and helped broker a deal in which the Turkish government agreed to resettle refugees who had fled to Western Europe, particularly Germany.
Before Obama left Washington, the White House flatly said Obama wanted "to provide political support to her." He did that Sunday at their news conference, responding both to her critics at home and to Donald Trump's attack on her refugee policies as "insane."
"She is on the right side of history on this," Obama said. "She is giving voice I think to the kinds of principles that bring people together rather than divide them, and I'm very proud of her for that, and I'm proud of the German people for that."
Merkel refused to even consider a question about a prospective President Trump, saying she was "quite busy" with more immediate demands.
During Obama's two-day visit, he and Merkel will be joined by Cameron, French President Francois Hollande and Italian Prime Minister Matteo Renzi for a discussion of developments in Syria, the migration crisis and joint operations against Islamic State and other terrorist groups.
With efforts to forge a transatlantic trade deal sputtering, Obama and Merkel sought to present a united front at one of the largest international trade shows, the Hanover Fair. Protests outside the fair focused on the trade deal.
Obama told reporters that he is confident talks on a European trade deal could be revived and completed by year's end, attributing the U.S. opposition to the heat of an election campaign.
ALSO
Up to 250 U.S. military personnel will be sent to Syria, Obama to announce
The presidential election has Obama explaining it to concerned foreign leaders
Voters' 'Bernie or Bust' efforts persist despite Sanders' vow not to be another Ralph Nader
---
Must-read stories from the L.A. Times
Get all the day's most vital news with our Today's Headlines newsletter, sent every weekday morning.
You may occasionally receive promotional content from the Los Angeles Times.