Pope Francis sees origin of fake news in the snake's lies in the Garden of Eden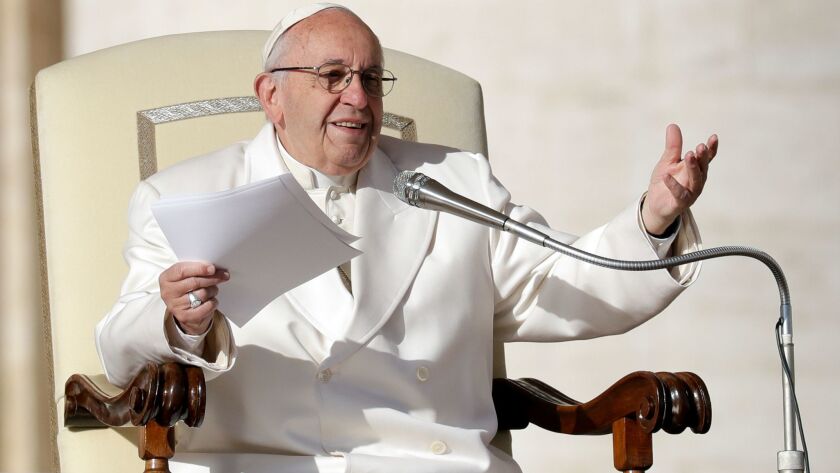 Reporting from ROME —
Pope Francis has brought a biblical bearing to the global debate over fake news by condemning the phenomenon as satanic and saying it began in the Garden of Eden.
In a document released Wednesday, Francis claimed peddlers of fake news use "snake tactics" and "disguise themselves in order to strike at any time and place."
Francis pinned responsibility for the start of disinformation on the "crafty serpent," who, according to the Bible, "at the dawn of humanity, created the first fake news."
By persuading Eve there was nothing wrong with eating an apple from the tree of knowledge, despite the stern warning from God not to do so, the snake, with fake news, "began the tragic history of human sin," Francis wrote.
The concept of "fake news" has been referred to repeatedly by Donald Trump to attack media outlets critical of him and has been used to describe falsities spread on the internet by Russian hackers during the 2016 U.S. election campaign.
The spread of fake news has also dogged Italy, which is preparing for elections in March, to the point that Italian police have set up a hotline for reporting lies found swirling on the internet and schoolchildren are being taught how to spot them.
The pope's document, entitled "The truth will set you free — fake news and journalism for peace," was released in advance of the 52nd World Day of Social Communications on May 13.
Describing the Bible's snake as the "skilled 'Father of Lies,'" he said it relied on a "sly and dangerous form of seduction that worms its way into the heart with false and alluring arguments."
He warned, "Even a seemingly slight distortion of the truth can have dangerous effects."
Francis stated that the most insidious aspect of fake news was its ability to mimic real news and be "captious" — meaning able to grab attention — "by appealing to stereotypes and common social prejudices, and exploiting instantaneous emotions like anxiety, contempt, anger and frustration."
"Untrue stories can spread so quickly that even authoritative denials fail to contain the damage," he said. "The tragedy of disinformation is that it discredits others, presenting them as enemies, to the point of demonizing them and fomenting conflict. Fake news is a sign of intolerant and hypersensitive attitudes, and leads only to the spread of arrogance and hatred."
Francis quoted the Russian writer Fyodor Dostoevsky to explain how pushing fake news can also be self-destructive.
"People who lie to themselves and listen to their own lie come to such a pass that they cannot distinguish the truth within them, or around them, and so lose all respect for themselves and for others."
Francis praised the efforts of tech and media companies developing ways to verify personal identities "concealed behind millions of digital profiles." Battling falsities relied on "the dignity of journalism and the personal responsibility of journalists to communicate the truth," said the pope.
The pontiff has had a long, prickly relationship with journalists, including during his trip to Chile last week, where he snapped at a reporter who quizzed him about his defense of Chilean Bishop Juan Barros, who is accused of covering up abuse committed by Father Fernando Karadima, a former Santiago priest who became Chile's most notorious pedophile cleric.
Francis also had harsh words for today's rapid, 24-hour news cycle.
"Amid feeding frenzies and the mad rush for a scoop, [journalists] must remember that the heart of information is not the speed with which it is reported or its audience impact, but persons," he said. Journalism is "not just a job, it is a mission."
Father Thomas Reese, a senior analyst at Religion News Service, said the pope was challenging journalists.
"He takes them to task for their obsession with being first, rather than explaining, and for gossipy, sensationalist news," Reese said. "But overall he sees it as a noble profession and he is challenging journalists to do a better job because what they do is so important."
Kington is a special correspondent.
---
UPDATES:
3:55 p.m.: This article was updated with Times reporting, including reaction.
This article was originally published at 11:50 a.m.
---
Must-read stories from the L.A. Times
Get the day's top news with our Today's Headlines newsletter, sent every weekday morning.
You may occasionally receive promotional content from the Los Angeles Times.