Pope Francis gives another lump of coal to Vatican prelates, calling them out for 'scandals'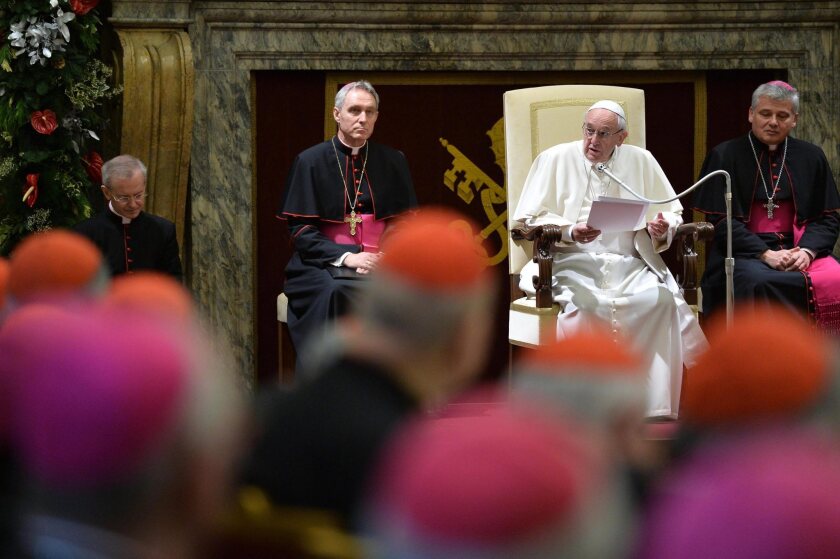 Reporting from Rome —
Pope Francis on Monday handed the cardinals and bishops working at the Vatican a 12-point to-do list for Christmas, warning them that nothing would stop his crusade to expunge bad behavior from the Holy See.
For the second year running, Pope Francis used his Christmas speech to Vatican prelates to criticize them for the scandals and corruption — "diseases," he called them — that have bedeviled the Vatican in recent years.
"Some of these diseases became evident in the course of the past year, causing no small pain to the entire body and harming many souls, even by scandal," he said.
Two Vatican consultants, an assistant and two authors are currently on trial at the Vatican, accused of leaking sensitive documents about mismanagement and sleaze in the Holy See. The authors' bestselling books revealed mysterious break-ins at the Vatican and turf battles between bureaucrats.
Over the weekend, the Vatican's former No. 2, Cardinal Tarcisio Bertone, gave a children's hospital a donation of 150,000 euros ($164,000) after one of the books claimed hospital funds were used to redecorate his luxury penthouse.
On Monday, allegations also emerged that a bishop in Calabria in southern Italy covered up for a priest who arranged sexual encounters with teenage boys using the gay dating site Grindr.
In his speech last December, Francis savaged the cardinals and bishops working at the Vatican, listing their top 15 vices and accusing them of being power seekers and plotters who believed they were "immortal."
This year, the pope was less harsh, saying that instead of dwelling on "the catalogue of curial diseases," he wanted to talk about "curial antibiotics," adding, "I would like to present a practical aid for fruitfully experiencing this season of grace."
He said, "It is by no means an exhaustive catalogue of needed virtues for those who serve in the Curia," and added that he wanted his heads of dicasteries -- the offices and councils within the Holy See -- to complete the list.
He then ticked off his top virtues for Vatican prelates, including "missionary and pastoral spirit," "spirituality and humanity," "reasonableness and gentleness," "openness and maturity" and "accountability and sobriety."
He also made clear he would not be put off from his bid to clean up the Vatican — a crusade that has so far seen him attempt to streamline sluggish bureaucracy and root out fraud from the scandal-plagued Vatican bank.
"The reform," he said, "will move forward with determination, clarity and firm resolve."
Striking a positive note, he added, "Cases of resistance, difficulties and failures on the part of individuals and ministers are so many lessons and opportunities for growth, and never for discouragement."
Francis gave his speech sitting down, explaining that "for some days I've been suffering from a cold and not feeling too well."
It was not the only speech he gave on Monday. In a Christmas address to the Vatican's lay employees, Francis struck a far friendlier note, thanking them for their service during the year.
"I also want to ask your forgiveness for the scandals in the Vatican," he said, asking the staff to pray for wrongdoers.
Kington is a special correspondent.
---
Must-read stories from the L.A. Times
Get all the day's most vital news with our Today's Headlines newsletter, sent every weekday morning.
You may occasionally receive promotional content from the Los Angeles Times.