If you like a shirtless Russian leader, a 2019 Putin calendar could be for you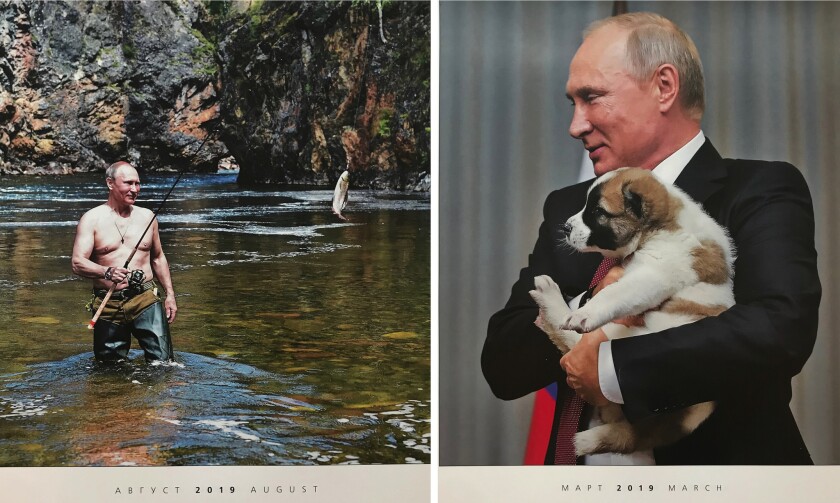 Reporting from Moscow —
Since Vladimir Putin became president of Russia in 2000, his image has adorned just about every type of kitschy souvenir imaginable. His face is on magnets, framed photos, coffee mugs, T-shirts and even chocolate bar wrappers.
But no year would be complete without a Vladimir Putin calendar. There are many from which to choose, all glorifying the 66-year-old KGB officer turned autocrat in 12 photos.
The latest calendars will not disappoint anybody looking for images that capture the many dimensions of the Kremlin leader, who has dominated international headlines this year with stories about Russia's meddling in the 2016 U.S. presidential election and accusations that his agents poisoned a Russian turncoat and his daughter in England.
Take the calendar produced this year by Medny Vsadnik, or Bronze Horseman, a printing house in St. Petersburg, and sold at magazine stands, bookstores and souvenir shops for about $38. From his rugged side to his religious one, it's Putin from all angles.
In January, he's topless as he dips into the icy waters of Lake Seliger, north of Moscow, in celebration of Epiphany.
His athleticism comes out in February, as he takes a shot on the hockey rink. In March, he's cuddling a puppy, showing off his softer side.
July puts his patriotism on display as he marches with saluting military officers.
In August, there's another bare-chested shot of the president, fishing in a Siberia river. The next month he is standing in one of southern Russia's bountiful wheat fields, which helped make the country the world's largest grain exporter last year.
All the calendars use stock photos, and the best-sellers this year all have the same title on the cover: V.V.P., initials for the president's full name, Vladimir Vladimirovich Putin.
"We made 12 types of calendars with Putin for 2019, from 3,000 to 15,000 copies each," said Natalia Khodosevich, marketing director for Bronze Horseman.
"We make other types of calendars, but the Putin one is our top seller," she said.
Though the calendars are printed by commercial enterprises, the images are part of a broader, state-sponsored image-making campaign.
"Mostly tourists buy them, not locals," said Svetlana, who was working at one of the dozens of souvenir shops just off Red Square. With a slight smirk, she laid out some of her store's other Putin items, including a chocolate bar with a wrapper that said, "Go Hard Like Vladimir Putin."
"Yeah, people like them," she said, with a sort of what-can-I-tell-you? shrug. "We sell a lot of these things."
Svetlana didn't want to give her last name, which is somewhat understandable in a country where jail sentences have been given to Russians who have protested or even liked social media posts critical of the government.
Russians elected Putin president in 2000, just months after President Boris Yeltsin stepped down and appointed him acting president. Putin had been prime minister, having risen in the Kremlin's political ranks after being head of the Federal Security Service, the successor agency to the KGB.
Whereas Yeltsin left office in a fragile state of health, Putin, then 47, quickly cultivated an image as a hearty, young "real Russian man" by swiftly reining in Russia's unruly oligarchs and brutally cracking down on the separatists waging war in Chechnya.
The Kremlin wasn't shy about promoting an image of Putin as the sober, strong man with a soft heart for nature, even as Putin tightened his grip on the political and economic systems in the world's most massive country.
Pop songs such as "A Man Like Putin" were instant hits and coincided with state media photos of him tracking tigers in Siberia and riding horseback with his pecs out in the summer. It was easy to forget that at 5-foot-6 he was below average in height. A sex symbol was born at home and abroad, and so too were merchandising opportunities.
V.V.P. calendars dominate the shelves this year (you can also order one on Amazon). For Putin specialists, there are some calendars that highlight specific interests.
Interested in Putin's international adventures? Pick up the 2019 "Around the World with Vladimir Putin" calendar to find photos of him in, for example, Dresden, the East German city where he served for five years as a KBG officer in the late 1980s.
If Russian military might is your thing, the 2019 "Russia is the Kind of Country That Isn't Afraid of Anything" calendar features Putin posing with guns and other military hardware.
The "I Marvel at Russian Women" calendar makes clear that Putin reciprocates the affection of all the women who say they admire him. It's full of photos of him meeting Russian female athletes, shaking hands with young fans wearing Putin T-shirts, and dancing with women in traditional costumes.
Not to be outdone, Russia's Ministry of Defense decided to get into the calendar game this year with its own downloadable version. Each month features Russian military equipment and soldiers defending the motherland. September, for example, features a female soldier looking through a rifle scope with the text "Some women blow heads off."
Putin's popularity soared in 2014 after Moscow annexed Crimea from Ukraine. Russians hailed the move as a return of Crimea to the motherland. His approval rating shot up to 87% and remained there until this year, when he introduced controversial pension reforms.
Russia's economic growth has stagnated in the last four years since global oil prices dropped and Western sanctions imposed after the Crimean annexation began to take their toll.
The latest polls show Putin's approval rating at 66%, his lowest since before the Crimean annexation.
None of this appeared to bother Japanese fans of the Russian president, according to SoraNews24, a Japanese news outlet, which reported this month that 2019 V.V.P. calendars were outselling those of Japanese celebrities in Japanese stores.
The news agency reported that it seems "this particular person has achieved an almost cult-like status among some Japanese women."
Ayres is a special correspondent.
---
Must-read stories from the L.A. Times
Get all the day's most vital news with our Today's Headlines newsletter, sent every weekday morning.
You may occasionally receive promotional content from the Los Angeles Times.