Boris Nemtsov, prominent Putin critic, is gunned down in Moscow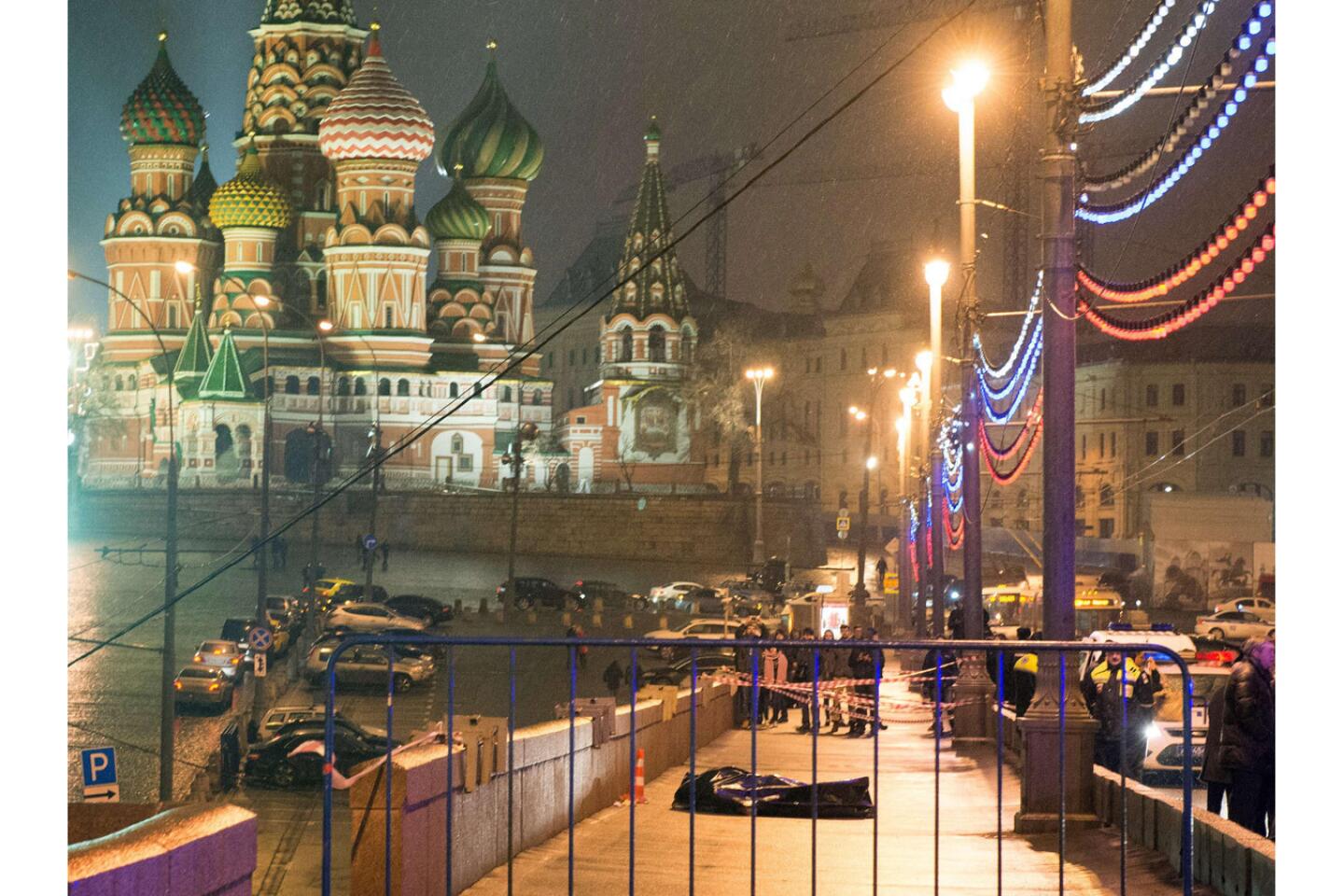 The body of Russian opposition leader Boris Nemtsov is covered with a plastic tarp on Moskvoretsky bridge near St. Basil Cathedral.
(DMITRY SERERYAKOV / AFPGetty Images)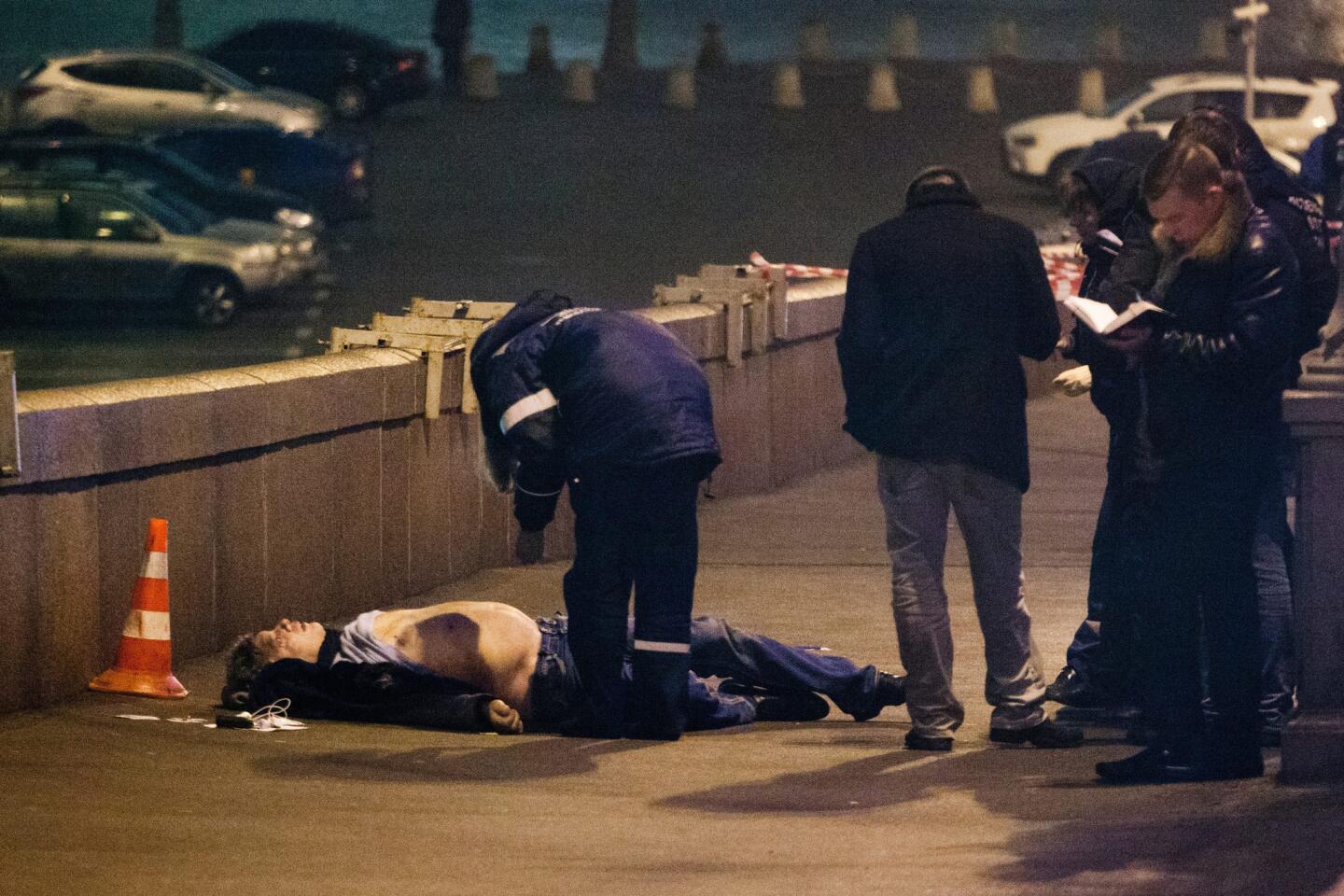 Investigators examine the body of Russian opposition leader Boris Nemtsov, who was shot to death Feb. 27.
(GEORGE MALETS / EPA)
Opposition leaders Boris Nemtsov, left, Ilya Yashin, center, and Garry Kasparov lead a protest march in downtown Moscow in 2012.
(Sergei L. Loiko / Los Angeles Times)
A 2012 photo shows opposition leader and former First Deputy Prime Minister Boris Nemtsov leaving a voting booth after marking his ballot as part of presidential elections in a polling station in Moscow.
(ANDREY SMIRNOV / AFP/Getty Images)
Boris Nemtsov speaks during a 2011 rally in Moscow.
(KIRILL KUDRYAVTSEV / AFP/Getty Images)
Boris Nemtsov speaks to reporters following a 2012 rally in Moscow.
(NATALIA KOLESNIKOVA / AFP/Getty Images)
Reporting from Moscow —
Boris Y. Nemtsov, one of Russian President Vladimir Putin's fiercest critics, was shot dead in the shadow of St. Basil's Cathedral near Red Square early Saturday on the eve of a massive opposition march to show defiance on Kremlin aggression against Ukraine.
Nemtsov was shot shortly after midnight as he walked with a Ukrainian woman south of Red Square, Russian officials and news agencies reported.
Once seen as the inspiring hope for Russian democracy in the early years of the post-Soviet era, when he was a protege of President Boris Yeltsin, Nemtsov had been preparing to join the opposition rally Sunday against Putin, whose backing of separatists in eastern Ukraine has brought international scorn onto Russia and sanctions that have sent its economy into a tailspin.
Nemtsov, 55, was shot seven times from a passing car, Vladimir Markin, spokesman for the Russian Investigative Committee, said in a statement posted on the agency's website Saturday morning.
The attack was witnessed by his companion, Interior Ministry spokeswoman Yelena Alexeyeva told reporters at the scene. The woman, who was unharmed, was being questioned by authorities, Alexeyeva said.
"A team of operatives and investigators is working at the spot of the crime," the government-linked Tass news agency said, noting that Putin was taking personal charge of the investigation.
Putin expressed condolences to the family of the slain politician, spokesman Dmitry Peskov said.
Television and YouTube video from the scene showed Nemtsov's body, clad in blue jeans with his upper torso exposed, as police, emergency workers and passersby milled around the dark, rain-washed area.
Nemtsov had expressed concern for his safety in recent years as other opposition figures met with untimely deaths, including crusading journalist Anya Politkovskaya and Alexander Litvinenko, the fugitive Russian intelligence officer poisoned in London in 2006.
In an interview with The Times last week, Nemtsov criticized Putin's intervention in Ukraine and said the Sunday demonstration was being organized to show the world that not all Russians stand with the Kremlin leader.
"This anti-war march we brand as 'Spring March' is very important, as it should indicate how many people in Russia don't support Putin's covert war against Ukraine," Nemtsov said.
"Putin is leading the country to a catastrophe, and he is solely responsible for the political and economic crisis the country is experiencing right now."
In an interview this month with the Sobesednik news website, Nemtsov was asked about fear expressed by his mother about him becoming the target of a Kremlin assassination.
"Every time when I call her she laments, 'When will you stop lashing out at Putin? He will kill you!'" Nemtsov said in the Feb. 10 interview.
Asked whether he was worried about being killed, he replied, "Yes, a bit. But if I was very strongly afraid, I could hardly head up an opposition party or be involved with the matters that I am."
Russia Today television, a pro-Kremlin mouthpiece, said on Twitter that the slaying "could be a provocation," suggesting an opposition setup.
President Obama in a statement called on the Russian government "to conduct a prompt, impartial, and transparent investigation into the circumstances of his [Nemtsov's] murder and ensure that those responsible for this vicious killing are brought to justice."
Pro-democracy allies and world leaders who knew the gregarious and energetic politician expressed horror over what many were inclined to see as an assassination.
"Shock. Boris has been killed. It's impossible to believe," Ukrainian President Petro Poroshenko said via Twitter upon hearing the news. "I'm certain the killers will be punished. Sooner or later."
Another longtime Kremlin critic, former oil tycoon Mikhail Khodorkovsky, said in a statement that Nemtsov's death "has brought pain for me and my family. We all loved him. He was reckless, but a very good lad."
Khodorkovsky, who has joined the Russian opposition in exile, was stripped of his oil fortune and jailed for 10 years after taking on Putin and his authoritarian regime during his first years in power from 2000 to 2008.
Garry Kasparov, the former world chess champion and another outspoken opponent of Putin, linked Nemtsov's killing with other violence that has been popularly attributed to the Kremlin and its enforcers: "[Journalist Anna] Politkovskaya was gunned down. MH17 was shot out of the sky. Now Boris is dead. As always, Kremlin will blame the opposition, or CIA, whatever," Kasparov said via Twitter.
MH17 was the Malaysia Airlines 777 downed while overflying eastern Ukraine on July 17 en route from Amsterdam to Kuala Lumpur, the Malaysian capital. An initial investigation report on the disaster suggested it was shot down by a missile from territory under the control of Russia-backed separatists.
Nemtsov's close associate and fellow opposition leader, Ilya Yashin, called the attack "a political murder."
"Boris was the most outspoken critic of Putin and the most charismatic leader of the opposition, and his dead body found 100 yards from the Kremlin is a clear message to all the opposition activists and all people who do not support the Kremlin," Yashin said in an interview with The Times.
"This act of political terror is clearly aimed to stun and horrify the opposition to the Putin regime on the eve of the march we will now hold as a mourning march," he said.
Nemtsov had become somewhat cynical about the fate of his country under Putin, who engineered constitutional changes before his 2012 reelection that should allow him to remain at the Kremlin's helm until 2024.
In an interview with The Times a year ago, Nemtsov laid out a bleak forecast of Russia's political future.
Putin's primary goal as Russian leader, Nemtsov said, is not to build a modern European state and vibrant middle class but "to keep power and money by all means."
"He has $500 billion in Central Bank reserves, 100% control of television and authoritarian laws that allow the administration to strike anyone from the list of candidates," Nemtsov said of the prospects of Putin being voted out of office in the next election in 2018.
A member of the Duma legislature from the Yaroslavl region in recent years, Nemtsov is survived by his wife and four children.
Times staff writers Loiko reported from Moscow and Williams from Los Angeles.
Follow @cjwilliamslat for the latest international news 24/7
Sign up for Essential California for the L.A. Times biggest news, features and recommendations in your inbox six days a week.
You may occasionally receive promotional content from the Los Angeles Times.