On a Moscow bridge, volunteers brave weather and provocateurs to maintain memorial to Boris Nemtsov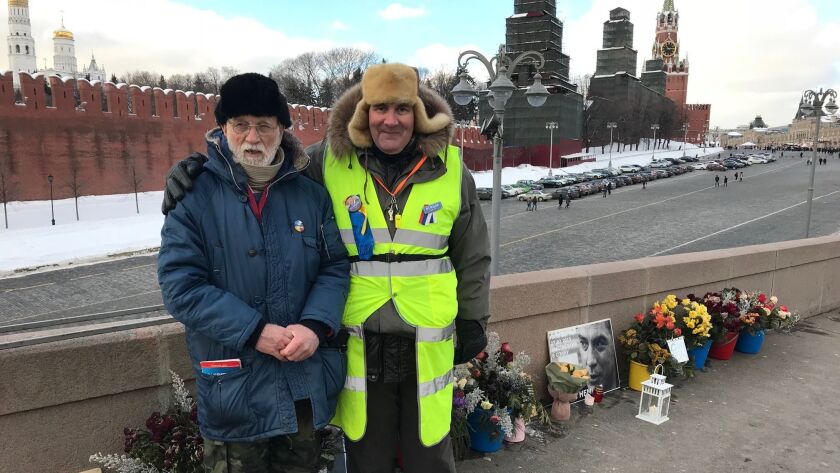 Reporting from Moscow —
It's 10 degrees on a February afternoon, and Boris Kazadayev has already been standing outside on the bridge just south of Red Square for four hours. He's keeping watch over the flowers and candles laid here in tribute to slain Russian opposition activist Boris Nemtsov.
Tuesday will mark three years since Nemtsov was assassinated on the Bolshoy Moskovoretsky Bridge. On that night in 2015, a gunman in a passing car shot the fierce critic of Russian President Vladimir Putin as he was walking with his girlfriend. With the colorful onion domes of St. Basil's Church and the imposing red brick walls of the Kremlin behind him, Nemtsov died on the bridge minutes after his assassin's car sped off.
The place of his death quickly became a makeshift memorial, and an irritant to the Kremlin.
Supporters of Nemtsov and his stance against Putin's authoritative rule still come nearly every day to lay flowers, light a candle or simply pay their respects.
On at least 80 different occasions, Moscow city workers or police have forcibly cleared the spot on the pedestrian sidewalk of the bridge, Kazadayev said. Volunteers who guard the site are regularly harassed by police and nationalists. In August, one volunteer, Ivan Skripnichenko, died a week after being attacked while on a night shift watching the memorial. But the volunteers' goal is to maintain the memorial no matter how many times it is removed.
In the most recent incident on Jan. 11, workers from Moscow's bridges department came and threw the flowers, pictures and candles into trash cans. One of the volunteers said she was roughed up by the city workers and had her backpack taken, according to OVD-Info, a nonprofit organization that tracks political repression in Russia.
Such confrontations are why volunteers like Kazadayev say they must stay vigilant at the memorial, no matter what the weather or time of day.
"This is Russia, winter is always cold," he said. "It doesn't matter if we're in Siberia or Moscow, it's winter. That's not a reason not to be here."
At first, the volunteers started informal vigils a few days after Nemtsov's death. At that time city authorities regularly tried to clear the flowers and cards left on the bridge. Weeks passed and the volunteers became more organized, with a schedule and a website. Some 50 to 60 people volunteer to stand watch at the site around the clock every day, according to Kazadayev. The volunteers rely on each other for protection, and use whistles — worn around their necks — to alert others if there's a problem.
After each sweep by the authorities, more flowers arrive to replace them.
Although a Moscow court last year convicted five men from Russia's North Caucasus for carrying out Nemtsov's murder, the opposition leader's supporters accuse the Kremlin of a coverup.
Various theories have emerged as to who could have ordered the murder. Some opposition leaders blame violent nationalist groups who have been encouraged by Putin's strong rhetoric in recent years about a "fifth column" intent on destroying Russia from within.
Nemtsov's family has pleaded with the Kremlin to investigate links to the men who were convicted and Putin's appointed head of the Chechen Republic, Ramzan Kadyrov. Nemtsov's daughter, Zhanna Nemtsova, claims the Kremlin is covering for Kadyrov, who has been accused of human rights violations in Chechnya. Kadyrov has acknowledged that he knew at least one of the assailants but denied any personal connection to Nemtsov's killing.
A group of Chechen men were also convicted of the 2006 murder of Russian investigative journalist Anna Politkovskaya. The killer was never found. Politkovskaya had criticized Kadyrov and Putin in a series of articles.
At the time of Nemtsov's death, Putin said he would personally oversee the investigation. Kremlin spokesman Dmitry Peskov said such investigations "take time."
At the bridge, Kazadayev, 74, partners every Friday with Ivan Sharavin, 54, for the 11 a.m. to 6 p.m. shift. The two men keep warm by doing pushups against the stone walls of the bridge or by shoveling snow around the flowers and photos of Nemtsov.
One day after a big snowstorm, Sharavin wrote "Boris" in a snowbank along the Kremlin wall near the bridge by stamping out each letter with his heavy boots.
On Sunday in Moscow, opposition activists expect as many as 30,000 participants at a march commemorating the third anniversary of Nemtsov's death. Thirty other cities across the country applied for permits to hold their own marches. Only three city governments approved the marches.
Other attempts to memorialize Nemtsov have drawn strong reaction from nationalist groups, as well as from the Kremlin. Last September, volunteers placed a plaque outside the apartment building just south of the bridge. A group of ultranationalists twice violently tore it down.
Moscow Mayor Sergei Sobyanin announced last week that the city would ignore regulations that a person be dead at least 10 years and allow a memorial plaque to be placed on the building again.
"That's just an election move, to calm the opposition down ahead of the elections," Kazadayev said. "Don't expect it to actually happen after March 18."
Putin is expected to be reelected easily next month in a presidential election that has no real opposition candidates running against him.
On Feb. 28, a dedication ceremony will be held in Washington, D.C., to rename a section of Wisconsin Avenue in front of the Russian Embassy as Boris Nemtsov Plaza.
When plans for the renaming of the plaza were announced earlier this month, Moscow responded by saying it was considering a name change for the postal address of the U.S. Embassy in Moscow to "1 North American Dead-end."
Sharavin is from a southern Russian town just six miles from the border with Ukraine. He said he watched in 2014 as Russian tanks and soldiers crossed the border into the rebel-held territories of Luhansk and Donetsk, Ukraine, where Kremlin-backed separatist militias are fighting against Ukrainian government troops. Sharavin said he's against Putin's support for the war in Ukraine, now in its fourth year with more than 10,000 dead.
Putin has denied accusations from the United States and other Western governments that Russia has provided military support to the rebel militias. Before his death, Nemtsov said he would release the results of a detailed investigation of Kremlin involvement in eastern Ukraine.
When Nemtsov was killed, Sharavin said he dropped everything and came to Moscow the next day. He's been here ever since, rotating watch shifts with the other volunteers on bridge.
"The hardest shift is the 11 p.m. to 6 a.m., of course," he said. "But there's always at least two of us, so you're not alone."
Sharavin had a plastic bag propped up against a lamp post on the bridge, where he kept a thermos of tea and some food. To keep warm he wore two sweaters, a light coat and heavy outer parka. He puts on a neon yellow reflective safety vest so he is immediately recognizable to people passing by who want to ask questions about Nemtsov and the memorial.
"There's an energy in this place," he said. "You don't get sick standing here or catch a cold. It's a healing place."
Twitter: @sabraayres
Ayres is a special correspondent.
---
Must-read stories from the L.A. Times
Get all the day's most vital news with our Today's Headlines newsletter, sent every weekday morning.
You may occasionally receive promotional content from the Los Angeles Times.