Kremlin says purported dossier on Trump is just 'pulp fiction'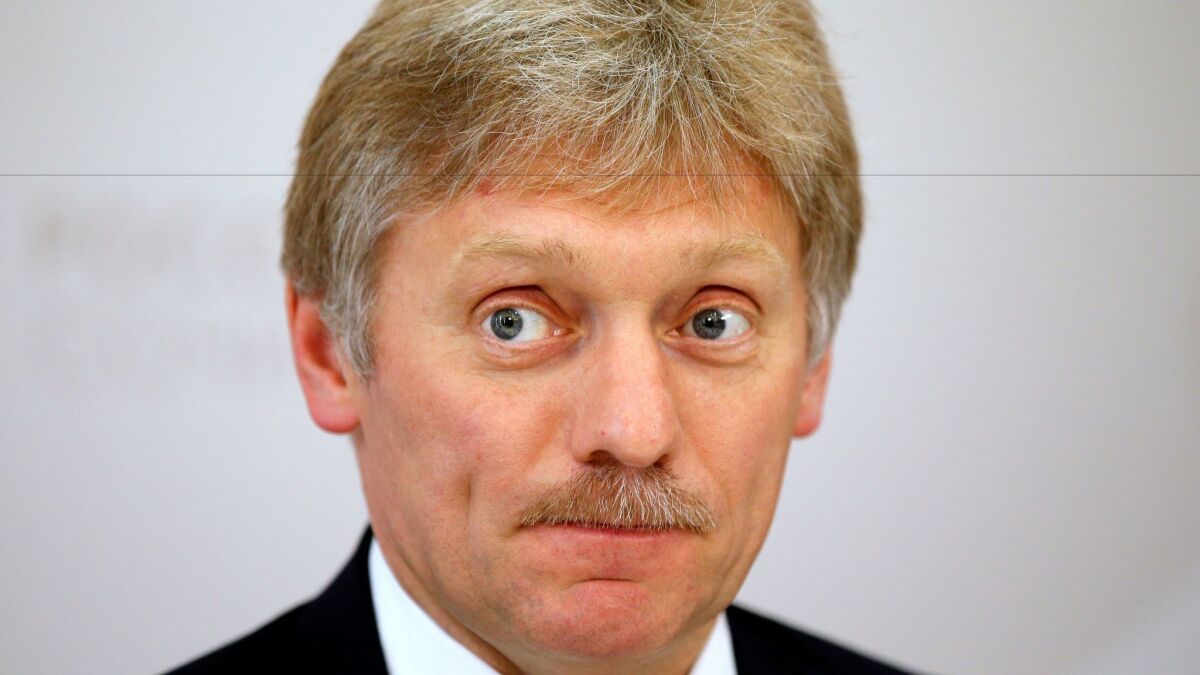 Reporting from Moscow —
Russia scoffed Wednesday at unverified allegations that it had assembled compromising personal material on Donald Trump, deriding an uncorroborated dossier about the U.S. president-elect's conduct as "pulp fiction" meant to degrade relations between Washington and Moscow.
Trump himself forcefully denounced the emergence of the explosive but unsubstantiated material, which was reportedly presented to both him and President Obama last week as an unvetted addendum to intelligence reports on Russia's alleged role in seeking to alter the course of the 2016 U.S. election.
"It's all fake news, it's phony stuff, it didn't happen," Trump told reporters in New York.
Hours before the president-elect spoke at Trump Tower, Russian President Vladimir Putin's spokesman, Dmitri Peskov, denied any compilation of "kompromat," or compromising materials, regarding Trump — or for that matter, anyone.
"The Kremlin does not collect compromising materials," he told journalists in a conference call.
Russia has a long and rich tradition, dating back to the Cold War era and earlier, of using surreptitiously collected or fabricated materials to blackmail or discredit political or diplomatic targets, according to historians and analysts.
Peskov said nothing of the kind had happened in connection with Trump.
"This information isn't consistent with reality, and is nothing but a total fantasy," Peskov said. "The Kremlin does not have 'kompromat' on Trump …. It's called 'pulp fiction' in English — you have to react to it with a bit of humor, although there is a sad side."
The 35-page dossier on Trump, first published by the news website BuzzFeed and referred to but not published in full by many other news organizations, was reportedly compiled by a former British intelligence officer at the behest of political operatives.
Unverified by U.S. intelligence, the dossier includes a description of lurid videos allegedly secretly shot by Russian intelligence agents at a Moscow hotel where Trump stayed during a visit to Russia in 2013 while presiding over a beauty pageant.
Peskov's denial of the practice of assembling "kompromat" drew immediate pushback from Russian government critics. Gennady Gudkov, a former KGB officer turned opposition party leader, cited the tactic as being in common use.
Gudkov, who was evicted from Russia's lower house of parliament, or Duma, for his criticism of the Kremlin, said there was a "flood of 'kompromat'" on opposition figures.
"Of course they are collecting all the [compromising] materials they can," he said in an interview. "They collect everything on everyone, including friends, because tomorrow they could turn into foes."
Over a period of months, Russia has steadfastly denied any role in attempting to influence the U.S. election. The current controversy drew a particularly scathing response from Foreign Ministry spokeswoman Maria Zakharova, who took to Facebook to characterize the dossier claims as "inhuman," "unbearable" and "mind-boggling heresy."
Trump's friendly characterizations of Putin — together with criticism of the NATO alliance and questioning whether Russia's annexation of Crimea should be allowed to stand — began raising eyebrows over the summer, after he had won the Republican nomination.
Allegations of Russian involvement in the U.S. campaign sharpened in October, when the Obama administration accused the Kremlin of being responsible for hacking that targeted the Democratic National Committee.
After the election, U.S. intelligence agencies declared their consensus that cyberattacks had been deliberately intended by the Russian government to harm Trump's opponent, Hillary Clinton, and aid him. Trump initially derided those conclusions and appeared to support Wikileaks founder Julian Assange in his claim that the source of leaked documents had not been the Russian government.
Earlier this week, Peskov had again deemed the American intelligence conclusions a "witch hunt."
Times staff writer Laura King in Washington contributed to this report.
ALSO
Russia begins to draw down its forces in Syria
Meet the Palestinian hip-hop artist at the center of Israel's culture wars
Eat, pray, love the Communist Party: a road trip through Tibetan lands, guided by China
---
Must-read stories from the L.A. Times
Get the day's top news with our Today's Headlines newsletter, sent every weekday morning.
You may occasionally receive promotional content from the Los Angeles Times.