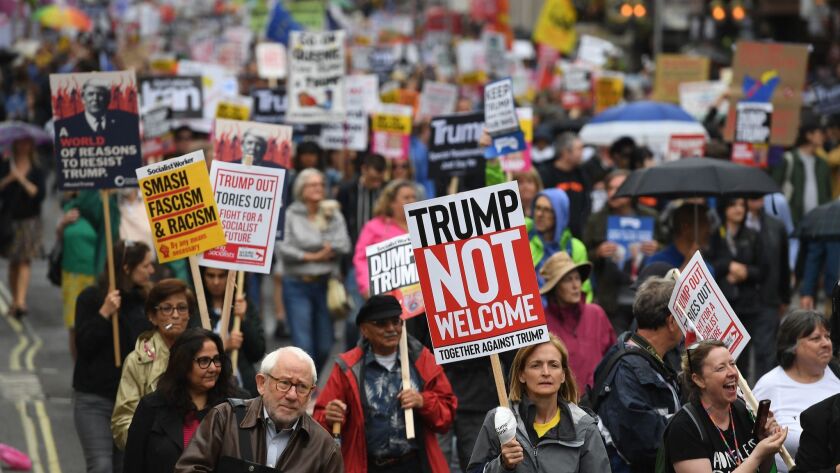 Thousands of anti-Trump protesters took to the streets of London on Tuesday to voice their anger at the president's state visit to Britain.
Holding banners reading "Not in my name" and "Dump Trump," they banged drums, chanted in unison and marched past Prime Minister Theresa May's Downing Street residence where Trump was attending a roundtable discussion with business leaders.
Opposition Labor Party leader Jeremy Corbyn turned down the Queen's invitation to a state banquet in Trump's honor Monday night, choosing instead to address the crowds Tuesday where words like "racist," "misogynist" and "fascist" were being freely used to describe the U.S. president. Corbyn defended London Mayor Sadiq Khan, who has been engaged in a war of words with Trump even before Air Force One touched down Monday morning.
Corbyn also denied suggestions that he had refused to meet Trump, but pointedly did not mention him by name once throughout his impassioned speech.
"I am not refusing to meet anybody," he said. "I want to be able to have that dialogue to bring about the better and more peaceful world that we all want to live in."
Corbyn lauded the demonstration as a "mosaic of diversity and inclusion" and urged the president and his group of visitors to contemplate "a world that is one of peace and disarmament."
His speech was met by cheers from the crowd.
There were noticeably fewer protesters marching Tuesday compared with Trump's visit last year when he pointedly avoided spending any time in central London, instead meeting May at her countryside Chequers residence and the Queen at Windsor Castle.
But they were still passionate and vocal.
And the protest included the return of the Trump baby blimp, a large balloon depicting the president in a diaper holding a TV remote.
There was at least one tense standoff between the anti-Trump demonstrators and a small group of right-wing Trump supporters wearing "Make America Great Again" baseball caps.
Extra police officers rushed to the scene to separate the two groups who were hurling verbal abuse at one another in an altercation that teetered on the edge of turning physical.
For the vast majority, however, the protest was peaceful — even suitably (and cheekily) British at times.
"Sorry Mr. Trump, you're just not our cup of tea," read one polite protest sign. Dressed in a Union Jack dress made out of glitter, tennis coach Martin Husk said he was at the march to show his resistance to President Trump and his eye-catching outfit was an effort to emulate Geri Halliwell of the Spice Girls, who was known as the most feisty and feminist of the bunch.
"I appreciate that Britain has to increase its relationship with the U.S., but I just want Trump gone," he said.
Tim Brassey, 59, held a homemade sign with an image that had been altered to appear as if Trump was kissing Nigel Farage, the leader of the newly formed Brexit Party who spearheaded the campaign for Britain to leave the European Union.
"Trump and Brexit are basically the same thing," Brassey said. "It's the same phenomenon, the same objectives. If Brexit happens then we are going to be on our knees. Yes, we can do a trade deal with the U.S., but it will be entirely in the U.S.' favor. We are better off in Europe."
Boyle is a special correspondent.
---