Soviet housing was famously drab. This Ukraine complex is all about color
Reporting from Kiev, Ukraine —
There's that moment near the beginning of "The Wizard of Oz" when Dorothy's house is swept away from the black-and-white world of Kansas and lands with a thud in Oz, a wonderland of blinding Technicolor.
You get a similar sense of amazement when you walk into Comfort Town, a massive housing development that has taken shape in recent years in a drab, Soviet-era residential district of Kiev, the capital of Ukraine.
Comfort Town looms over the landscape like some giant Lego set in the brightest imaginable hues: screaming yellows, bright lime greens, blues and oranges and deep brick reds — all rising into the sky in the form of dozens of blocky, high-rise buildings. Even the grays seem rich with pigmentation. The whole development covers some 115 acres, about 1 1/2 times the size of Disneyland.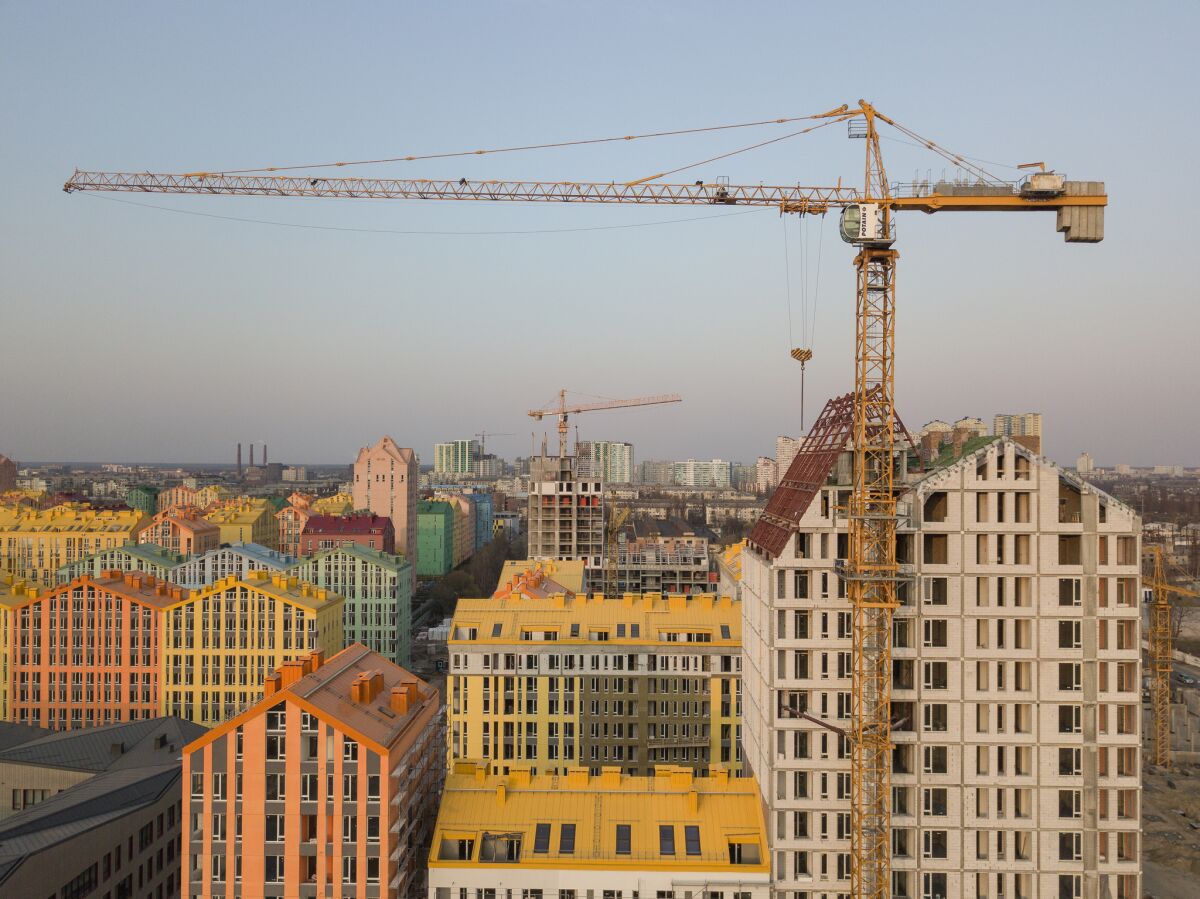 The colors would stand out anywhere, but in Kiev, they explode on the senses like fireworks in a gloomy sky, practically mocking the gray cityscape around it.
That was the whole idea.
We'll get to that in a minute. First, let's talk about Soviet mass housing, because there would be no Comfort Town without it.
On Dec. 7, 1954, Nikita Khrushchev delivered a speech to a national builders' conference, calling for an overhaul of Soviet architecture. Khrushchev was the Soviet Communist Party leader at the time, and he proposed that architects focus entirely on unadorned, standardized buildings made of prefabricated, reinforced concrete.
It's a remarkable speech. Khrushchev at times sounds less like the leader of the international communist movement than he does a construction contractor trying to land a large industrial account. No detail is too small to capture his attention.
"Production of linoleum must be expanded," he insists. "Floors covered in linoleum are no worse than parquet floors; they're more hygienic and smarter. It is easier to look after such floors than after parquet ones. Everyone knows that parquet floors have to be waxed — which is a complicated business and requires extra expenditure."
Soon, construction crews all over Russia, Ukraine and the rest of the Soviet Union were erecting tens of thousands of identical five-story apartment houses, largely unadorned, that began to ease a massive housing crisis. They were called khrushchevkas in honor of the man who ordered them built.
To understand their significance, it's important to recall what they replaced: communal apartments in which multiple families were crammed together, one family to a room, and forced to share bathrooms and kitchens.
From 1955 to 1970, roughly half of all urban residents of the Soviet Union moved into new housing, according to Jane Zavisca, a sociology professor at the University of Arizona and author of "Housing the New Russia."
Later, under Khrushchev's successors, the five-story buildings gave way to much taller apartment blocks. Every few years, the design would change, but entire districts of cities such as Moscow, Leningrad and Kiev were populated with rows of colorless high-rise buildings that seemed to stretch to the horizon.
It became something of a national joke. One of the most popular of all Soviet movies, "The Irony of Fate," is a romantic comedy built entirely around the idea that one could not tell the buildings apart (and a man could stumble into a strange woman's apartment and insist it was his own). The opening credits use animation to tell the history of Soviet housing, as architectural embellishments are stripped from buildings and armies of high-rise towers march into place.
Scholars say housing is one realm where the Soviet Union did what the United States could not: provide cheap, reasonably decent housing for everyone. "They actually did solve the housing question," said Steven Harris, a historian at the University of Mary Washington and author of "Communism on Tomorrow Street: Mass Housing and Everyday Life After Stalin." One architectural historian has estimated that 170 million people around the world live in Soviet-style mass housing today.
Now, these buildings — which can be found in virtually every country where Moscow once wielded influence — are acknowledged for their social purpose, but few defend them on aesthetic grounds. "They really do become very drab," Harris said. Some places, most notably the city of Moscow, have undertaken programs to tear them down.
In Kiev, among many other places, masses of gray 1960s and '70s buildings have become decrepit with age, surrounded by scruffy, weed- and litter-strewn yards, battered metal sheds and creaky children's playgrounds.
That brings us back to Comfort Town.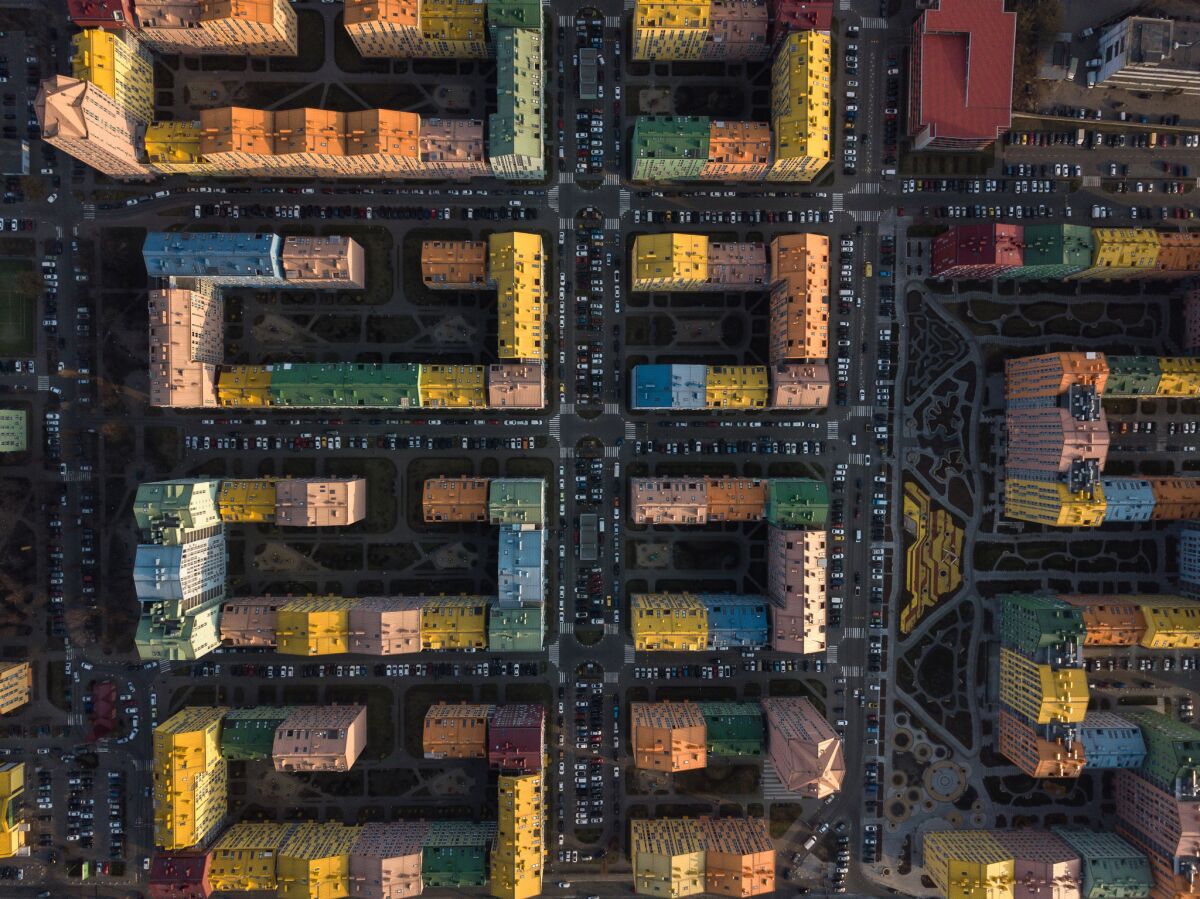 The idea was born about a decade ago, according to co-designer Dmitro Vasyliev, who was among a team of architects charged with building a new housing development on the site of an abandoned rubber factory in one of the Ukrainian capital's most blighted districts. They wanted it to stand apart from the Soviet-era housing surrounding it. They wanted to build a place that people would find inviting, that might actually lift residents' spirits rather than crush them.
There was one major catch, Vasyliev said: It had to be cheap.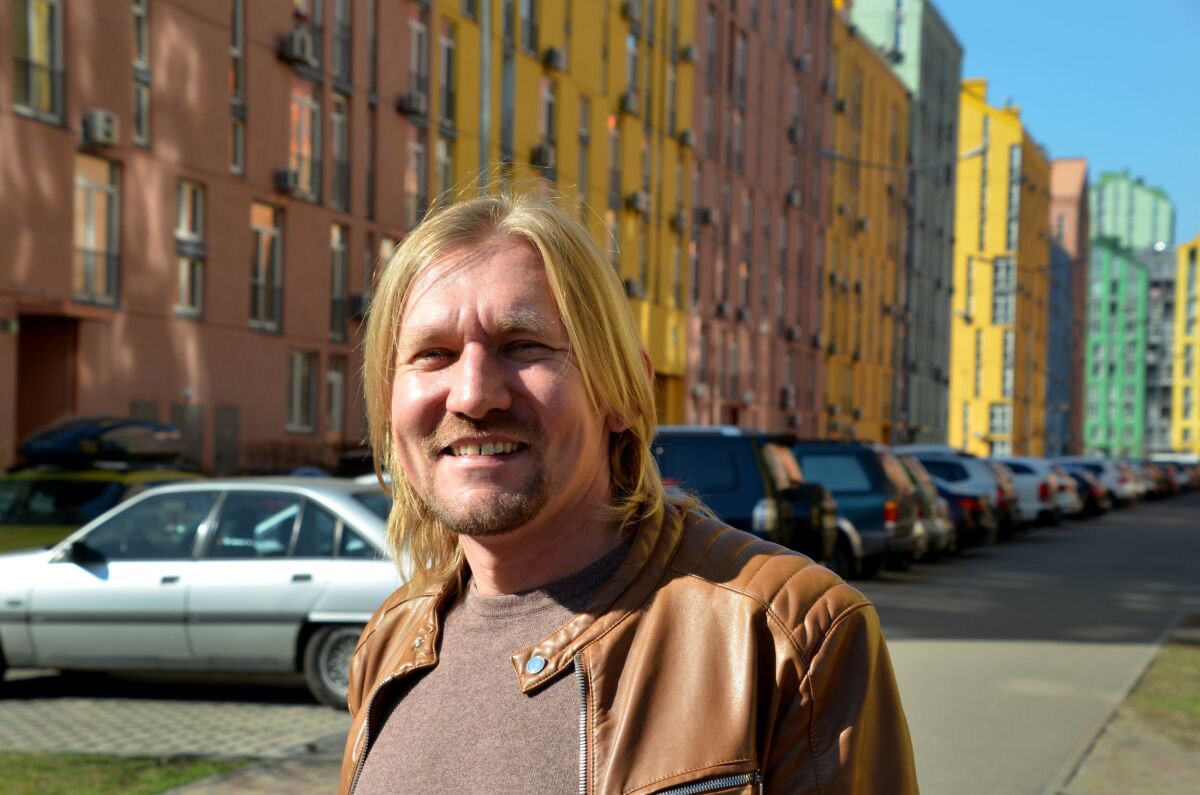 "The only instrument we had to work with was color," he said as he stood inside the entrance to the gated community, marked by a faux windmill that hides an electrical power station. "We used the simplest materials, the simplest techniques. We really just had the color and the lines of the skyline."
They went wild with the color. The lines of the building are mostly similar to late Soviet housing, with some key differences. Some of the buildings have peaked roofs, rather than the standard flat roofs of Soviet buildings. Balconies, which waffle the sides of Soviet-era buildings, are recessed, so they don't stick out.
And much of the common space is in the form of internal courtyards, green with lawns, shrubs and trees, whereas Soviet buildings had outward-facing yards. To Kuba Snopek, a Polish architect and an expert on Soviet mass housing, that represents a key philosophical difference: The Soviet system was built on the principle of state-owned, public property, so it was open to the masses; Comfort Town is private, its outside space more cloistered.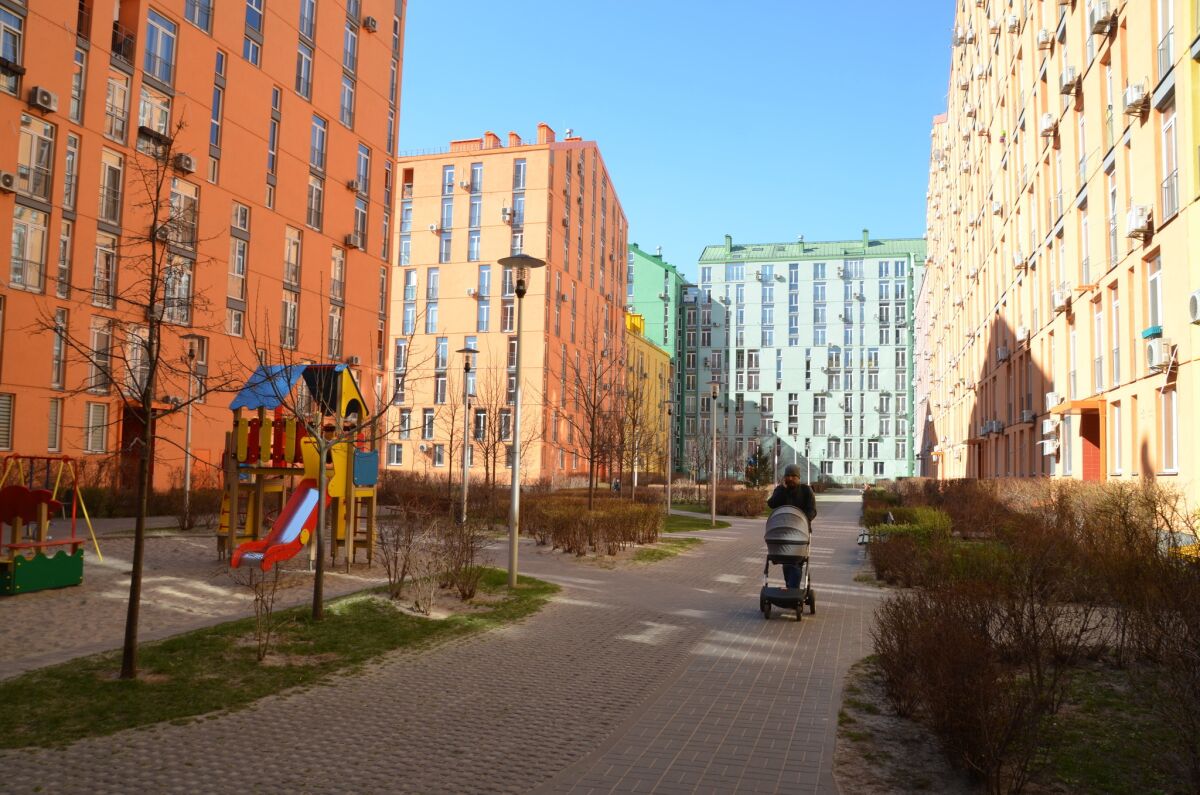 There's also a difference in cost: Whereas Soviet housing was free (and residents typically were given ownership after the collapse of the Soviet Union), Comfort Town offers market-rate housing — about $40,000 to $90,000 per apartment.
Still, the similarities to Soviet housing are striking — such as the inclusion of schools and a fitness center within the development. Comfort Town may be a reaction to Soviet architecture, Snopek said, but "what I think is funny in this situation is how little a reaction it is." (He is also no fan of the color scheme: "I personally don't see a point.")
Zhanna Rzhanova, a spokeswoman for the developers of Comfort Town, acknowledged that the color scheme wasn't for everyone. "Either you love it or you hate it," she said. "There's nothing in between."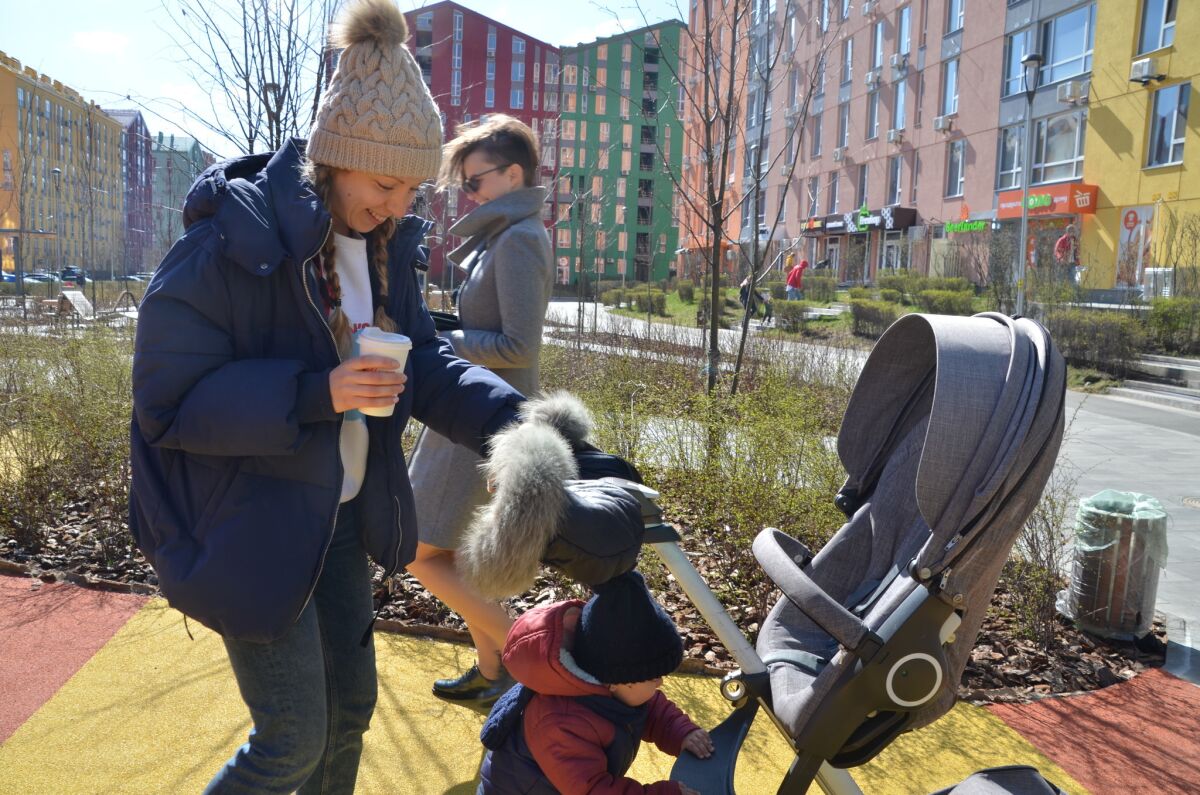 The real innovation of Comfort Town, Vasyliev said, is inside the apartments, which have distinct bedrooms and living rooms. This may sound unremarkable, but in Soviet apartments, no such distinction was made. There were just rooms, and entire families often slept in the same room where they entertained, watched TV and so on. Comfort Town offers one-, two- and three-bedroom apartments, each with a living room and kitchen. They range in size from about 430 square feet to just under 1,000 square feet.
That appears to be the main draw for many of the 20,000 residents — that and the feeling of safety and child-friendliness.
Natasha Kalnibolotskaya and her husband were among the first families to move into Comfort Town after it opened in late 2012. Before they had children, they lived in a small, one-bedroom apartment. "It was just my husband and the beer," she joked.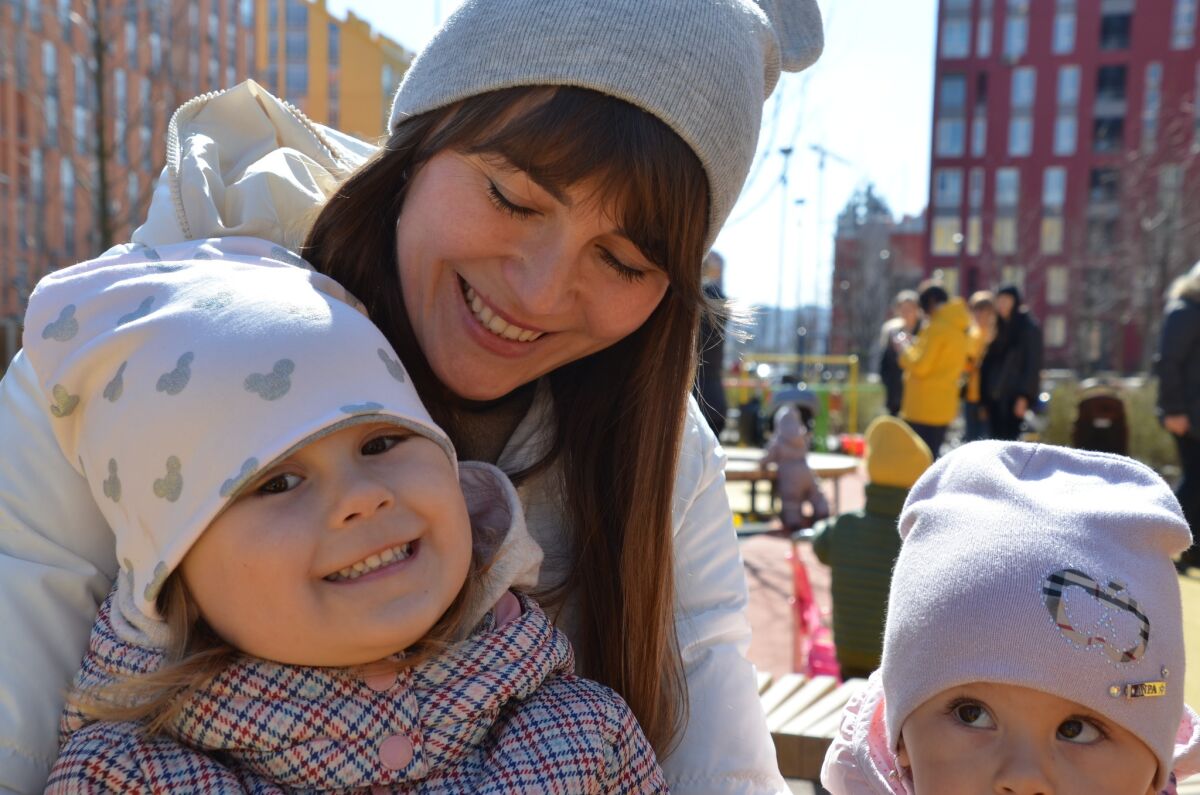 After they had two children — Masha, now 4, and Vera, 2 — they moved into a larger apartment with relatives, and then into their own three-bedroom place. "I'm from the worst district in Kiev, so this is the best thing that's happened to me, ever," said Kalnibolotskaya, 38.
She and her daughters were out enjoying a recent sunny day in one of the Comfort Town playgrounds, where even the ground is splashed in bright color. Clearly that wasn't the most important reason to live there. But, she said, "children from the very first day understand colors."
She believes the kaleidoscope of Comfort Town makes them happier. As if to prove her point, the girls smiled, then ran off to play.
Reporting for this article was partially funded by KfW Development Bank, which supports the nonpartisan, nonprofit German Marshall Fund of the United States fellowships.
---
Must-read stories from the L.A. Times
Get the day's top news with our Today's Headlines newsletter, sent every weekday morning.
You may occasionally receive promotional content from the Los Angeles Times.