Russia-backed separatists in Ukraine in disarray amid infighting and violence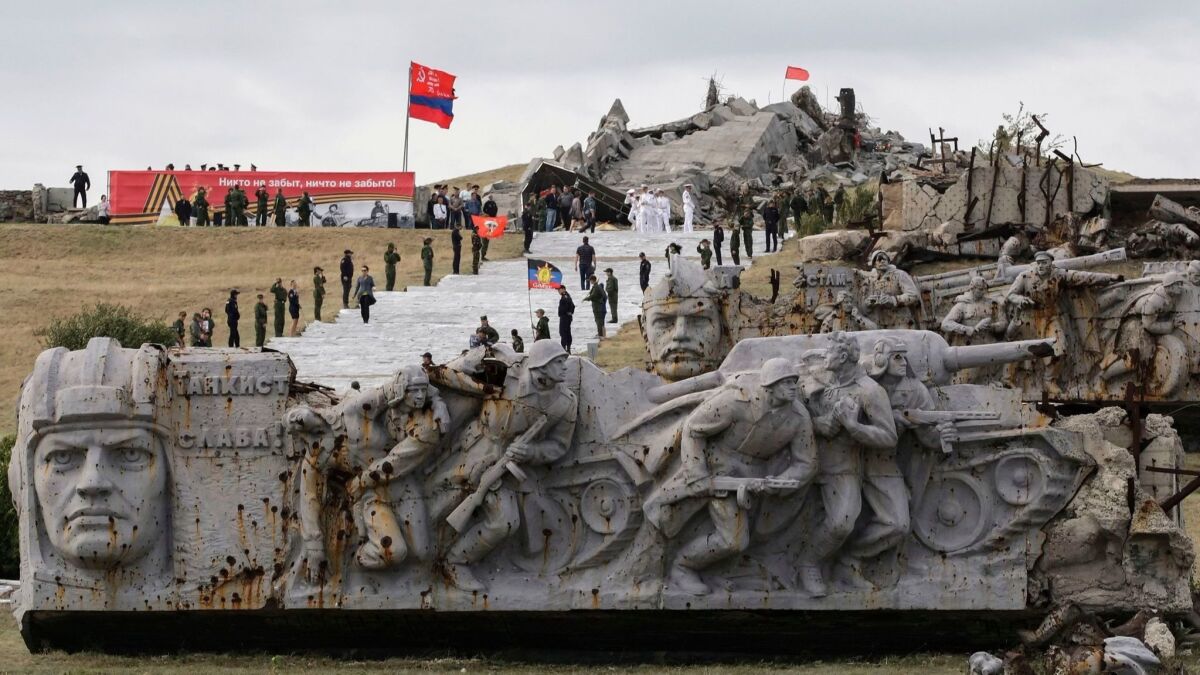 Reporting from Kiev, Ukraine —
More than four years after they took up arms against the Ukrainian government and seized a southeastern chunk of the country, pro-Russian separatists appear no closer to their dream of making their enclaves part of Russia.
The separatist territory — which includes the regions of Donetsk and Luhansk, known together as Donbass — is reeling from the assassination of Alexander Zakharchenko. The 42-year-old "head of the People's Republic of Donetsk" was killed with a bodyguard on Aug. 31 by a bomb hidden in a lamp at a restaurant there.
His death set off a battle for succession and a massive roundup of suspects who human rights advocates say have been detained and tortured.
The primary suspect, a second bodyguard, who owned the restaurant, has apparently fled. But the killing has also spurred speculation that Moscow had become fed up with Zakharchenko and ordered the hit.
Russia backed the 2014 uprising and a pair of referendums in which Donbass voters overwhelmingly endorsed a plan to break from Ukraine and become part of Russia. But the Kremlin now wants Donbass to remain part of Ukraine — but with greater autonomy.
The separatist revolt came in response to the growing power of pro-Western activists who succeeded in ousting Ukraine's pro-Russian president, Viktor Yanukovich, and securing passage of a new law restricting the use of Russian, the main language in Donbass and other regions with large ethnic Russian minorities.
The rebels began seizing government offices in what they dubbed "the Russian Spring." Hundreds of Russian volunteers, including far-right nationalists and neo-Nazis, moved to Donbass and joined the separatists as pro-Kremlin media denounced Ukrainian "fascists."
But more than 10,000 people were killed in the resulting war, most in that first year, and both Russian and local support for the separatists has waned as various separatist warlords competed for control of coal mining, factories, the food supply and humanitarian aid from Russia and the West.
More than 2 million people have fled to central Ukraine or Russia.
No Western journalists have been allowed to visit Donbass since 2015, but former residents, human rights activists and Ukrainian officials described a deteriorating security situation in which inhabitants face the constant threats of extortion and arbitrary detention by separatist police and shelling by Ukrainian forces.
Shootouts occur daily despite a 2014 cease-fire. Two peace deals known as the Minsk accords stipulated the withdrawal of heavy weaponry from the front line, international monitoring and the release of hostages, but they remain largely ignored by the separatists and Ukrainian forces.
Many residents lack healthcare and live in houses that have been damaged by artillery and lack access to running water and electricity. The lucky ones work for the separatist authorities and earn less than $100 a month. Others survive on potatoes from their gardens.
On Sunday, three children were killed and one wounded by a landmine in the town of Horlivka, a separatist news agency reported.
Those casualties came a day after four people were wounded in an explosion at a Communist Party headquarters in Donetsk.
And at least 117 people in the town of Makeevka were poisoned recently after magnesium was mistakenly used to treat tap water instead of chlorine, according to Donbass ombudsman Pavel Lisyansky.
For those who fled Donbass, each such news report is a reminder of what they lost because of the war.
"My heart aches every time I hear about Donetsk, because the separatists turned it into a new Gaza Strip," said Valentin Koloborodov, a 47-year-old welder who left in 2014 with his wife and two teenage daughters and now lives in Kiev. Separatists took over their old apartment.
Koloborodov has returned to Donetsk twice a year to visit his 72-year-old aunt, enduring long lines at checkpoints, exhausting interrogations and searches by Ukrainian military personnel and separatists.
But he said he's stayed away since the assassination in August because the separatists "got paranoid after the blast."
Immediately after the killing, Zakharchenko's deputy, Dmitry Trapeznikov, took over as the head of Donetsk. But six days later, the separatist parliament known as the "People's Council" replaced him with its speaker, Denis Pushilin, who promptly fired five ministers.
Trapeznikov and the "income minister," Alexander Timofeyev, who was badly wounded in the bombing, reportedly fled Donetsk.
They joined a long line of separatists who left the region after falling out with their comrades.
One of the first was Igor Strelkov, a veteran of the wars in Chechnya and Bosnia who served as Donetsk's "defense minister" before abandoning his post and moving to Moscow in 2014. He never stopped hating Zakharchenko.
"I despised him too much during his lifetime to feel sorry about his death," he wrote online early last month.
Zacharchenko is the latest of nearly a dozen separatist leaders and warlords gunned down, blown up or found hanged since 2014.
The bombing, which also wounded a dozen people at the restaurant, remains unsolved.
One theory advanced by the SBU, Ukraine's main security agency, is that Zakharchenko's killing was tied to his business interests — which include the export of coal and scrap metal to Russia, supermarkets and distribution of gas from Russia — and conflicts with other separatists over money.
In late September, the agency released what it said was a recorded conversation between an aide to Pushilin and other separatists discussing the assassination.
Other Ukrainian authorities, including the Defense Ministry, have accused Russia of orchestrating the killing.
The motive, according to one popular line of thinking, is that Russia had given up on Zakharchenko and wanted to offer up the region for reintegration into Ukraine in exchange for the lifting of Western sanctions aimed at halting its expansionism there and in Crimea.
"Putin is clearing the way for the deployment of peacekeepers," said Ilya Ponomaryov, a Russian opposition leader and former lawmaker. "He needs a more controlled figure at the helm."
Russia, which opened an investigation into what it called an "international act of terrorism," joined the separatists in blaming Ukraine, which denied any responsibility for the killing.
The "People's Council" said it would elect a new head of Donetsk in November.
Mirovalev is a special correspondent.
---
Must-read stories from the L.A. Times
Get the day's top news with our Today's Headlines newsletter, sent every weekday morning.
You may occasionally receive promotional content from the Los Angeles Times.