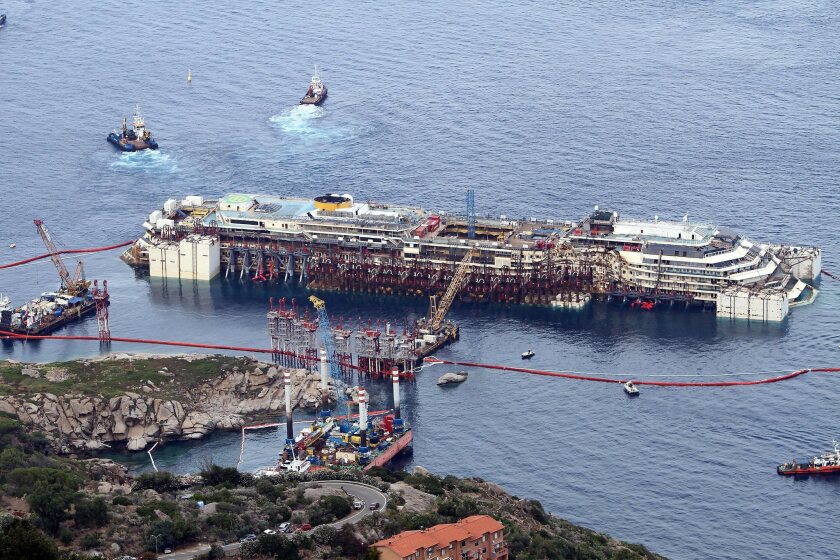 Two and a half years after the Costa Concordia's deadly wreck off the coast of Italy, salvage crews refloated the cruise ship and detached it from its resting spot Monday so it can begin its final journey.
The ship, which smashed into rocks and tipped over off the Tuscan island of Giglio in January 2012, will be towed to the Italian port city of Genoa to be dismantled. The journey of about 200 nautical miles is expected to begin this month and take about four days.
About 4,200 passengers and crew members had to scramble into lifeboats or plunge into shallow water after the ship capsized. Thirty-two people drowned. The body of one victim, Indian waiter Russel Rebello, is still missing. During the salvage operation, a diver also died.
The captain, Francesco Schettino, is standing trial on charges of manslaughter, causing the shipwreck and abandoning ship. Five other employees of the cruise company were convicted of manslaughter last year.
The 950-foot-long, 114,000-ton vessel was impaled on underwater granite outcrops until being righted last September in a painstaking, 19-hour operation called parbuckling. It then rested on platforms until Monday's refloating operation. Also on Monday, the ship was towed about 100 feet east and anchored to await the next steps.
After the ship and platforms are removed from the area, the sea floor will be cleaned and the marine flora replanted, according to the salvage project's website.
For more news, follow @raablauren on Twitter.
---