Migrants defiant as Hungary blocks train links for 2nd day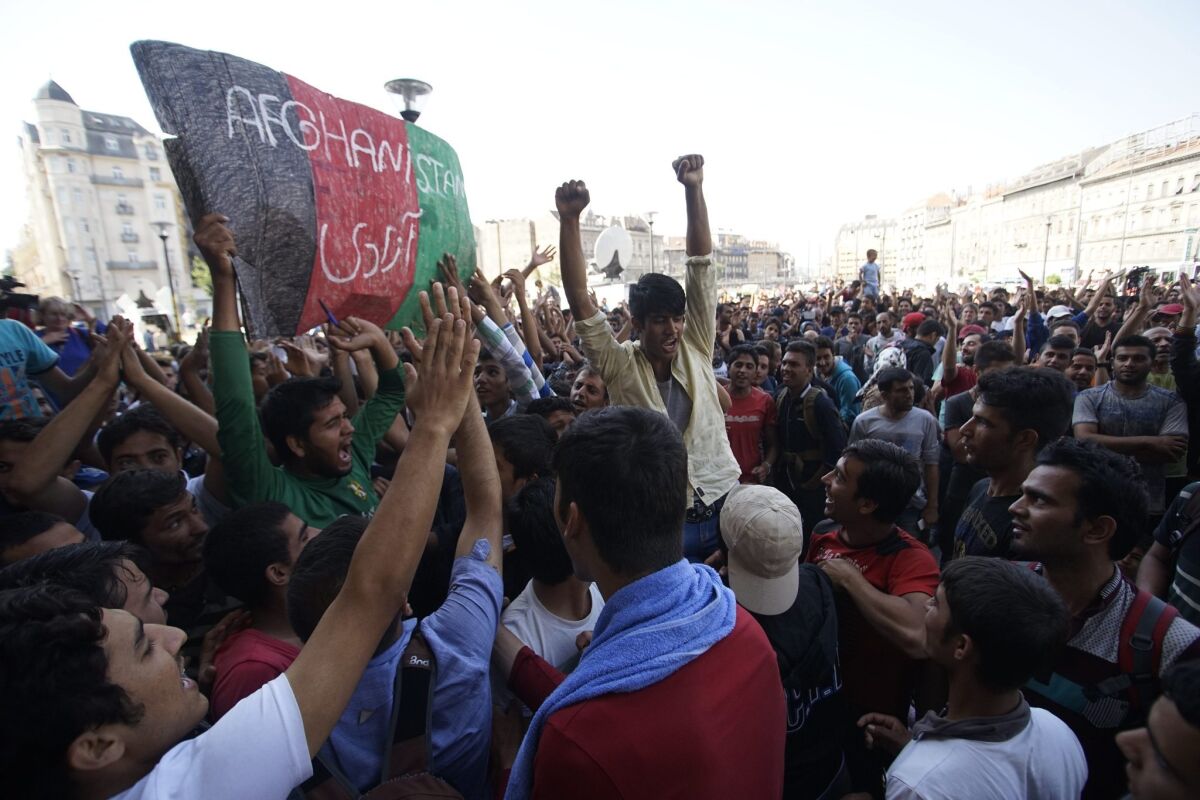 reporting from BUDAPEST, Hungary —
Hundreds of migrants chanted defiant slogans outside Budapest's main international train station Wednesday as Hungarian police blocked them for a second day from seeking asylum in Germany and other wealthy European Union countries.
"What we want? Peace! What we need? Peace!" a few hundred migrants chanted outside Keleti station, the latest focal point for continentwide tensions over the unrelenting flow of migrants from the Middle East, Asia and Africa fleeing war and poverty.
At other pressure points in the route into Europe, Turkish media reported that 11 migrants drowned as they tried to cross the sea to Greece. French authorities said cross-Channel Eurostar trains were returning to normal Wednesday after serious overnight disruptions triggered by reports of migrants running on the undersea tunnel tracks and trying to climb atop trains.
See the most-read stories this hour >>
On a beach in Turkey, Turkish media showed the body of a child and reported the 11 deaths. Six other migrants were rescued and five others remained missing when two boats carrying them from Bodrum to the nearby Greek island of Kos capsized Wednesday. The private Dogan agency said the dead included a mother and three children.
The Greek coast guard recovered the body of a man south of the tiny island of Kalolimnos. It was unclear if he was connected to the Bodrum deaths.
Hungary's police said they intend to reinforce their positions outside the Keleti terminal as the volume of migrants arriving from Serbia grows by the hour, with an estimated 3,000 already encamped near the station. They said officers working jointly with colleagues from Austria, Germany and Slovakia also were searching for migrants traveling illegally on other Hungarian trains.
The clampdown has had an immediate effect in the migrants' primary target country, Germany.
German police reported Wednesday that only about 50 migrants arrived on the morning trains to Munich, compared to 2,400 on Tuesday. The German border town of Rosenheim received no more than 70 migrants, compared to 300 on Tuesday.
The Greek coast guard, meanwhile, said it had rescued 1,058 people in 28 Aegean Sea locations over the past 24 hours. More than 200,000 migrants have reached Greece this year, chiefly from neighboring Turkey, where more than 1 million live in refugee camps fueled by warfare in Syria, Iraq and Afghanistan.
Greek police also arrested six suspected smugglers in northern Greece after finding 103 migrants, including 19 children, hidden in a truck.
In France, passengers aboard one Paris-to-London train said their service was suspended because migrants trying to climb aboard the train had damaged fire safety equipment. In tweets, passengers also described seeing migrants running along the roofs of another train near the migrant-besieged French port of Calais.
Hungary's prime minister, Viktor Orban, is scheduled to meet EU chiefs Thursday to discuss his country's handling of its unprecedented flow of migrants this year. While Germany says it expects to receive 800,000 migrants — quadruple last year's figure — many other EU nations face criticism for failing to commit to housing more asylum seekers.
In non-EU member Iceland, a populist movement is challenging the government's pledge to host just 50 Syrians, taking to social media to urge their government to do more. While some went online to commit to opening their homes to a war refugee, others called on Iceland to open a disused army base to serve as migrant housing.
Naval vessels from several nations continued to patrol Mediterranean waters off the coast of Libya on Wednesday in hopes of preventing more mass drownings of migrants. A Norwegian vessel was carrying about 800 rescued migrants, including 11 pregnant women and more than 30 children, to Cagliari on Italy's island of Sardinia.
ALSO:
As migrants arrive, Germany's embrace of refugees spurs backlash
China is rattling nerves as it prepares to strut its military might
Pope's decree on abortion may signal change in tone, not practice
---
Must-read stories from the L.A. Times
Get the day's top news with our Today's Headlines newsletter, sent every weekday morning.
You may occasionally receive promotional content from the Los Angeles Times.