10 Images
Global pictures from Dec. 30-Jan. 5
Kenya: Grim search
Relatives of the missing file past bodies of victims of post-election violence Wednesday at a mortuary in the town of Kisumu in western Kenya. About 300 Kenyans have died in the tribal violence that exploded this week after President Mwai Kibaki was sworn into office after a disputed election.
(Yasuyoshi Chiba / AFP / Getty Images)
Kenya: Election unrest
Riot police fired water cannons Thursday to beat back surging crowds of rock-throwing opposition party supporters in the Kibera slum in Nairobi, Kenya, who rallied in the streets to protest last week's election results.
(Riccardo Gangale / Associated Press)
Gaza: Peering at death
Palestinian women on Wednesday watch the arrival of the bodies of six militants, including three Hamas members, who were killed by Israeli forces in a clash near Gaza City. The Israeli operation, conducted by ground troops and aircraft, was part of an effort to wipe out militants who fire homemade rockets at Israeli communities just over the border.
(Mohammed Abed / AFP / Getty Images)
Pakistan: Unrest after Bhutto
Fires burn in Karachi, Pakistan, Benazir Bhutto's hometown, on Saturday as violence continued a day after her burial. Her aides contested the official conclusion that she died of a head injury, and some experts and diplomats questioned the government's eagerness to deny the role of a gunman. Later in the week, President Perez Musharraf would announce that Pakistan had invited Scotland Yard to help investigate the killing.
(Carolyn Cole / Los Angeles Times)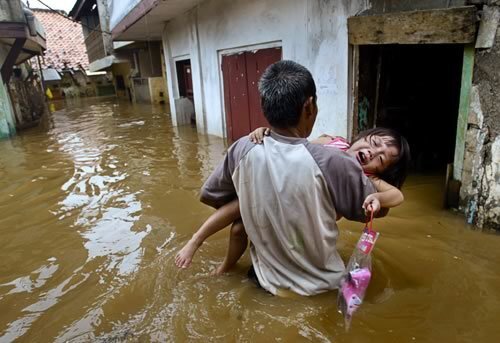 Indonesia: Deadly floodwaters
An Indonesian man carries his child across surging floodwaters around their home in Jakarta on Wednesday. Flooding and landslides on the island of Java in the last week and a half left more than 110 dead and forced tens of thousands from their homes.
(Bagus Indahono / EPA)
Netherlands: New year's aftermath
The Hague may be home to the Peace Palace and the International Court of Justice. But New Year's Eve revelers in the Dutch city and diplomatic capital got a bit unruly this time around, at least as evidenced by the pile of wrecked and burned-out cars left in their wake Wednesday.
(Robin Utrecht / EPA)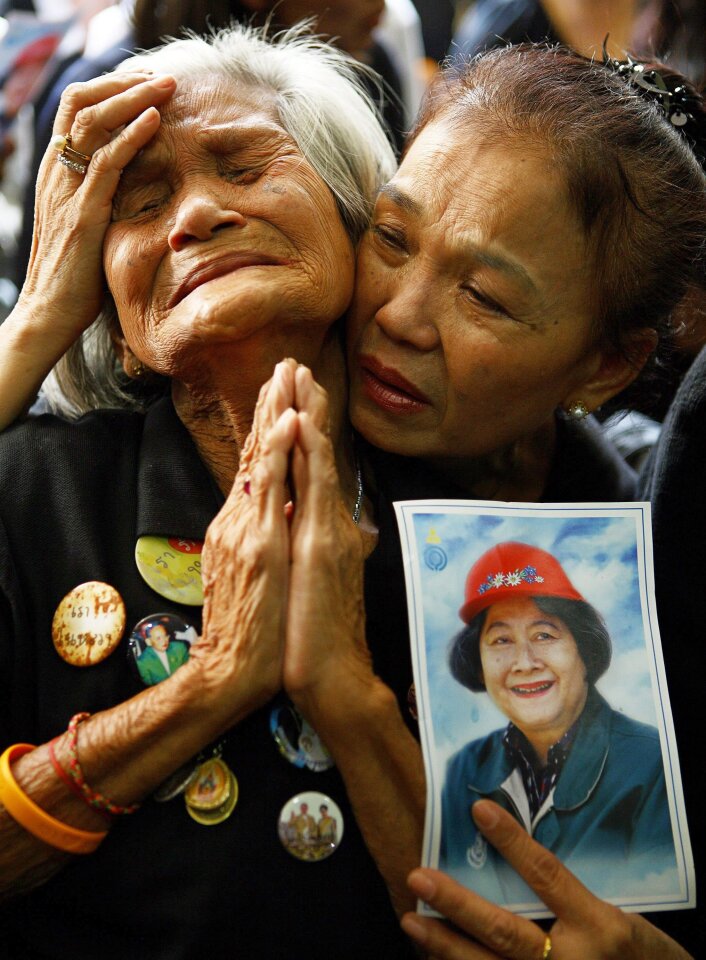 Thailand: A princess dies
Thai women grieve while holding a picture of Princess Galyani Vadhana after learning of her death Wednesday in Bangkok at age 84. Galyani, elder sister of King Bhumibol Adulyadej, had been receiving treatment for abdominal cancer since June. The princess was noted for her interest in the arts, especially theater and classical music.
(Chumsak Kanoknan / Getty Images)
Iowa: Mike Huckabee
Former Arkansas Gov. Mike Huckabee couldn't go anywhere in Iowa this week without attracting a crowd. The Republican presidential hopeful, who stopped Monday at Executive Forum Barber Shop in downtown Des Moines for a haircut and shave, would go on to win the GOP caucus three nights later.
(Jay Clendenin / Los Angeles Times)
Iowa: Romney supporters
Mitt Romney supporters cheer as the Republican hopeful's "Mitt-Mobile" drives along Route 1 near Mount Vernon, Iowa, on Sunday, during his bus tour through the key early-voting state. Romney would end up second in the GOP caucus behind Mike Huckabee.
(Gina Ferazzi / Los Angeles Times)
Iowa: Obama supporter
Democratic presidential candidate Barack Obama gets a friendly caress as he greets potential voters after speaking at the Veterans Memorial building in Cedar Rapids, Iowa, on Wednesday afternoon. He and supporters would be smiling again the next night, as he won his party's caucus by a sizable margin over John Edwards and Hillary Clinton.
(Rick Loomis / Los Angeles Times)