10 Images
Global pictures from Jan. 13 - 19
Wary
At a coffee farm in Katata, Kenya, men have taken up arms and launched all-night patrols to protect their homes from attacks by neighboring villagers. The chaos in the nation since last month's presidential election has often been linked to simmering tribal tensions or a political power struggle, but much of Kenya's violence is also rooted in simple economics: competition for land, jobs and business opportunities. Kenyans describe it as a classic struggle between haves and have-nots.
(Carolyn Cole / Los Angeles Times)
Taking cover
People flee as Kenyan police use tear gas and bullets to disperse a rally in the capital, Nairobi. Thousands of supporters of opposition leader Raila Odinga clashed with police in several cities as the dispute over the recent presidential election continued.
(Carolyn Cole / Los Angeles Times)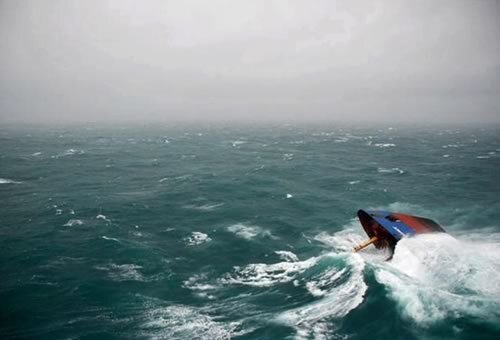 Stormy seas
The Greek cargo ship Ice Prince founders in stormy seas in the English Channel. Its 20 crew members were rescued when the vessel began listing after its cargo shifted. The ship later sank. Oil and timber have spilled from it, and more remains on board.
(AFP / Getty Images)
Prayer for the dead
Palestinians in Gaza City gather to pray for those killed in a raid by Israeli forces. The assault occurred during President Bush's Mideast trip, and the militant group Hamas seized on the raid's timing to disparage U.S.-backed peace talks between Israel and the Fatah faction.
(Abid Katib / Getty Images)
Volcano
The Tungurahua volcano erupts in Ecuador. This photo was taken from Pelileo, about 85 miles south of Quito. About 800 peasants have had to be relocated because of increased volcanic activity in recent days.
(Pablo Cozzaglio / AFP/Getty Images)
Suspect
A suspect's image is shown on TV as Afghan intelligence chief Amrullah Saleh leads a news conference to announce that four men had been arrested in the suicide attack on a luxury hotel in Kabul. The Taliban claimed responsibility for the assault, which killed eight people and sent a chill through the ranks of foreign diplomats, aid workers and visiting dignitaries in the troubled capital.
(AP Photo)
Skier
France's Yannick Bertrand flies at the last jump of the famous Hahnenkamm course during the men's official downhill training of the FIS Ski World Cup in Kitzbuehel, Austria.
(Joe Klamar / AFP/Getty Images)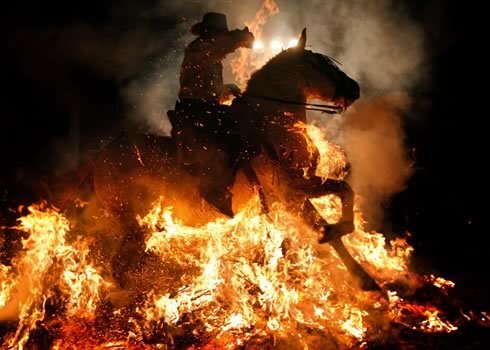 Riding through flames
A man covers his face as he rides a horse through a bonfire in the village of San Bartolome de Pinares, Spain. In honor of San Anton, the patron saint of animals, horses are ridden through the flames on the night before the official day honoring animals in Spain.
(Jasper Juinen / Getty Images)
Inspection
Workers inspect a British Airways jetliner that crash-landed at London's Heathrow Airport as it arrived from Beijing. No one was seriously hurt.
(Gill Allen / Bloomberg News)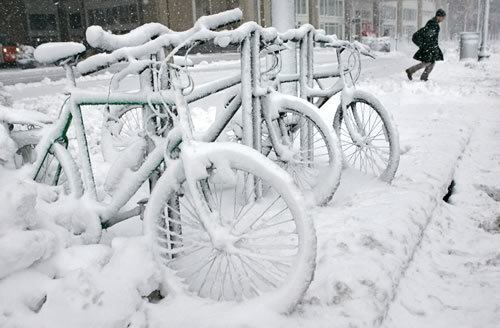 Let's take the car
A morning commuter in Boston passes bicycles left outside after recent unseasonably warm weather. A fierce storm swept across northern New England after burying parts of Massachusetts, dumping as much as 20 inches of snow in some places.
(Charles Krupa / AP Photo)